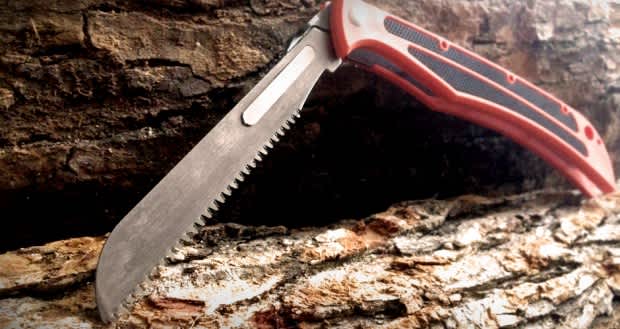 +
–
Table of Contents

What to look for in a bone saw
Bone saws may be that one piece of gear you think you can go without, but I'm here to say that you need one. The proper bone saw makes things much easier and it can serve a dual purpose in survival situations, too.
You want to pick one, first and foremost, that fits your hand and is balanced. One of, if not the most important elements in any cutting tool is whether or not it fits your hands well. If it doesn't you're not going to be able to use it like you want.
Packability is important if you plan to take it into the field with you, and this is where the folding models tend to shine. Make sure you can haul it with you and it doesn't take up took much extra space.
A good bone saw is sharp and isn't overly aggressive, so you are make clean, mess-free cuts. You want one that will cut frozen meat, as sometimes you just get stuck cutting through frozen tissue and bone, and you want it to make a cleaner cut to avoid  tainting your meat as much as possible.
Meat saws can also be used for other cutting needs in situations, but you might want to be sure to have a saw that can swap out blades.
What is the best blade material for a bone saw?
While bone saws can be made from cheaper steel, the best material out there for this particular job is stainless steel. Although you lose a bit on the weight side of things and they tend to be more pricey than other steels, Stainless Steel bone saws will ensure that you get a lot of life out of your blade without it rusting.
Can bone saws cut through frozen meat?
Yes, bone saws can cut through frozen meat just fine. If you've packed away some meat with dry ice and it has somehow frozen, no need to worry. Bone saws feature tough blades that can cut through other tough materials like PVC, wood, and of course, bone – it's perfectly fine to use your bone saw to cut through frozen meats for easier preparation.
Why do I need to buy a bone saw? Can't I just use a hack saw?
Hacksaws don't feature the same cutting characteristics of a bone saw. Hack saws generally feature finer toothed blades and require a lot of back and forth to get through materials. If you've got the time and patience it is theoretically possible to use a hacksaw to cut through meat but in the end, you'll just wear yourself out. Try to find a medium-toothed blade that features somewhere between 7 to 10 teeth per inch – these blades will make quick work of bone and wood.
We are committed to finding, researching, and recommending the best products. We earn commissions from purchases you make using the retail links in our product reviews. Learn more about how this works.