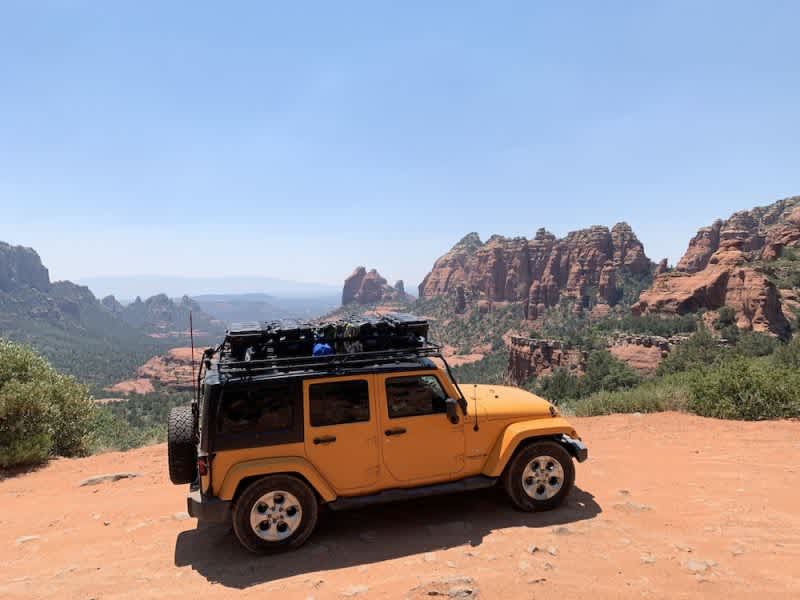 Overlanding is a truly unique experience. Take your off road vehicle on a journey through the less traveled roads and see views and scenery you may never experience otherwise.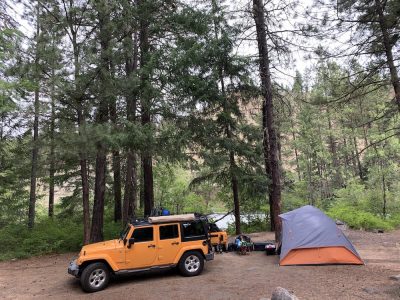 You may choose to pull a trailer, pitch a tent, setup a roof top tent or just sleep in your vehicle; the options are wide open when you decide to overland!
Here's how to get your off roading vehicle ready for any overlanding experience:
Sleeping
As mentioned above, how are you planning to sleep? I've known many people to simply setup the inside of their rig to sleep in with a bed and everything. One of the most popular options is a roof top tent because you could essentially park anywhere, pop the roof top tent out, crawl in and sleep. You would eliminate the need for a particular type of clear ground to setup a tent.
However, roof top tents are on the more expensive side. If you're hoping to start out on a budget, maybe a tent is a good first option. It's completely up to you, your comfort levels, budget and if your vehicle can support a roof top tent or if a traditional tent would do just fine.
Of course, don't forget the appropriate sleeping bag for the predicted weather conditions. You may even consider bringing a buddy heater for additional comfort.
Emergency Gear
Some things you'll want to always have in your vehicle are:
First aid kit and basic medications
Battery jump starter
Recovery kit which would include tow strap and D rings
Traction tracks if you'll be in muddy or snowy areas
Map of the area
Basic vehicle maintenance tools
Spare tire
Winch
Roof Rack
With a family of 4 plus two dogs, a roof rack has been invaluable on our overlanding trips. We're able to keep our gear in bins on top of the roof rack instead of inside the vehicle. If you decide on a roof top tent, you'll need a roof rack of some kind.
Air Compressor
To make off roading a more pleasurable experience, if you can, you'll air down your tires. However, when you want to get back onto pavement, you'll need to air your tires back up. An air compressor doesn't take up a ton of extra space and it's a valuable asset to off roading.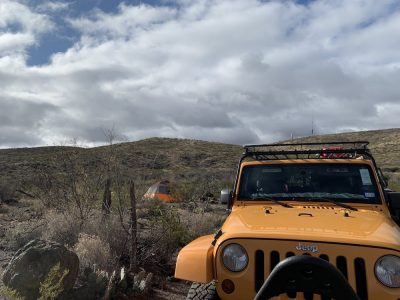 Tires
Having the right tires for off roading can really make the difference between being able to handle the uncertain terrain and blowing a tire. Get some good all terrain tires.
Hygiene
If you're going to be out for a while, you may want to consider a Lugaloo portable toilet or even a camp shower. It helps to keep up morale, especially if you're in a sandy or generally dirty area, a quick rinse is nice. And in general, while digging a hole is one option, having a portable toilet can be a nice option. In general, don't forget your basic hygiene needs while overlanding.
Garbage
If you're going to be away from towns for a while, you may be acquiring some trash from your food and other things. Having something like a trash bag that fits on your spare tire, is helpful for keeping your trash contained and not cluttering the inside of your vehicle. Be extra careful with your trash if you happen to be in bear country.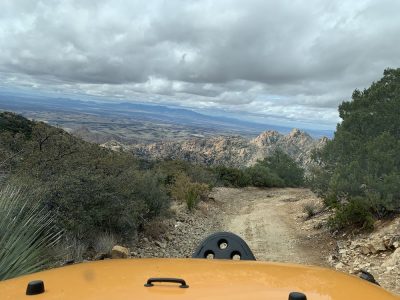 Gas Cans
Filling up before hitting the back roads is certainly recommended, but there were times when we were running kind of low on gas and we wouldn't have been able to make it to the next town had we not had an extra gas can with us. They make gas cans that specifically attach to the spare tire, really handy to have.
Water Cans
Don't forget to bring plenty of water with you. While it can be heavy, not every location has plenty of water sources. Having a few jerry cans of water with you is recommended. In addition, carry a water filter in case you are able to find some suitable water sources to filter water for consumption.
Lights
Attaching a couple lights to the outside of your vehicle can really help if you need to look for a camping spot in the dark. Nothing big or wild, just a light or two, or a small light bar which can be turned on and off from the inside.
Radios
Whether you're with other people or not, having at least a CB radio is recommended. You could always try to reach out to others nearby if you were in trouble. However, having a CB is really nice to have when you're with a group so you can easily talk to each other. Some of the best ways to get to know each other is through radio chats while off roading. Ham or GMRS are also options depending on what everyone else has.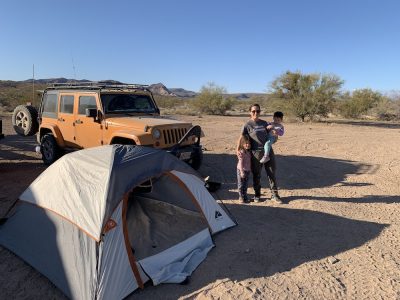 Have Fun!
Overlanding is a freeing experience and you're going to cherish the memories you create. Be prepared and have fun!