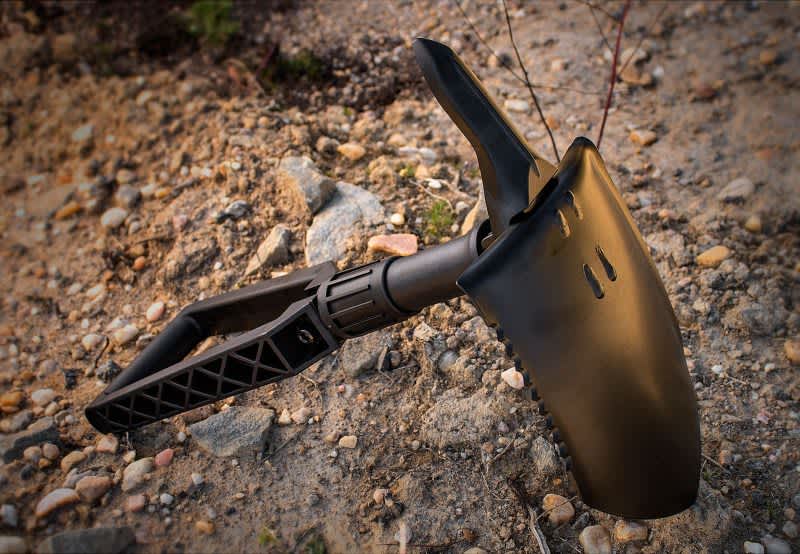 +
–
Table of Contents

3. Gerber Gorge Folding Shovel
Featuring both a telescopic and folding handle/spade, the Gerber Gorge folding shovel is lightweight and features a strong fiberglass handle that isn't too skinny meaning you can get a better grip on it while going through tough rock and soil. What is unique about the Gerber Gorge is that it features a fast push-button slide mechanism for extending the fiberglass-filled nylon handle for quick deployment. Gerber is one of those companies that specializes in not only making high-quality outdoorsman gear but manages to bring their gear in at very competitive pricing as well.
Pros/Affordable and features a unique handle design
Cons/Twist-Lock Mechanism/No serrations on spade
Bottom Line/Another great budget option from a reliable company with a proven track record for quality gear.
4. The United Cutlery Kommando Shovel (M48)
If you want simplicity then this is it. The United Cutlery Kommando Shovel (also known as the M48 shovel) is a dead-nuts simple, stainless steel entrenchment tool that is also durable to boot. The stainless steel blade is paired with an injection-molded glass-reinforced nylon handle and this winning combo comes in at less than a pound (actually less than half a pound). So for those who are extremely weight conscious, this would be a top consideration. Lastly, the M48 features a serrated blade on one edge and a smooth blade on the opposing side making this as much of a defensive tool as a camping tool.
Pros/Lightest in its class, Durable, and simple
Cons/Cannot be folded into a more compact shape
Bottom Line/A simple option that still has tons of features
5. Zune LoToo Tactical Shovel
This one is for the tactical gear junkies out there. This opinion is more of a multitool rather than just a dedicated camp shovel or entrenchment tool. The Zune LoToo Tactical shovel features not only a durable aluminum body, but also features several additional tube extensions, a bottle opener, fire starter, survival whistle, wire saw, and rope. The shovel also features a 7-position adjustable head (from 0° to 150°). The shovel comes with its own dedicated backpack which can house not only the shovel in an assembled configuration but also can stow all the extensions and tools.
Pros/Ultra feature rich with durable construction
Cons/Heavy and Expensive
Bottom Line/Great if you have the cash and want the "ultimate survivable shovel"
We are committed to finding, researching, and recommending the best products. We earn commissions from purchases you make using the retail links in our product reviews. Learn more about how this works.