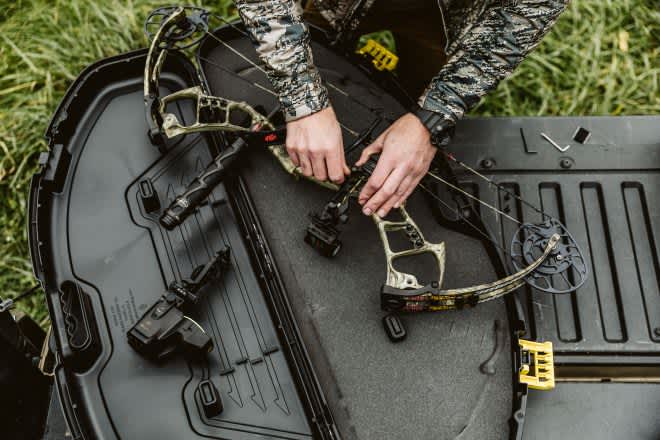 Archery season is in full swing across the US for tons of medium- and big-game animals. Whether you are chasing speed goats (antelope) in Wyoming or simply pursuing whitetail deer in the Midwest, one common vane between all archery hunters is that a laser rangefinder can be an invaluable tool. It instills confidence in that we are more sure of the distance of our target; thus, we can place a more accurate and humane shot on wild game. What if instead of carrying extra weight on our hunt by toting a laser rangefinder we could simply have that tech inside the sight we already have on our bows?… That day has come because Burris has debuted their Oracle 2 Rangefinding Bow Sight. Technology that once was thought of as a pipedream is now here, and we are going to review the Burris Oracle 2 on AllOutdoor. Let's dive in!
Specifications – Burris Oracle 2 Rangefinding Bow Sight
The bane of all archery hunters is that we want to pack in the least amount of gear into the woods with us, but we are tech junkies at heart. Whatever is the newest and coolest gear for archery hunting on a given year, we've got to have it! So, of course, a laser rangefinder is a must-have item in our packs at all times. The beauty of the Burris Oracle 2 Rangefinding Bow Sight is that it couples the technology of a sight and rangefinder into one. You save weight and accomplish more with a singular item. Let's take a gander at the specs of the Oracle 2 Rangefinding Bow Sight as presented by Burris below:
No Glass to Scratch, Fog, Glare or Break
20 Yard Fixed Pin (failsafe)
Forever Warranty backs the Oracle 2 No Questions Asked
Integrated Inclinometer factors in angle for steep angles and shots common in treestand hunting
Improved Auto-Brightness Detection
Improved Manual Brightness Control – lower levels
Improved Set Up – even easier to set up and sight in
Store Multiple Arrow Profiles
Right and Left-hand compatible
Locking Micro Adjustment Knobs
2nd and 3rd Axis Adjustments
Accommodates up to 176 MOA (184 inches of drop at 100 yards)
The Burris Oracle 2 Rangefinding Bow Sight retails at an MSRP of $959. Considering archery sights and laser rangefinders can sell individually for $500 – $1,000 a piece, the Burris Oracle 2 is a great value at $959 being a two-in-one package. Some of the other highlights of the Burris Oracle 2 can be read below in Burris' Press Release statement:
Burris Optics is proud to introduce the new and improved Oracle 2 Rangefinding Bow Sight. The Oracle 2's design is based on all the customer feedback we got from the original Oracle and includes: Improved Auto-Brightness Detection, Improved Manual Brightness Control (lower levels), Improved Set-Up (micro-adjustments on LRF), better waterproofing and more accurate arrow drop calculations. The function is still the same… range your target at full draw with the push of a button. The Oracle 2 instantly provides the distance to your target and an exact aiming point that factors in the angle of your shot.

No more guessing distance, fumbling with rangefinders, dialing sights or aiming between pins. Most importantly no more watching the trophy of a lifetime walk away because you didn't have time to range him and shoot or worse yet, tried to range him and spooked him from the movement!

Don't leave your shot of a lifetime to chance. Get the Oracle 2 from Burris. Find what matters!
Unboxing/Installation – Burris Oracle 2 Rangefinding Bow Sight
When it came to unboxing the Burris Oracle 2 for the first time I was surprised to see that there is "no assembly required" of the actual sight. All of the electronics and tech are already happily housed together, and it is simply your task of placing it on your own bow. Even this was a breeze considering it is just two Allen head screws that affix the Oracle 2 to your bow – no silly Ikea furniture install required. Burris goes on to explain in greater detail how the sight-in process works for the Oracle 2 below.
How It Works:
Sight in at 20 yards plus two farther distances and the Oracle 2 learns your arrow's entire trajectory curve.
Sight in up to 2 additional distances (optional) for extreme long range accuracy.
The rangefinder measures the exact distance to your target while at full draw.
It instantly calculates the exact trajectory for the distance and shot angle.
The sight displays a bright, LED pin at the exact aiming point for your shot.
The built-in rangefinder measures the exact distance to target, instantly calculates the perfect aim point and shows you the perfect aiming drop point.
Field Use – Burris Oracle 2 Rangefinding Bow Sight
When it came to installing and sighting-in the Burris Oracle 2 on my personal bow – a PSE "Bow Madness Unleashed" RTS (Ready to Shoot) Pro – one word of caution and suggestion is to be sure you mount the Oracle 2 in the same two Allen head screw holes that you remove your original sight from. The 1st several shots with the Oracle 2 I was roughly 2 feet low (which sounds tremendously off). Once I realized my own blunder off mounting the Oracle 2 in different Allen head screw holes, and appropriately corrected it, we were right back on target as you should be.
We then walked through the complete sight-in process already outlined by Burris, and at that point this sight could do no wrong. You simply click with a Velcro touchpad when you want to range a given target, acquire that distance, and an individually lit pin appears for where you should hold. It really is that easy.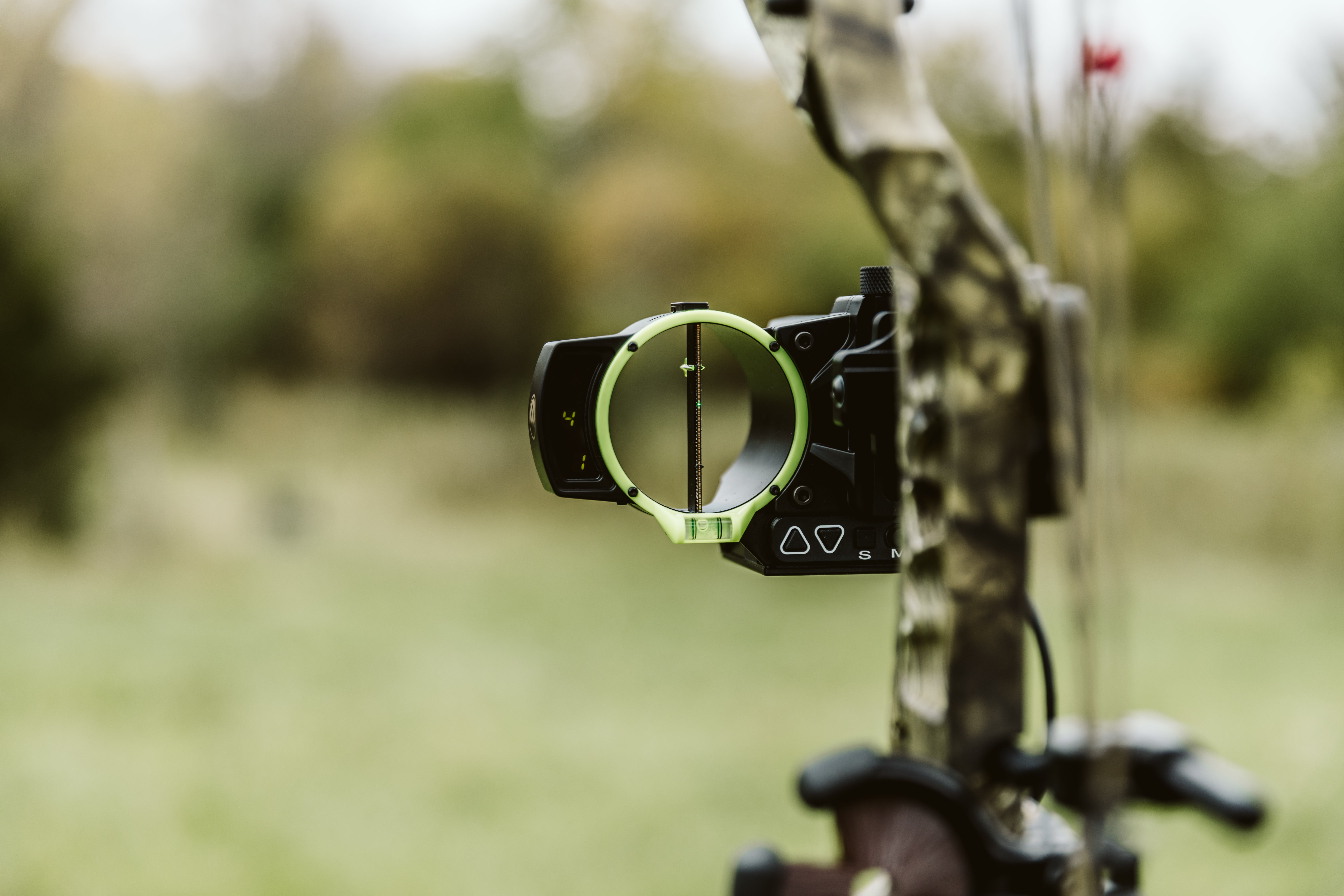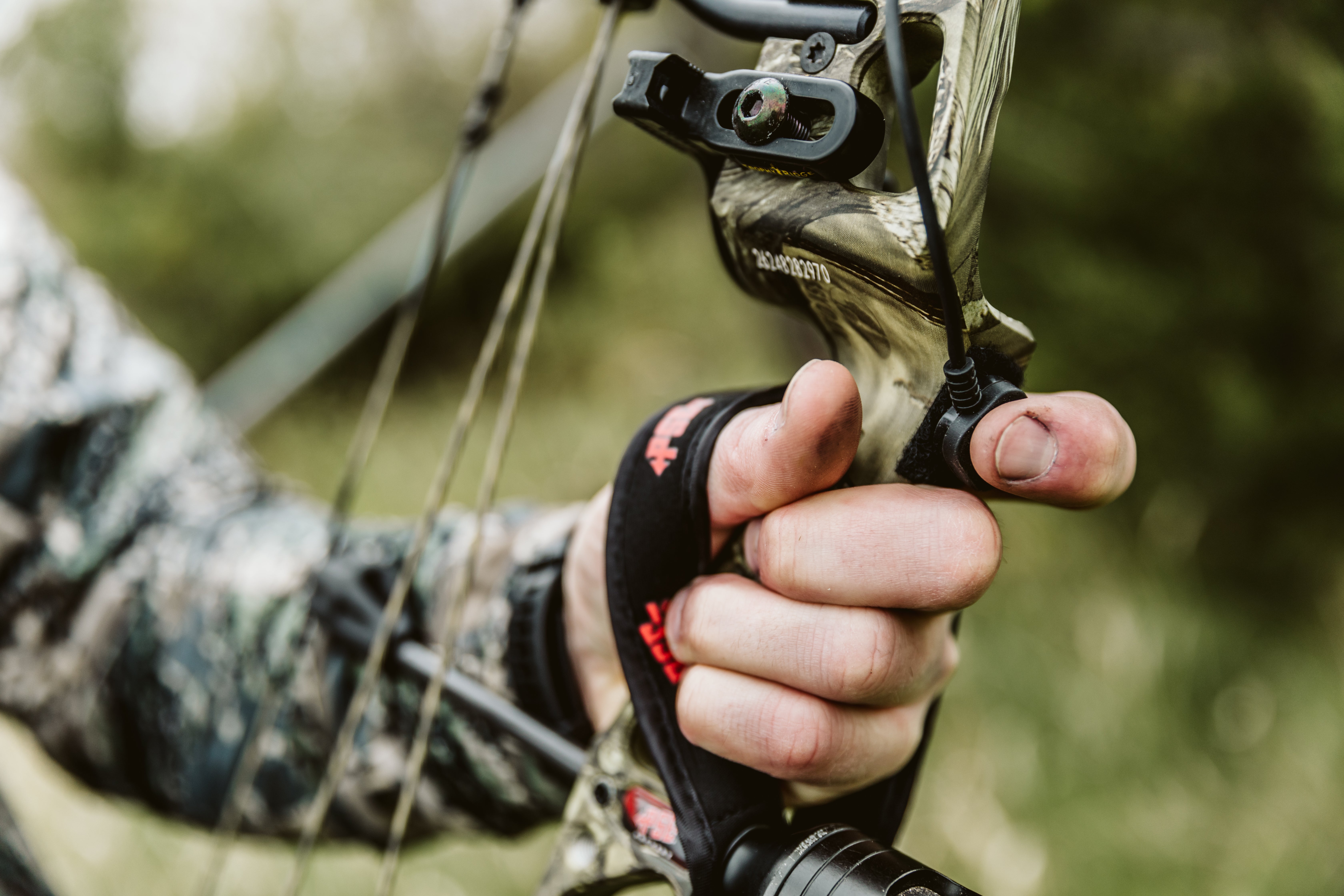 If your Burris Oracle 2 needs more adjustment out-of-the-box than simply installing it like we have done there is nearly infinite adjustment available to you. The laser rangefinder (LRF) built into the Oracle 2 can be individually adjusted so it is aiming square with the path of your arrow's flight. There is improved Auto Brightness Detection from the original Oracle plus you can always manually adjust it to your liking as well.
The Oracle 2 also has had its waterproofing improved so you will never need to cut your hunt short due to inclement weather and your sight plus rangefinder not working as they should. The touchpad activation for rangefinding your targets also can be Velcroed anywhere on your bow that you find convenient. You simply spool and then hide the excess cord out of the way.
The only negative I would have to say about the Burris Oracle 2 is that it is heavier than the factory sight that came with my bow. This is good and bad. It is good because overall I am saving a lot of weight by not needing a laser rangefinder in my hunting pack. It can also be good because additional weight forward of the bow can act like a secondary stabilizing affect. As archers we all utilize stabilizers to steady our shots, and this is another "stabilizer" of sorts in my mind. If you are looking for a sight and trying to keep your overall bow weight down though, the Oracle 2 at 20 ounces will likely weigh more than a traditional pin sight. Simply, something to bear in mind.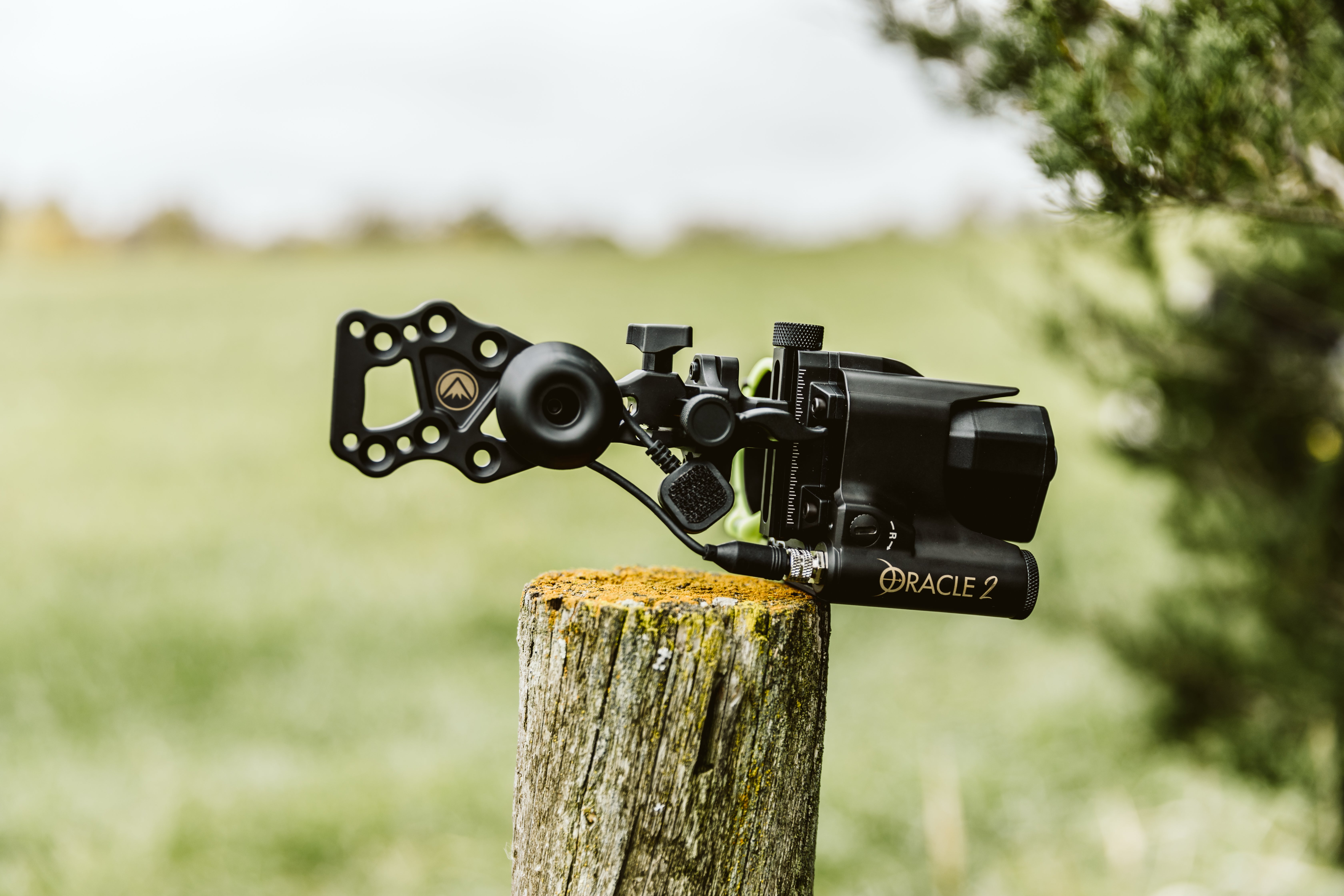 Final Thoughts – Burris Oracle 2 Rangefinding Bow Sight
So, what are my final thoughts on the Burris Oracle 2 Rangefinding Bow Sight?… Overall, it is an authentically phenomenal product. You are saving weight by only needing this one product instead of a sight and laser rangefinder separately. It makes you a faster bowhunter; you're able to range and shoot quicker on game. Also, you are likely saving quite a bit of money by looking at the Oracle 2 at an MSRP of $959 versus investing in a bow sight plus a laser rangefinder separately. For any archer who is in need of a bow sight and a laser rangefinder, I would whole-heartedly suggest they look at the Burris Oracle 2. You may fall in love with it.
In closing, I want to say thank you to Burris for allowing AllOutdoor and myself the opportunity to try out their Burris Oracle 2 Rangefinding Bow Sight. That is greatly appreciated. Also, we would like to know what all of you guys and gals think? Do you believe that the Burris Oracle 2 Rangefinding Bow Sight is something worth spending your money on? Would you add one to your bow? Shoot a league with it? Hunt with it? As always, let us know all of your thoughts in the Comments below! We always appreciate your feedback.
---
Video and Photography
All of the quality photography for this review was completed by the accomplished and wonderful Savannah Pierson of Savvy Photage while the video work was achieved by the versatile and gifted Jens Kallgren of High Shine Media. They are both pinnacles of knowledge and expertise in their field, and their assistance in reviewing the Burris Oracle 2 Rangefinding Bow Sight is greatly appreciated.