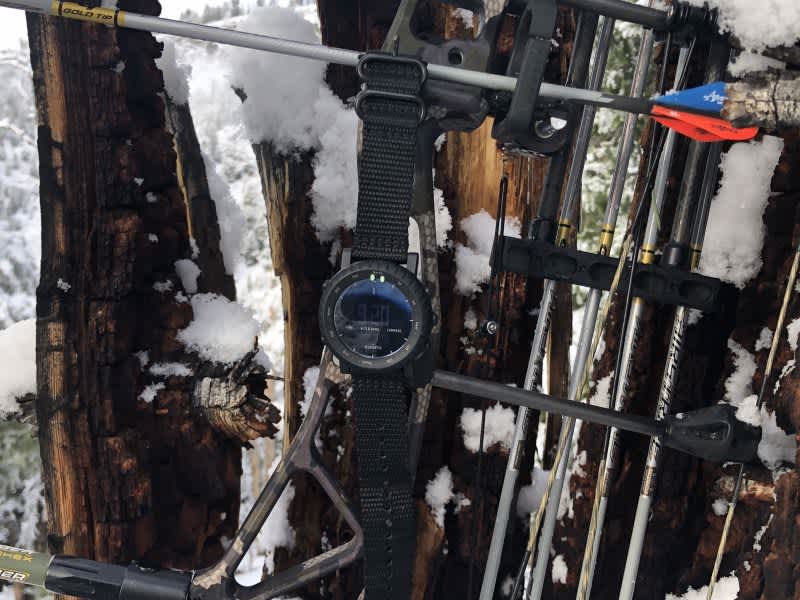 Suunto Core Alpha Stealth Review: The Right Time in the Night Time?
Suunto's new Core Alpha Stealth watch's stated purpose is "a tactical watch for all-round use".  The more "tactical" feature that sets it apart from the normal Suunto Core is that its red illuminated mode allows for both preserving your natural night vision when illuminated, as well as being visible through IR nightvision devices.  Like all Suunto Core watches, it is 30m water resistant, and features an altimeter, barometer, compass, sunrise and sunset times and weather functions such as a storm alarm.  The Core series has also passed Mil-Std-810 tests, and is made in Finland.
I came into the review already very familiar with most of the Suunto Core features, being that I've used them for years.  They've survived extremely rough use in the outdoors doing wildlife habitat rehabilitation, ranching, skiing, hunting, and free diving.  Dust, snow, extreme cold and heat do not seem to phase the watch at all, and I've yet to crack a Core watch face.  I think of the Suunto Core as a tough, reliable, compact little watch with great features for hunting off the grid.   The sunrise/set times have helped me make legal shots on the margins of shooting hours during hunting season.  The storm alarm is a very useful feature when working in deep canyons where one cannot see a lot of sky or the horizon, and has helped me get to shelter when severe weather is approaching.  All of these features are accessible via a very simple user interface of a few physical buttons on the outer rim of the watch.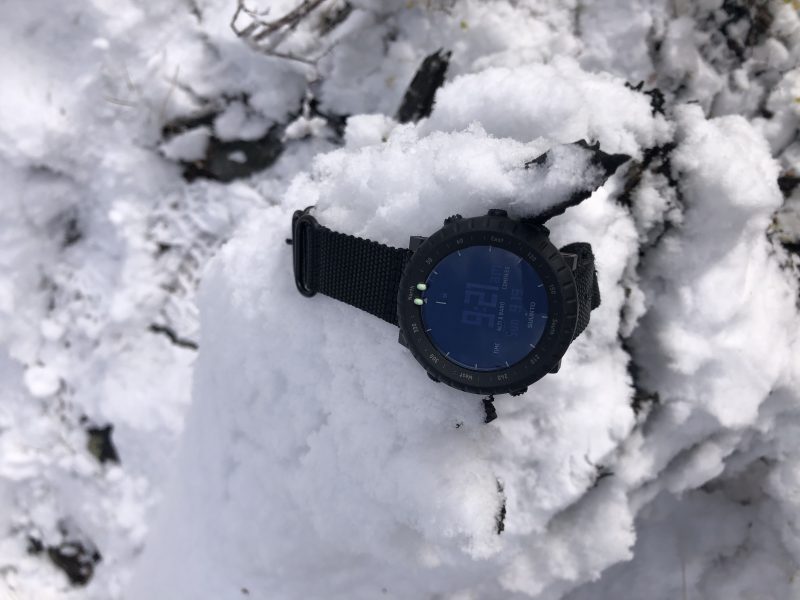 Specs, per Suunto:
Altimeter
Barometer
Compass, adjustable declination
Temperature
Storm alarm
Sunset/sunrise times
Tested to military standards
Made in Finland
Red backlight, night vision goggle friendly
Textile strap (Berry amendment compliant)
User replaceable battery (CR2032), battery life ~12 months
Multiple watch, date and time functions
30 m / 100 ft water resistance
Depth meter for snorkeling (10 meters)
Metric and imperial units
Multilingual menu: EN, DE, ES, FR

| | |
| --- | --- |
| Measurements | 49.5 x 49.5 x 15.1 mm / 1.95 x 1.95 x 0.59 " |
| Weight | 67 g / 2.36 oz |
| Bezel material: | Aluminum |
| Glass material: | Mineral crystal |
| Case material: | Composite |
| Strap material: | Textile |

Image credit: Suunto

Night Use

Being that The Core Alpha Stealth's main differentiating feature is the "night vision compatible display", I tested the watch quite a bit at night.  I had some issues with predators around my ranch over the past year, so I was one night watch quite a bit over the herd.  The display is indeed visible through IR devices, though one will need to adjust focus either manually or via an autogate in order to view the time close up, when you are mostly keeping an eye on things further away.

I also wore the Alpha Stealth on quite a few hunts where I needed to hike into place in the dark early morning hours.  The red backlight helped me preserve my natural night vision as opposed to the brighter backlights of some other watches I own.  The user-replaceable CR2032 battery life should last for about a year, which is comparable to other Suunto Core watches.

Suunto Core Alpha Stealth Watch

Suunto Core Alpha Stealth Watch

Potential Issues

The Suunto Core Alpha Stealth had only two little issues that one may want to consider before purchasing.  One is that the face of the watch is, like most watches, shiny.  In order to have low/no visible signature, one is going to need a watch cover strap.  For non-military use, however, this is not necessary, as I've been reducing visible shine and preserving the face of all my watches for years by wearing them face-in.

The other small issue I had with the watch was the strap rings on the nylon band.  These were made of metal, and large enough to make noise when contacting other equipment, as well as catch on my clothing and other items throughout the day.  It became annoying when rolling up or down my sleeve and getting caught up on the rings, and also caused me to get my arm hung up on some corral equipment.  It's easily fixable by changing out watchbands, but something to be aware of.

Suunto Core Alpha Stealth Watch

Getting Wet

The Core Alpha Stealth accompanied me on wet, snowy hunts, kayaking, plenty of fishing and snorkeling days, and working outside during rainstorms.  I had zero condensation, moisture or rusting issues with the Core Alpha Stealth despite all the submersion and spray from fresh and salt water.  Granted, I did not take it scuba diving, but Suunto has you covered with other dive-specific watches if that's your main activity.

Overall Impressions

The Suunto Core Alpha Stealth held up just fine to 6 months of heavy activity in the outdoors.  I wasn't the biggest fan of the wrist trap it comes with, and the night vision features are of minimal impact that I wouldn't recommend one replace a different Suunto Core just for those features.  However, I can recommend it to anyone interested in a good, robust uncomplicated outdoor watch.

Suunto Core Alpha Stealth Watch