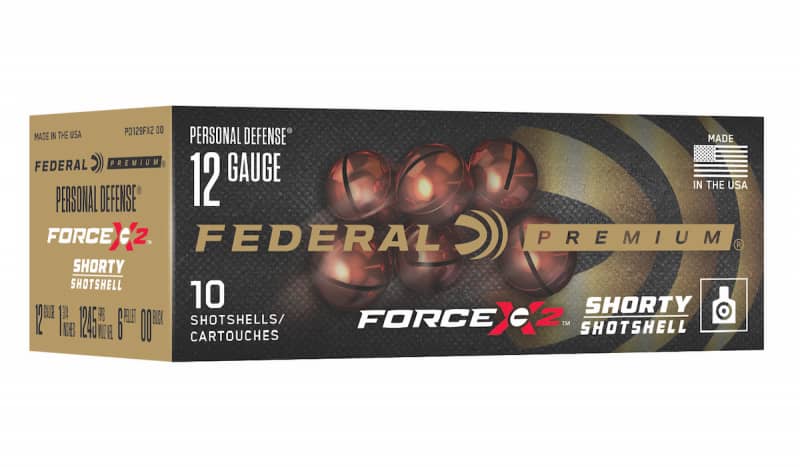 Years of research and studying real-life force-on-force encounters has made one thing clear; having more rounds on hand is always a good thing. For those who have chosen a shotgun as their preferred defensive firearm, capacity is the biggest hurdle. One way people have fit more rounds in the tube is by shortening the length of the shells. Expanding their line of Personal Defense rounds, Federal has done exactly that. At 1 3/4″ in length, these are the Force X2 Shorty shotshells from Federal Premium.
Federal Premium news @ OutdoorHub:
Federal has combined the power of two of our newest technologies to create a shotshell option that changes the nature of self-defense. Force X2TM ShortyTM shells measure just 1 3⁄4 inches but hold a payload of six 00 segmenting buckshot engineered to split into two equal pieces on impact.
NEW Force X2 Shorty Shotshells From Federal

The Force X2 Shorty shotshells are a new option from Federal for 2022. Aimed at the personal defense market, they cram six 00 buck pellets into a small 1 3/4″ hull. The segmented pellets are designed to split in half on impact, leading to double the number of wound channels inflicted on the target. The segmented buckshot is also made to lower the chances of overpenetration. The pellets are copper-plated to increase performance against the threat. Velocity is advertised at 1,245 feet per second. When used in a shotgun that can cycle shorter shells, the X2 Shorty shotshells offer shooters a tube capacity of almost double. Each box comes with a total of 10 shells.
SPECS
Gauge: 12
Length: 1 3/4″
Shot size: 00 Buck
Shells per box: 10
MSRP: $28.99
You can expect to see more information on the Federal Premium website shortly. For more information and new product announcements, be sure to follow Federal on their social media pages. You can find them on Facebook, Instagram, YouTube, and Twitter.