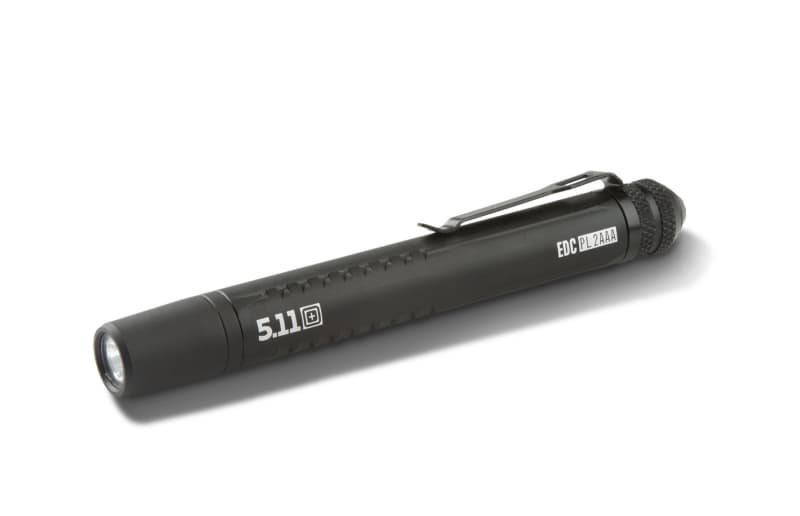 For everyday use, having a flashlight is essential. I've been in some random situations where a flashlight was necessary, even more so I've been caught in the dark and have needed an emergency flashlight to get to my vehicle, campsite, etc.
Every day carry flashlights have really come a long way. The skinnier they are, the better.
The EDC PL 2AAA Flashlight by 5.11 is a nice mix of lightweight and skinny coming in at .66″ in diameter and 5″ longer. And since it's made of aerospace-grade aluminum it weighs 2.14oz. Not at all noticeable in my pocket which is exactly how EDC should be, in my opinion.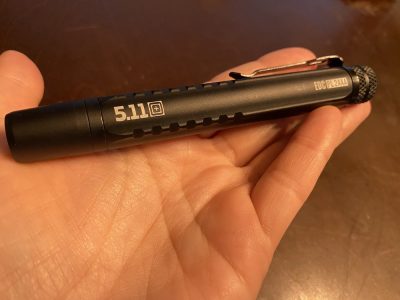 When I look for an EDC flashlight I'm not interested in having a million modes. I want it to turn on and off and that's it. I only get frustrated with multiple modes. I like multiple modes for headlamps, but not my EDC flashlight which I'm using for quick light here and there.
At 107 lumens, the runtime of 4 hours and 20 minutes on 2AAA batteries is impressive. For me, 107 lumens is plenty bright enough for everyday tasks. Any light is going to be better than no light. If you decide to use rechargeable AAA batteries, just keep in mind they might last a bit less time, depending on the mAh of the rechargeable AAA batteries.
The beam distance is 26 meters, or about 85 feet, plenty of distance to see just about anything you may need to shine the light on. It has an impact resistance from a 2-meter height or about 6 feet. I'm 5'2″, so if I were to drop it, I'd feel ok knowing it wasn't going to shatter into a million pieces or jolt something loose and potentially break it. Of course, don't intentionally drop things, but you know, things happen, which is why they made it impact resistant.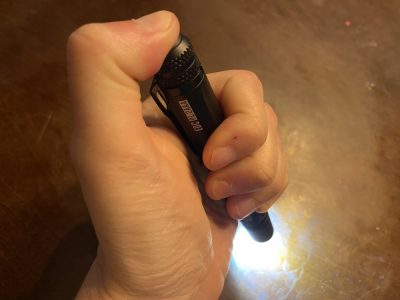 It's IPX-4 water-resistant, which means it protects from splashing water no matter the direction. That's a big plus considering it's in my pocket and if it happens to rain and my pants get soaked, I can feel good knowing my flashlight isn't going to take a dive. Plus, I could take this out in the rain for a short time. It's water-resistant, not waterproof, so hold it out in the rain if you must, but just know it doesn't protect from water immersion, just splashing water, like rain. Which is still great!
The clip is secure, the button is easy to press, and there's really nothing complicated about this flashlight. It works!
The price is just right at $30.00.
If you're looking for a new EDC flashlight or a flashlight for your everyday carry backpack, take a look at the EDC PL 2AAA flashlight by 5.11.