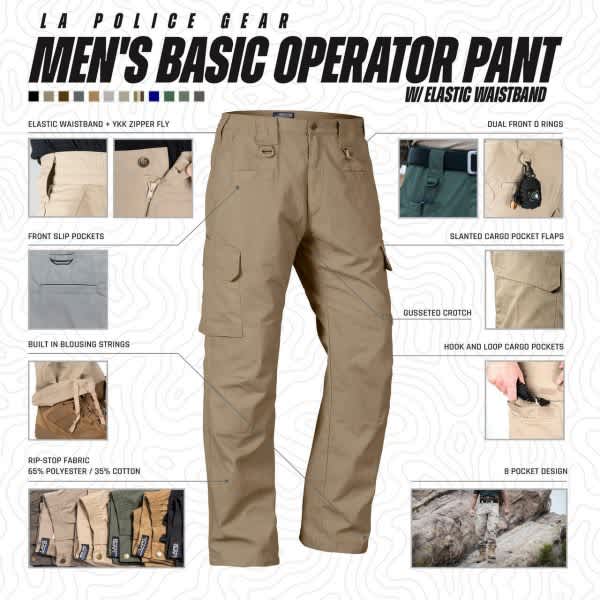 Like it or not, you need pants. I prefer pants that serve multiple purposes. I find jeans too tight and lean more toward work pants that look and function okay whether I'm working on the farm, stepping into an office, or going to church.
When I saw a good deal on the LAPG Basic Operator Pant, I decided to buy four pairs to try them out. LAPG tends to make good stuff, but what told me these pants were high quality for the price was the fact that they use YKK zippers.
It's a little thing, but a zipper is a big deal. If it tears off or fails, the pants are all but ruined. YKK makes the best zippers in the industry, and I've never had one fail or get stuck. So if a manufacturer goes out of their way to get quality YKK zippers, I assume they care about the quality of their product. That guiding principle has never failed me.
Let's talk about what makes these pants so great:
They cost less than $40 and are often on sale.
They're made of 65% polyester, 35% nylon and are Teflon coated, so they're highly water-resistant.
Pockets galore. There are two ample front pockets, two cargo pockets, and in between those are two front slip pockets. And of course, two back pockets.
The back pockets use button closures and the front cargo pockets use hook-and-loop fasteners.
They have three D-rings you can hang stuff from, like keys: two off the front belt loops and one from the left cargo pocket.
The knee fabric is doubled up, so you don't have to worry about wearing holes in your knees.
Overall, these operator pants are highly functional and comfortable. There's generous room in the crotch so you don't have to worry about things getting scrunched up, and there's ample legroom so you can move your legs freely whether you're climbing, kicking, or running.
Blousing Strings
Being military-style pants, they have a blousing drawstring on the bottom of each leg which lets you tighten the bottom of the pants around your boots. Assuming you're wearing boots.
I have mixed feelings about these. I have wide but short legs so my pant legs are always too long and end up under my feet, so it's nice to be able to tie them up higher so they don't slip down. But it's also annoying untying them at night when I'm tired and just want my pants off.
Slip Pockets
The skinny slip pockets on the front are one of the more unique features of the Basic Operator Pant. They are just wide enough to slip in an AR-15 magazine, which is probably the intent. I keep a can of POM pepper spray in the left slip pocket. That way, if I can't reach my pistol with my right hand I can grab the pepper spray with my left. The slip pockets are good for anything long and skinny, but shorter items might be tricky to fish out since the pockets are so narrow.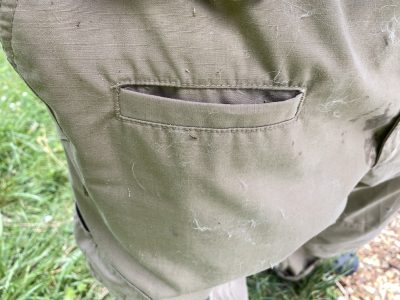 Cargo Pockets
They're cargo pockets, just above the knees, which isn't terribly interesting in and of itself, but what is interesting is the narrow slit above the pocket flap that lets you slip things into the pockets without opening the noisy hook-and-loop fasteners.
These little slits are even more narrow than the slip pockets. An AR-15 magazine won't fit into one, but a Glock magazine fits just fine. Small flashlights and lighters slip in easily as well.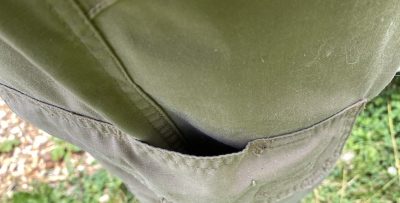 Teflon Coating
Another interesting aspect of these pants is that they're coated with Teflon. I can say this much: after wearing them regularly for nearly two years, they've held up extremely well. The only visible wear on these pants is where a rooster clawed a hole in one pair, which my wife stitched up. Unlike many of my work pants, there are no ragged spots, even around the pockets where they tend to accumulate.
Another nice thing about the Teflon is that it makes the Basic Operator Pant nearly spill-proof. Water just beads off, and after nearly two years they don't have any stains. In fact, they look practically brand new.
The one bad thing is these aren't summer pants. They don't breathe well and they get stuffy in warm weather. But there may be something greater to be concerned about…
There is a downside to keeping Teflon so close to your skin. Teflon is a known endocrine disruptor. In plain English, endocrine disruptors like Teflon mess with your hormones, doing things like reducing your testosterone levels.
There are a lot of concerns about endocrine-disrupting chemicals. In Count Down: How Our Modern World Is Threatening Sperm Counts, Altering Male and Female Reproductive Development, and Imperiling the Future of the Human Race, Dr. Shanna Swan makes the case — based on decades of research — that exposure to chemicals like Teflon is making men less masculine and causing more girls than boys to be born.
Maybe there's something to that. After I start wearing these pants, I sired a daughter with my wife after previously producing two boys. Maybe it was the Teflon pants sapping away my masculinity? In any case, I wouldn't trade her for anything.