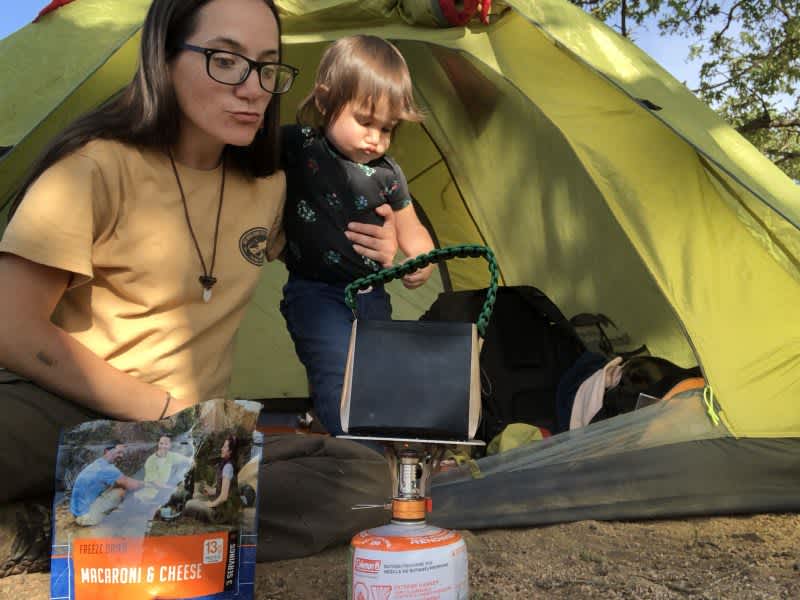 Do you dread going on camping trips with your kids because you don't know how to keep them entertained?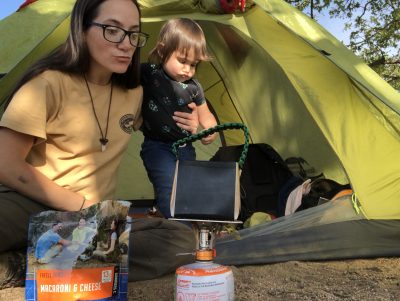 You're not at home, you're away from all your toys and technology and games and comfort…
But that's kind of the point of camping, isn't it? To get away from it all and explore the wild world with your loved ones.
I think the biggest hurdles parents need to get over is that kids are resilient and can do a lot more than we think they can. We involve our kids in just every aspect of the camping adventure.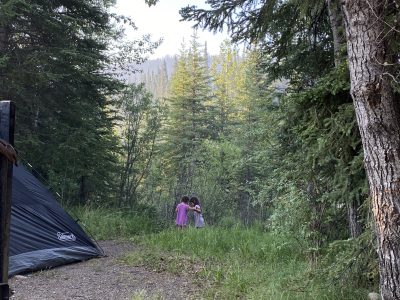 Here are 10 ways to involve kids while camping:
When you're packing for your camping trip, let them pack a bag of their own. Let them take some toys, glow sticks, whatever they want. It's ok if they take a few items from home, it's great for morale and comfort. They may want them or they may not, I would just keep any technology at home if at all possible. Though I understand if an iPad or Switch comes out occasionally, it's really not that big of a deal, just try to limit it if you can.
Let them help collect fire wood. Even if you're not going to make a fire, go out and collect some sticks and twigs. This could actually lead to a whole slew of other activities, such as finding bugs, rocks and other things in the wilderness.
They can help you cook. Whether it's putting food on skewers, chopping or just mixing, kids are capable of doing so much in the kitchen, especially when we're right there to help them do it.
Have them help you setup the tent. Whether it's just holding up the poles or holding the tent down, they can be of help, just direct them and be patient.
Setup the sleeping area and gear. Go inside the tent and let them set up the sleeping pads and bags. Give them some space and allow them to figure it out. It's okay if the space isn't perfect right off the bat, it can always be changed later. Just let them explore and have fun.
Go for a walk and do a scavenger hunt. Tell them to hunt for bugs, or leaves or pinecones or whatever else. Give them a list of items to find and collect. You can walk with them or tell them to stick around the campsite within view.
Tell stories. Start a story and let them continue it. It may take a minute for kids to understand the concept, but they'll get into. Just go with the flow, use nature or your surroundings as ideas or a jumping off point. This is a great way for them to get more connected with their surroundings.
Pop some popcorn over the fire. Kids love popcorn and they love fire. Get a fire going and pop some popcorn over the fire. If you can't have a fire, pop some popcorn over your propane stove.
Teach them some survival tips. Like how to tie knots, how to whistle with grass, how to find wild edibles, how to identify animals, types of trees, make tiny shelters for ants, finding water and so on. Of course, it's a good idea if you're knowledgable about these things, too, but there are lots of survival books for kids that can help teach them, too. This can be a great time for you all to learn a few things!
Let them be, or explore. Kids are capable of entertaining themselves if we simply let them think of things to do. Of course, they should be within eyesight and even earshot, but regardless, let them explore around the campsite and just have fun with nature.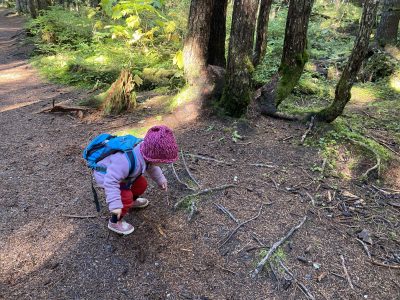 Whatever you decide to do while camping, just know that kids are flexible and able to adapt to new situations very easily, it's usually the parents who have a difficult time. Allow them to help, be patient, understanding and try to enjoy it for what it is. It's okay if it's not a perfect experience, take things slow, go with the flow and have fun!