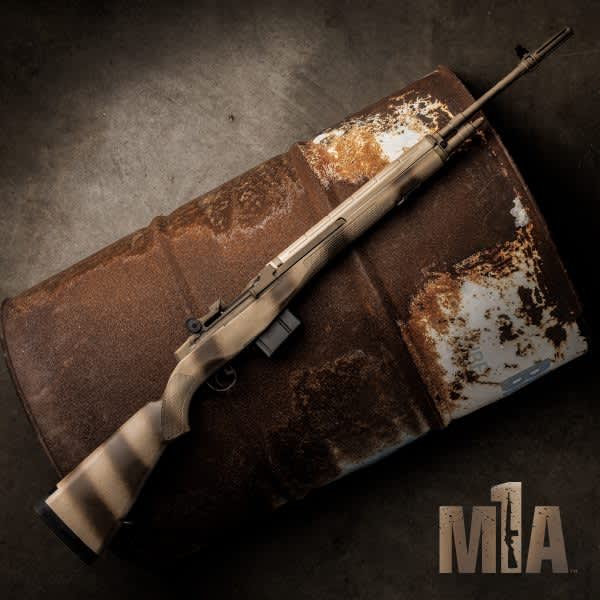 If you're a fan of the 2001 film Black Hawk Down or a history aficionado of the real world event that inspired the film you'll probably be happy to see a new trim of the popular M1A rifle on the market from Springfield Armory. The new NBS-Exclusive Two-Tone Desert FDE M1a rifle is here in two different trims including a new M1A Standard Issue model and the M1A Scout Squad rifle. Both rifles will retail for under $2,000 and will feature the new two-tone Desert FDE Cerakote finish with a complimenting composite stock.

New NBS Exclusive Two-Tone Desert FDE M1A Rifles From Springfield
"With the addition of these new NBS-exclusive rifles to the M1A line, fans of this ever-popular rifle have two more options from which to choose," says Steve Kramer, Springfield Armory's Vice President of Marketing. "From their expertly applied Cerakote finishes to the matching two-tone FDE stock, these M1A rifles would make a great addition to anyone's gun collection."
The M1A is the descendant of the classic M14 rifle and is essentially just a modernized version of both the M14 and the M1 Garand rifle that hails as far back as WWII. The M1A is a popular choice for ranchers, farmers, and marksmen for its reliability, ruggedness, and classic design. The original M1A was introduced in 1974 and almost 50-years later the M1A is still alive and punching holes in targets but this time with a new factory-finished camouflage pattern for two of its variants.

The two variants include the M1a Standard issue which includes 10 and 15-round magazines an OD green cotton sling, 22″ 6-groove carbon steel 1:11 twist barrel while the Scout Squad rifle includes the same magazines and sling but gives the user a shorter 18″ barrel with the same twist rate. Both barrels will feature a Desert FDE Cerakote finish for increased durability and will come directly from the factory with 2-stage triggers. The Scout Squad rifle will terminate with a muzzle brake while the Standard Issue model will feature the classic flash suppressor often associated with M1A rifles.
The NBS Exclusive Two-Tone Desert FDE M1A rifles are both available and shipping now at a price of $1,847 for the Standard Issue model and $1,980 for the Scout Squad rifle. More information and a complete dealer list can be found over at http://springfield-armory.com.