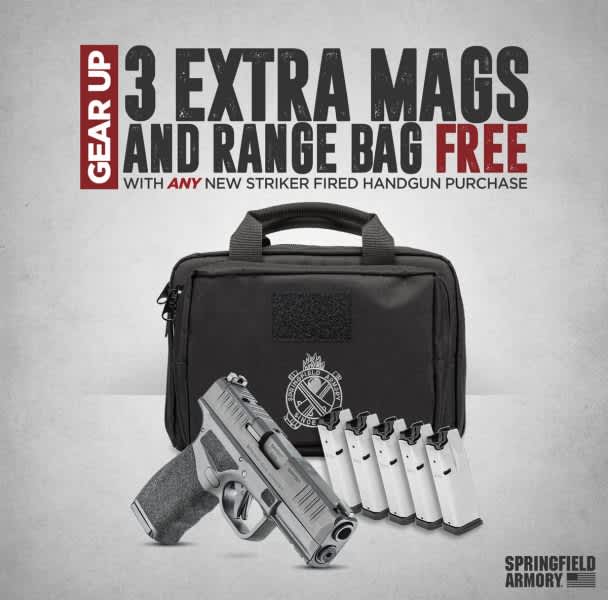 Extra mags and pistol bags are almost always a need for any new semiautomatic handgun purchase.  Usually, it's extra cash out of your wallet as well, but not for Springfield armory Striker fired pistol purchases – for the next couple months, anyway.  For the next two months, you can get a whole bunch of free gear if you purchase any Springfield Armory striker fired pistol, including the Hellcat Platform.  Per Springfield:
GENESEO, ILL. (07/01/22) –Beginning July 1st, customers who purchase any striker-fired pistol from the Springfield Armory line-up will qualify to receive three additional magazines and a Springfield Armory dual pistol bag with the Crossed Cannon™ logo.

This new Gear Up is designed to offer shooters yet another value-added benefit to the company's popular line of striker-fired pistols, from the original XD through the newest XD-M Elite and Hellcat variants. Customers who purchase any striker-fired pistol product during the promotion qualify.

The Gear Up program will run from July 1st, 2022 through August 31st, 2022. Eligible buyers will receive three additional magazines and a Springfield Armory dual pistol bag for free, with a retail value of up to $150. They must simply show proof of purchase and fill out the redemption form online.

"Springfield Armory's striker-fired pistols, including our newest offerings such as the Hellcat Pro, provide shooters with ruggedly strong and utterly reliable handguns," said Phil Rawlings, Vice President of Sales and LE for Springfield Armory. "And with this new Gear Up promotion, they will receive a great selection of valuable accessories at no extra cost."

Those who purchase a striker-fired Springfield Armory pistol with the promotion date range will have until September 30th, 2022 to redeem their Gear Up package.

For more information about the All Striker-Fired Pistol Gear Up promotion, please visit gearup2022.com.

To see the All Striker-Fired Pistol Gear Up Video, visit: https://spr-ar.com/r/5215

For more information about Springfield Armory products, please visit: www.springfield-armory.com.

About Springfield Armory®

In 1794, the original Springfield Armory began manufacturing muskets for the defense of our young, free Republic. The Armory functioned as a firearms supplier for every major American conflict until 1968 when the government sadly closed its doors. In 1974, nearly two centuries after its inception, Springfield Armory Inc. in Geneseo, Ill. revived the iconic heritage of the Armory to carry on its legacy.