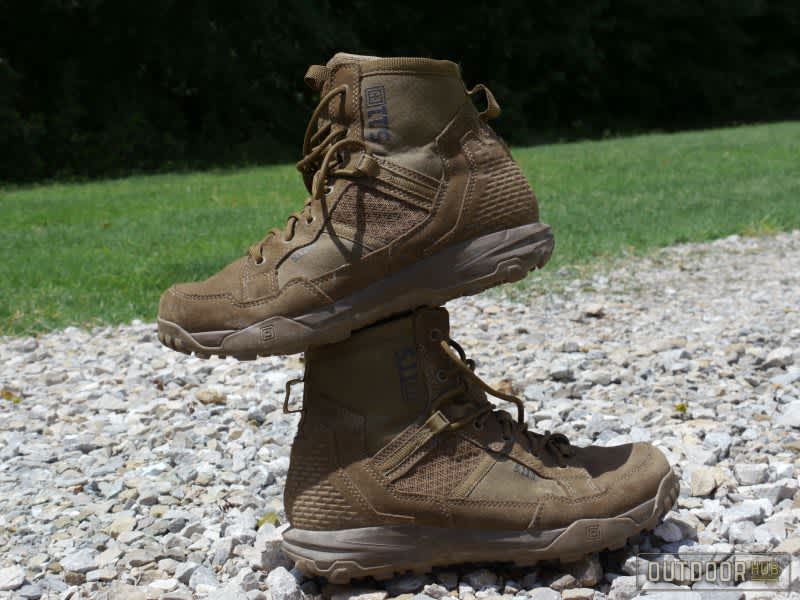 There is an endless sea of boots to choose from and with that, there are always a ton of great options. However, I'm not one to keep a large stockpile of boots for every occasion and I often like to optimize my footwear collection to cover all my bases without my closet winding up looking like a Footlocker. 5.11 recently came out with their new 5.11 A/T 6″ Non-Zip boots and today on OutdoorHub we're going to take a look at them and the experiences I've had with them so far.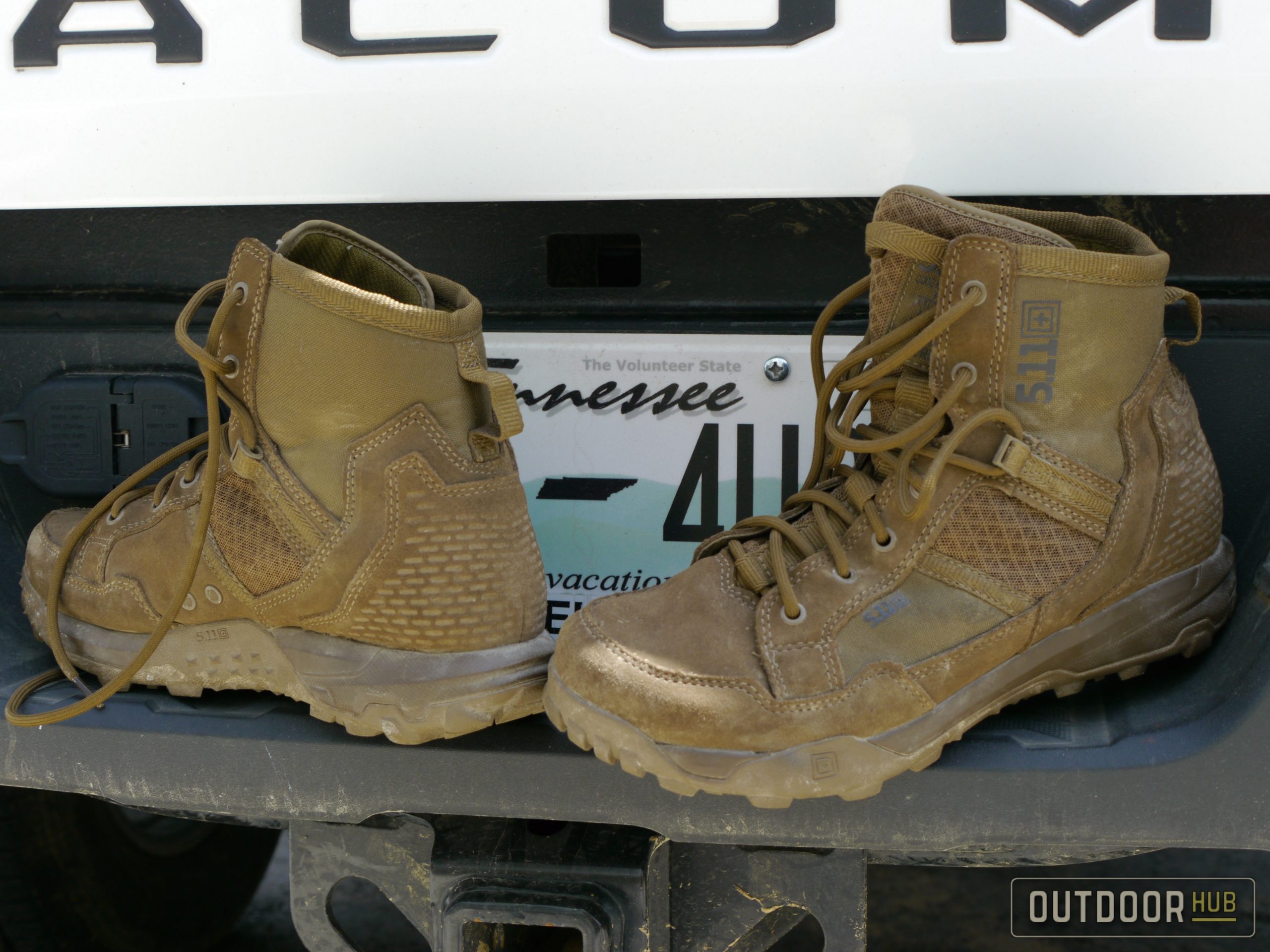 REVIEW: 5.11 A/T 6″ Non-Zip Boots – Fire and Forget Boots?
Specifications and Features:
The 5.11 A/T™ 6″ is a performance boot built from the sole up to increase performance. The All Terrain Load Assistance System (A.T.L.A.S.) is a force multiplier for those who carry heavy weight on long shifts. These boots were developed to work with your "work weight". This boot is constructed of nylon with high abrasion air mesh, a water resistant suede upper. A high traction outsole so you can take those corners in a foot pursuit or run headlong into whatever challenge you're up against. Explore the 5.11 A/T Series™.

WR suede leather upper with high abrasion air mesh nylon
5.11 A.T.L.A.S. Technology Support Plate
Echo Foam high rebound/energy return PU and Force Foam lightweight PU impact cushioning
5.11 A.T.L.A.S. Technology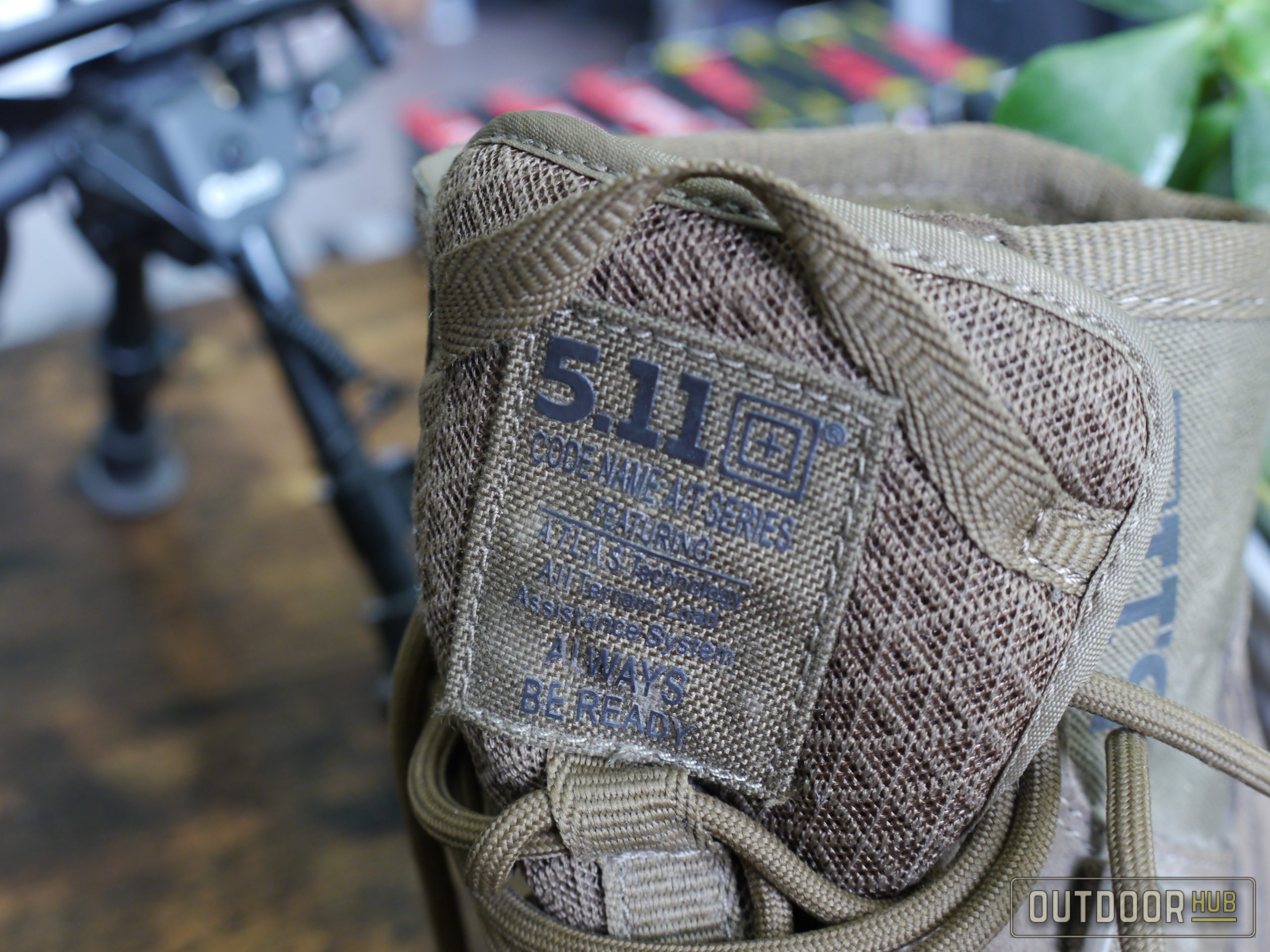 The 5.11 A/T boots of all lengths come in both wide and regular sizes. This is something that more and more footwear companies have been making an effort to include as part of their standard line items and for me, that's great (because I have wide feet). In addition, the A.T.L.A.S. technology seems to really do the trick when it comes to carrying around a heavy load all day, and throughout the use of these boots I haven't noticed the same type of fatigue on my knees and feet that I normally would from my steel-toed work boots.
Initial Impressions
When I first got the boots I wasn't really looking forward to wearing them all that much. I like the look, the feature set, and the materials list included but the worst part about getting a pair of boots up to speed and integrated with your kit is the break-in period. I'm happy to say that, for me at least, the 5.11 A/T 6″ boots didn't seem to require a break-in period. Right out of the box the boots fit like a glove with enough room at the front for my toes to wiggle around a bit but not so much that when I made hard stops my toes were slipping and jamming into the toe box of the boots.
The boots are deceptively simple in their design and the tan appearance of the boots conceals a lot of smart design choices. Going from front to back, the boots start off with the rugged high traction outsole that travels about 1/4 the way up the front of the boot. This definitely keeps the boots from splitting at the toe end prematurely and mates with the double-layer suede in a way that doesn't expose any of the stitching to impacts or scrapes.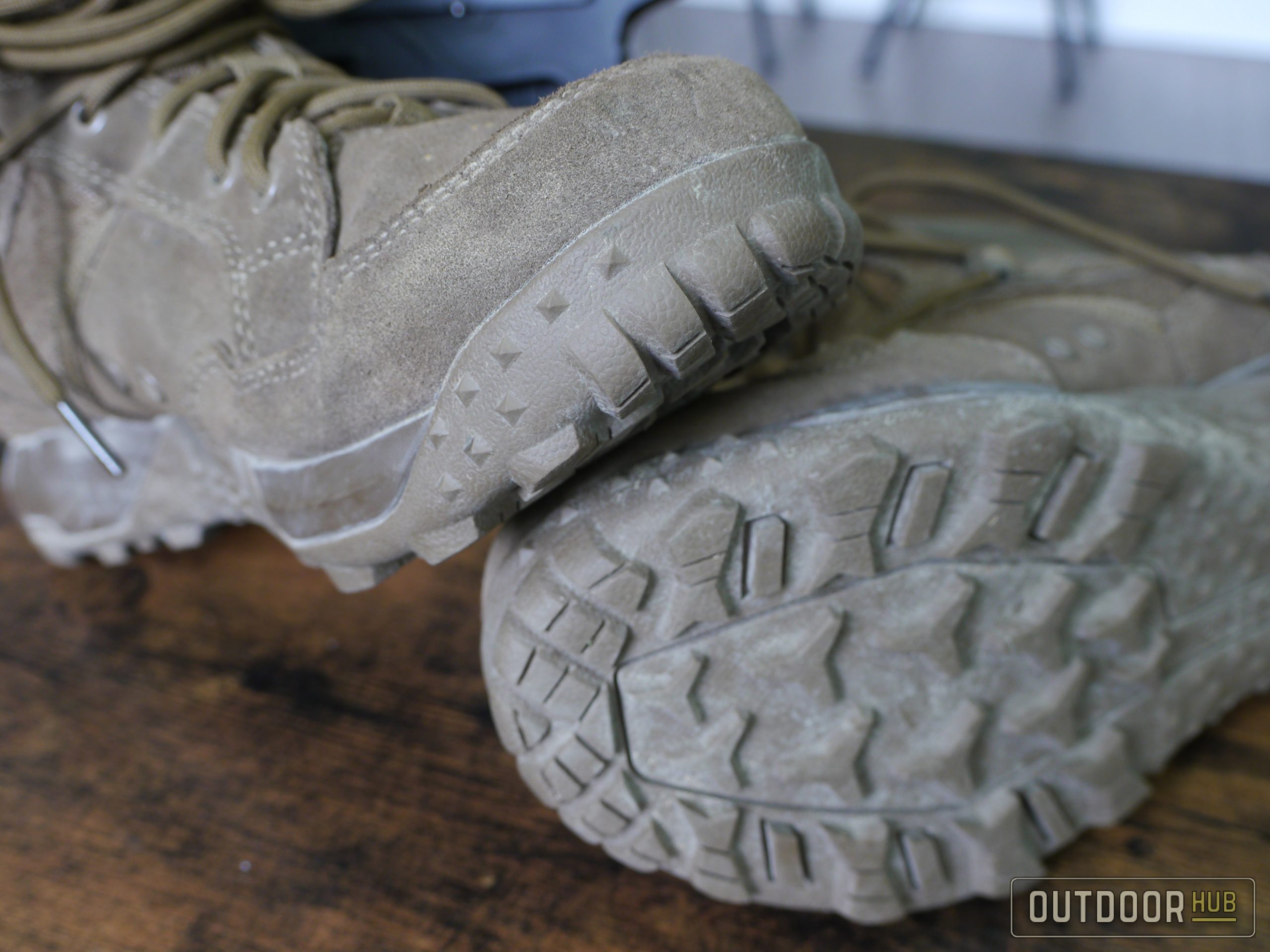 The sides of the boots are covered with a high abrasion air mesh that is really tough, breathable, and still somewhat water resistant. I took the boots into a couple of creeks with me and they emphatically are not waterproof by any stretch but if you got caught in the rain with them you wouldn't find that your feet are soaked.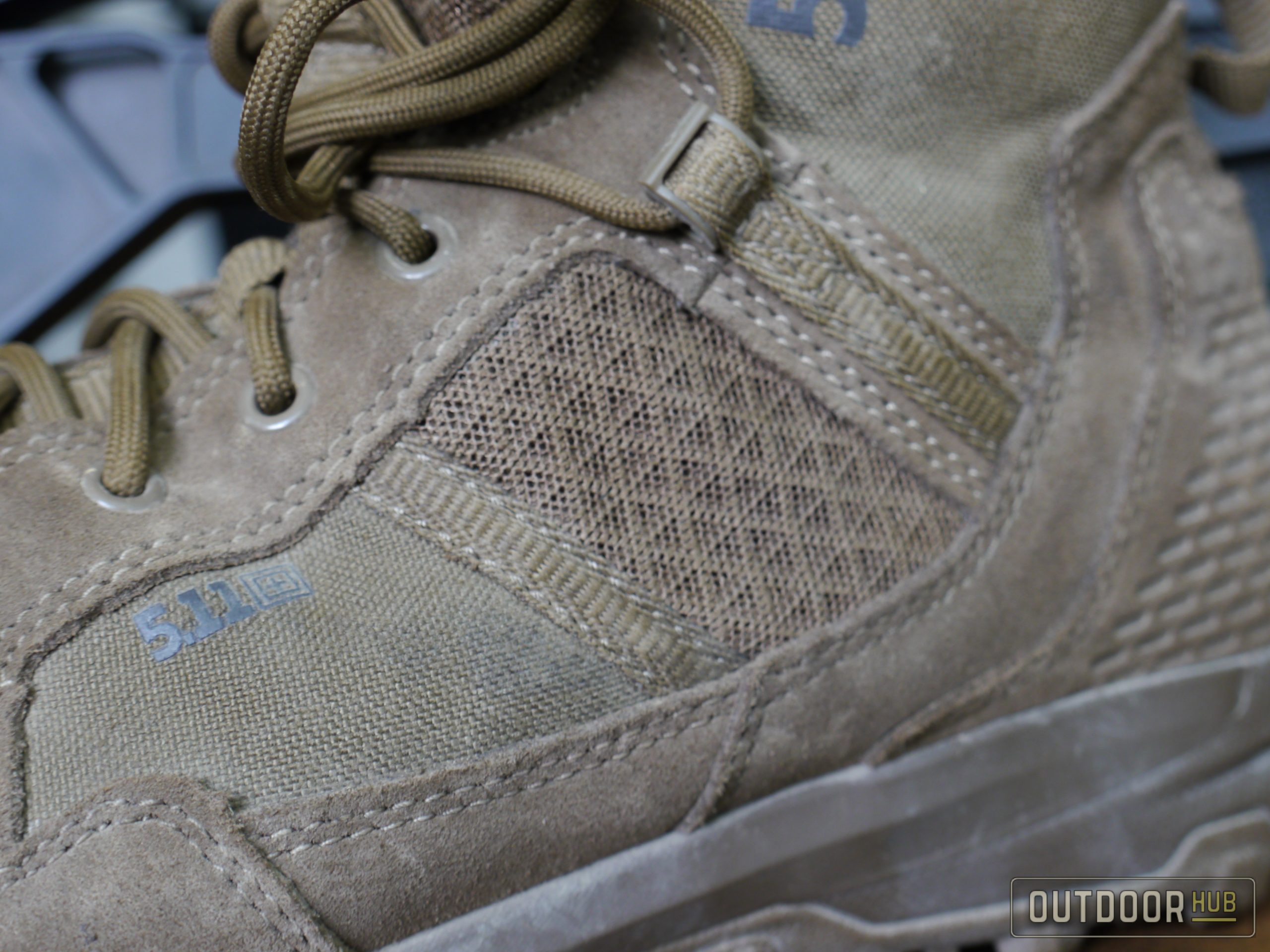 The rear of the boot features 3 layers of material with two of them being dedicated to the heel area which is almost as hard as a rock. This gives you great ankle support across a wide variety of terrain when used in tandem with the outsole, which features a triangular caltrop pattern that gives you traction in multiple directions but is small enough to still allow pea-sized gravel to flow around them so that you're not standing atop the worlds smallest mountain (which could cause your ankle to bend).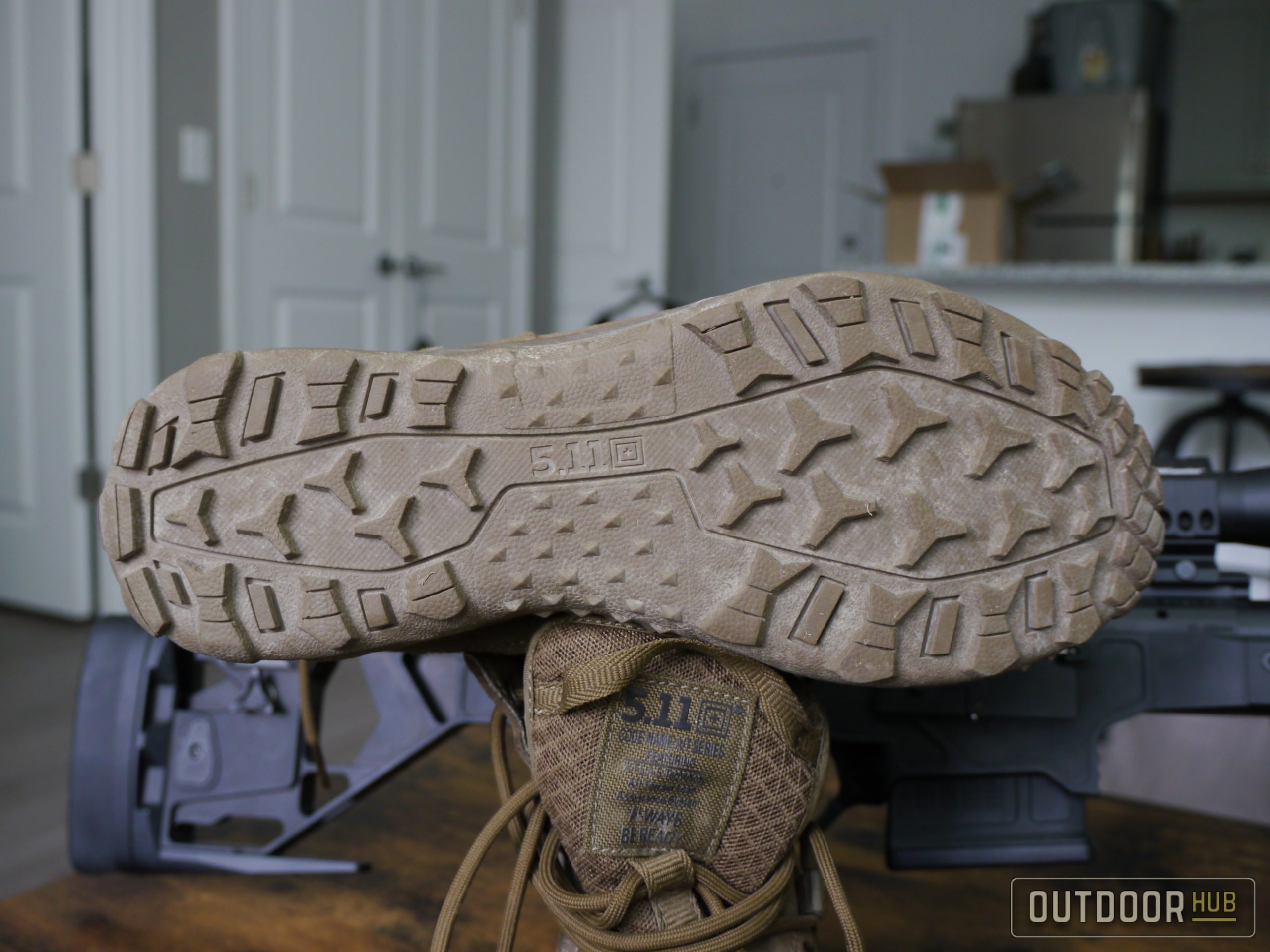 Comfort Across the Country
In the months that I've had these boots, I've taken them with me to dry creek beds, actual creeks, multi-gun competitions, and trained in the woods wearing full kit including the 5.11 A/T boots. The most impressive thing about these boots in this specific length for me is that they allow me to feel safe with the 6″ of ankle support that they give you, but they aren't so stiff as to restrict movement. This means that I can go from a standstill to a dead sprint in a fraction of the time that I would be able to with my 8″ hunting boots and all that I'm really sacrificing for this ability is the waterproof ability.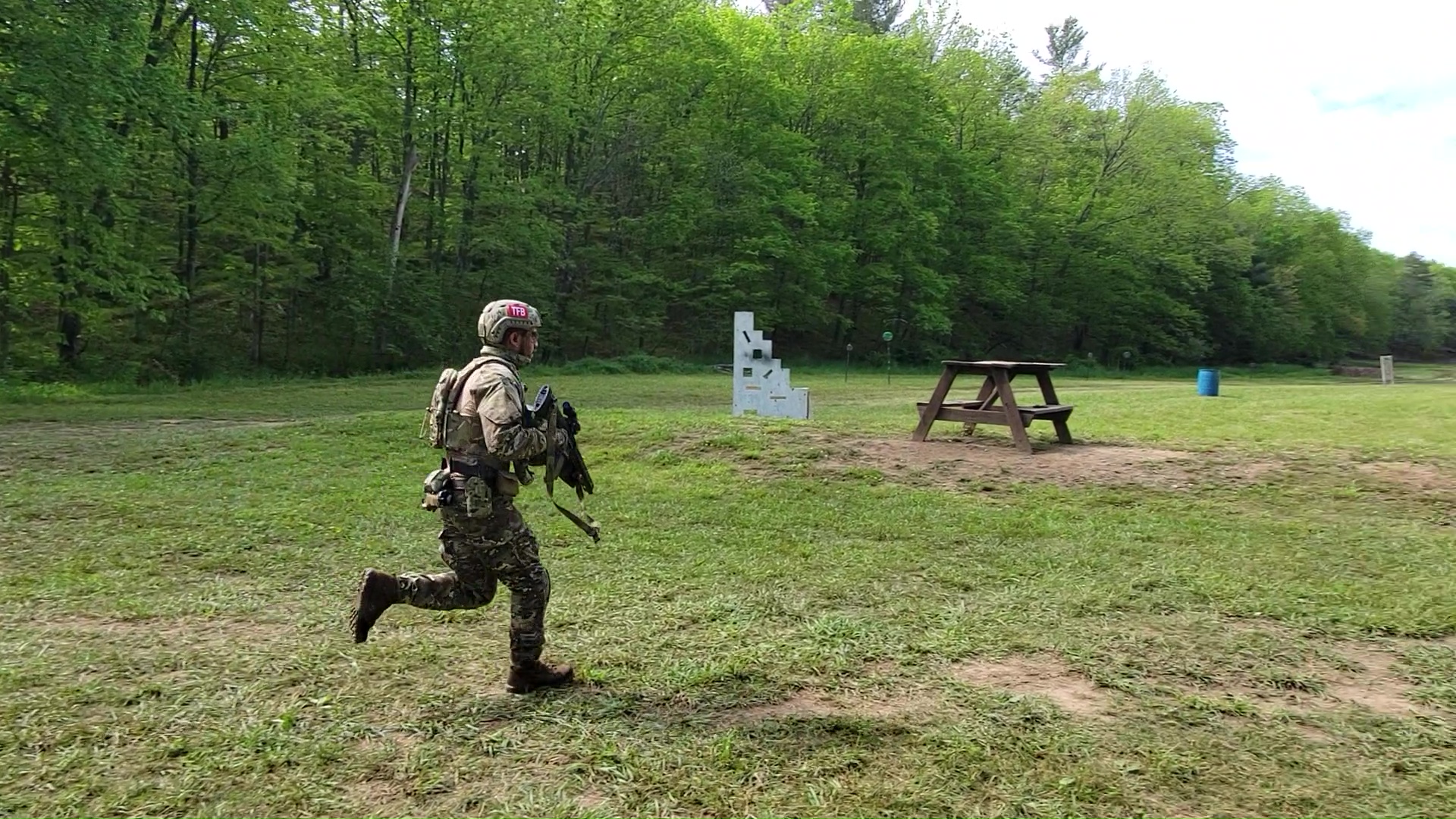 The real bread and butter of the 5.11 A/T 6″ boot's comfort come from their insole which doesn't overemphasize the cushioning. The cushioning is there but there is only about 1/4″ or so of impact cushioning before you run into the A.T.L.A.S support plate which is a rigid insole that keeps the 5.11 Force Foam that lies beneath from allowing the various parts of your foot to sag into it. For a casual user, this might seem counterintuitive but when you're lugging around a bunch of extra gear all day, you'll want that support so that your feet don't start to get sore in specific areas, and instead, you'll have uniform support throughout the boot.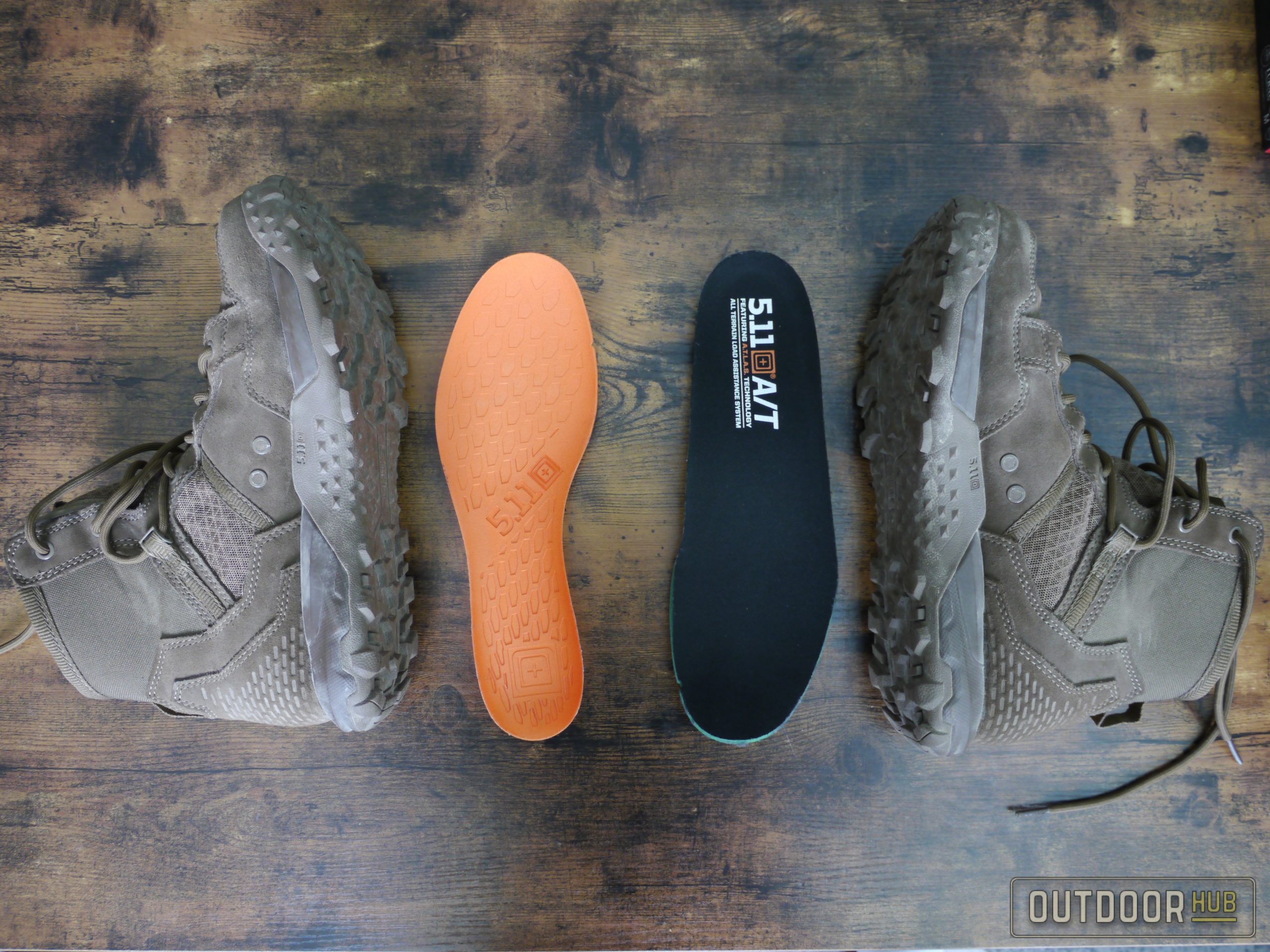 One negative I'll note about the Support plate is that it's so rigid that removing it and re-inserting it will slowly chip away at the edges and eventually you'll wind up with a broken support plate. If you use your boots a lot, you'll want to replace them as soon as they start to crack otherwise you'll wind up with a "soft spot" where your foot can sink into the layer below and this will cause early foot pain on long days.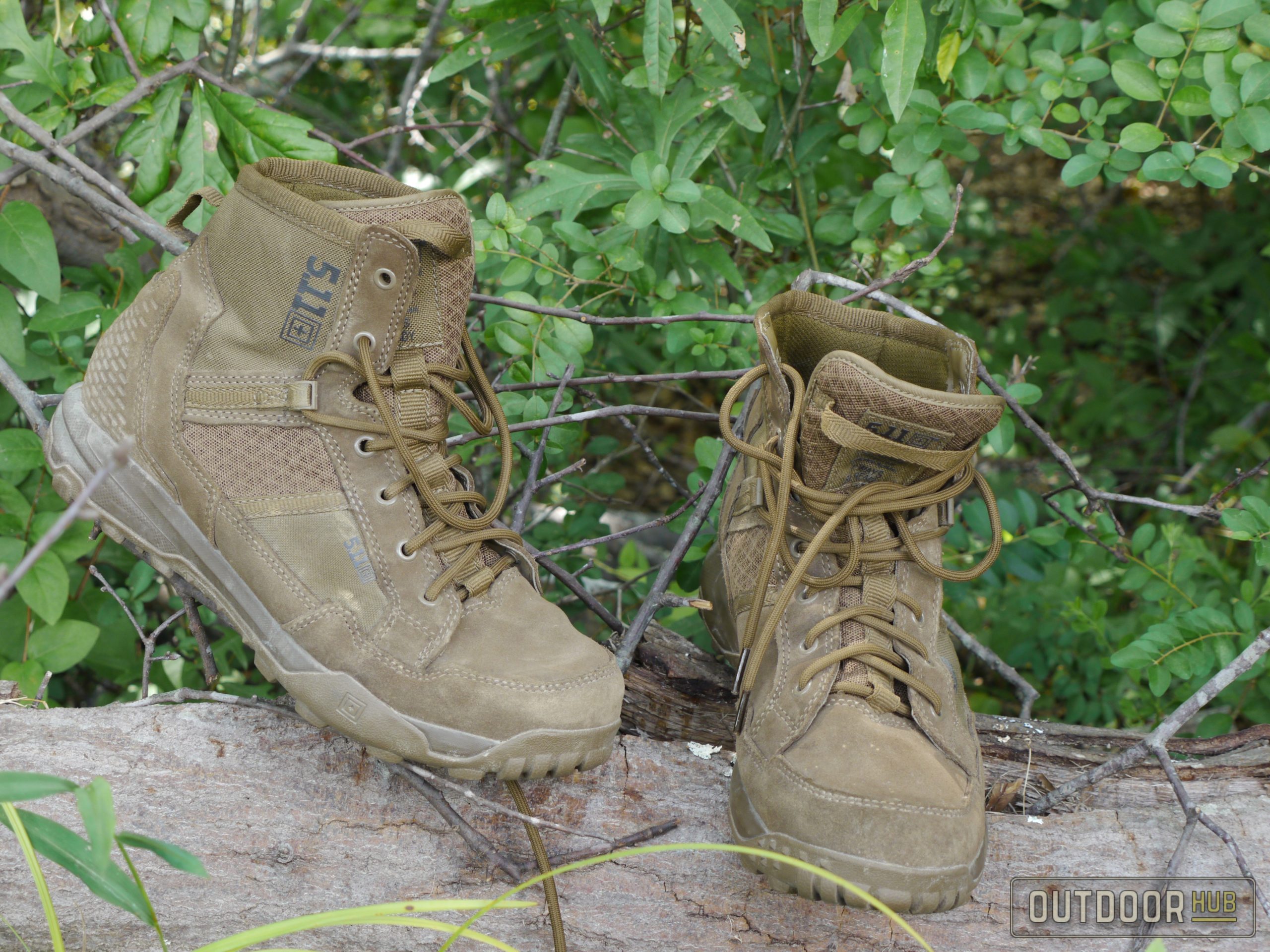 The lacing system is pretty typical for boots with one exception. The tensioning eyelet is made from plastic and in my experience, this will always be the first point of failure of any boot. Plastic hardware often gets exposed to UV rays from the sun, and a litany of other elements that can degrade its durability and I surmise that in about another year or so the tensioning eyelet will break just from standard use. That being said, its design helps keep the laces snug while you tie them up which is a huge plus in my book and probably a good compromise.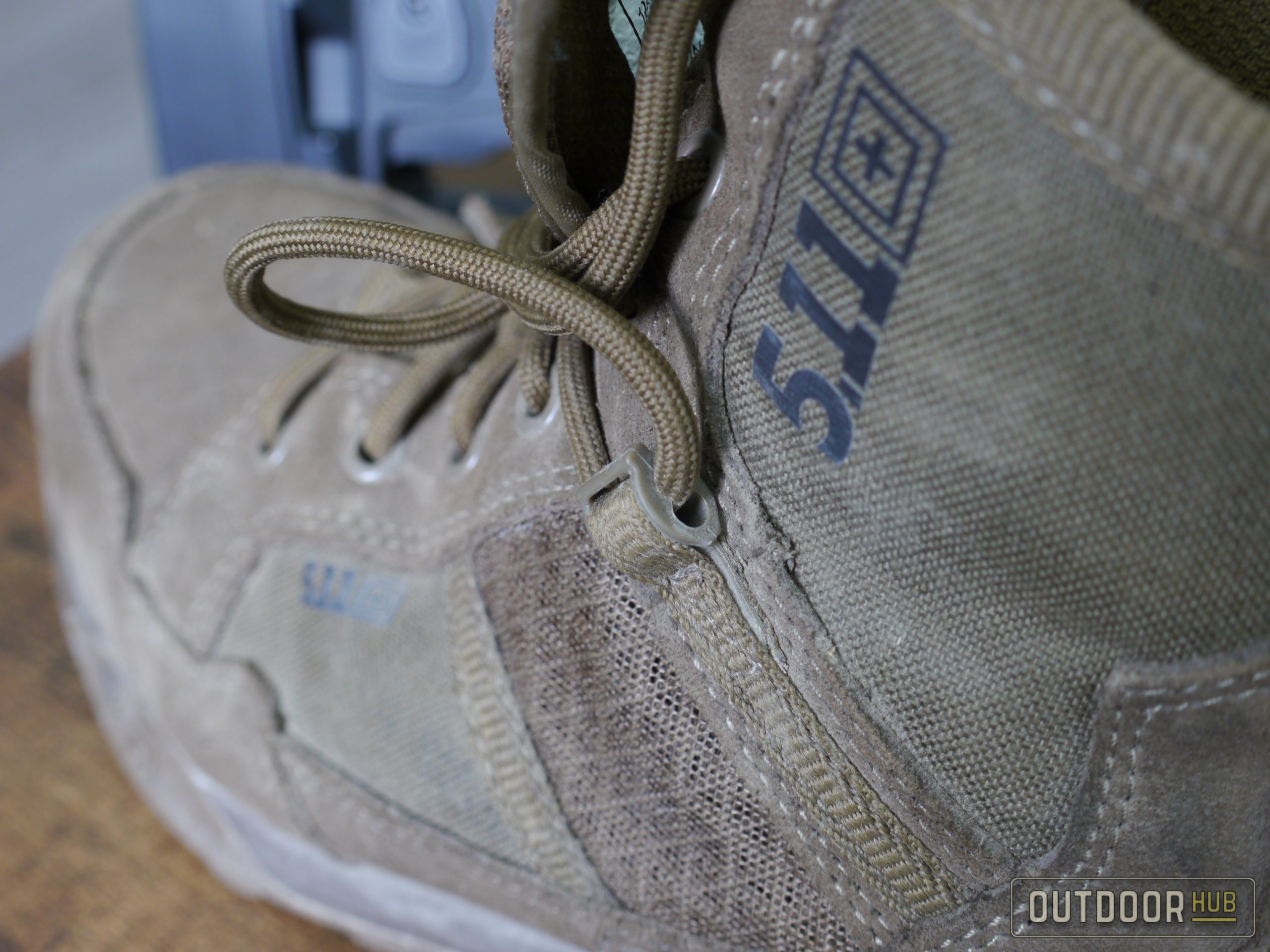 Final Thoughts
The 5.11 A/T 6″ Non-Zip boots are probably going to be my "go-to" boot moving forward. The out-of-the-box comfort is unparalleled and in my opinion that makes them worth picking up again and again. If I know I'm going to be encountering ankle-deep water, or heavy snow, I will probably still opt for a more moisture-optimized boot but the 5.11 boots fit the bill for just about anything short of a flood. I would highly recommend these for any hunter, hiker, or operator who needs a solid boot that can tough it out across any terrain and keep them comfortable with the extra weight they'll be carrying around all day. To put it simply, 5.11's A/T 6″ boots are a pair of boots you can buy and feel confident that you won't be returning them or wishing you hadn't bought them a week later.