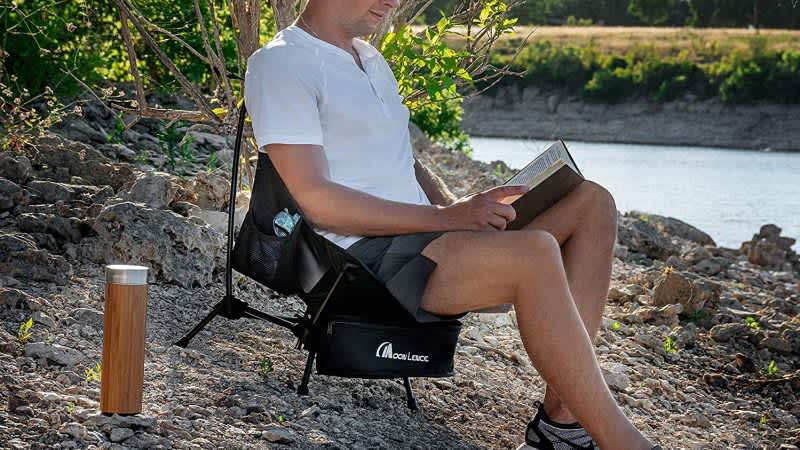 +
–
Table of Contents

Do I actually need a framed chair (to get off the ground?)
Chairs with foldable aluminum or carbon fiber frames are optimal for when the ground is wet or there is no suitable place to sit where your rear is elevated from your feet. The main sacrifice you'll be making with this type of design is the extra weight the tubing will add to the overall design. Folding chair pads don't get you off the ground, but they'll make any rock, stump, or ground/tree combo a more comfortable place to rest. Your choice is going to entirely rely on what you think will work best for you and your intended trail.
How often and how long should I rest while backpacking?
Try to keep breaks close to 10 minutes and avoid going over 15-minute breaks. Plan out where you will get water and use these stops as resting breaks. Another good time to take a short break while going at a fast pace is when you stop for lunch. Frequent breaks catered to your specific fitness level will keep you going for longer and also serve as a good reminder to recharge with water and trail snacks.
Why not just buy the cheapest backpacking/camping chair?
Cheap backpacking and camping chairs (especially the rigid frame folding kind) don't evenly distribute the load (you) across their surfaces and often over-emphasize supporting the thighs rather than the actual seat. This leads to them being uncomfortable sitting for more than a minute or two and this will lead to less effective rest periods.
Another reason you should avoid cheaper chairs is that they'll break a lot easier. If you're using one frequently, multiple times over the weekend, and for longer periods at night, you'll want something that is both durable, and comfortable.  Most cheap chairs can't handle anything over 225 pounds and the average male weighs around 200 pounds. If you're big/tall then this already makes the most affordable options out there either too large to backpack with or too flimsy to handle the weight safely.
We are committed to finding, researching, and recommending the best products. We earn commissions from purchases you make using the retail links in our product reviews. Learn more about how this works.