Get two watercraft for the price — and space — of one. We tried the ISLE Switch SUP-yak to see how it fares.
I've never gotten as many stares, or inquisitive remarks, as I did in the 5 minutes it took to carry this SUP-yak contraption down the path to my local lakeshore. "Wait, what is that?" "Is that a kayak?" "Dude, that's siiiick." "Can I make my ISLE look like that?"
Paddle enthusiasts take note, this SUP-yak may be the most dialed we've seen.
Sometimes, an afternoon or sunset paddle is just what the doctor ordered. And if the remedy you need is ultimate fun, the ISLE Switch definitely delivers. Sit down, stand up, ride with a friend. Paddleboard when the water is calm, and then to convert to a kayak if the winds pick up. Paddle with pups or kids on board.
Heck, with the ISLE Switch, you can even link up the boards and paddle tandem. Even in kayak mode, there's room for a cooler and several dry bags, making this an ultimate paddle-all-day vessel. Dare I say: the ISLE Switch may be every paddle enthusiast's dream.
In short: This 11'6″ paddleboard-kayak combo, a style of vessel lovingly known by some as a SUP-yak, offers the opportunity for two styles of paddling in one, as well as lots of versatility. The board has an impressive amount of attachment points for one kayak seat or two, cargo, gear, and more. Honestly, if you are interested in the Switch ($995), you probably don't need much convincing. Here's our thorough look at all the features and setup, and why we loved it.
Testing Out the ISLE Switch: Review
Paddleboard Mode
For anyone who doesn't paddleboard on a weekly basis (like me), you may not notice the intricacies of a board — its design, shape, the little details. But I do, and usually in the first few strokes — after about an hour on the board — I'll already know my verdict.
I was most interested to test the ISLE Switch specifically to see how its performance as a paddleboard versus kayak compares. Does one outshine the other? It is really designed for both?
Short answer: yes.
In paddleboard mode, the Switch excelled in providing balance, stability, and good maneuverability. It's longer than the SUPs I'm usually on, but that also means I can get in longer strokes.
It's also slightly wider than usual, but overall was still comfortable to paddle on. I also really loved the deck pad material and section on the Switch — there's ample room to move around, and the deck pad is comfortable enough to paddle barefoot.
Finally, the SUP paddle section with the T-grip has measurements along the shaft, so you can quickly adjust and readjust to your height. Not all paddles have this (usually shown as length in inches or cm, sometimes in height) — but I think it's a great touch for those who paddle often, especially those sharing a board.
Length: 11'6″
Width: 36″
Paddle: 4-piece, single or dual blade paddle
Weight: 20 lbs.
Kayak attachments: Dual paddle blade, seat, footrest
Kayak weight: 21.7 lbs.
Accessories: Water bottle holder, paddle holder, travel bag, manual pump, SUP Link (not included)
Kayak Mode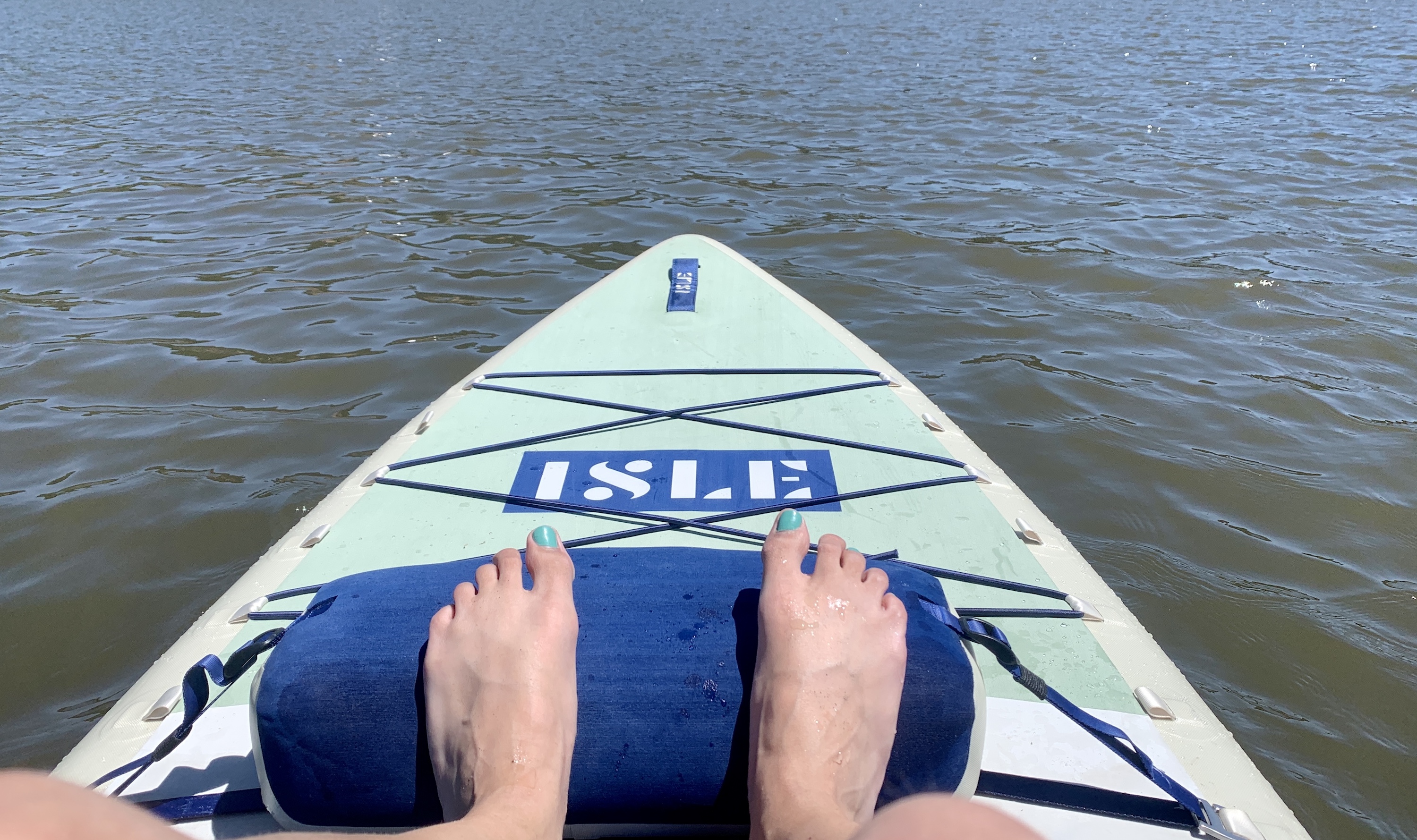 Let me start by saying that I have paddleboarded in 20-30 mph headwinds. Sometimes it's fun — if I'm looking for a workout. But usually, it's miserable.
So having the kayak mode ability to choose when a windy day struck was pretty awesome. The paddleboard (in kayak mode) performed great on flatwater, in both calm and windy weather.
The Switch — 11 feet, 6 inches — took me a bit over 10 minutes to inflate to 14 PSI. The kayak attachments took me about 2 seconds to inflate. Both were comfortable and intuitive to setup and attach to the Switch board.
I specifically also spent a day in testing switching back and forth, carrying all the attachments and paddles on board. The seat was easy to cinch down and tighten, and adjust the back, even while on the water.
Same for the paddle — want to switch from SUP to kayak? Just exchange the T-grip end for the second blade, and the other paddle segment can be stored on your board, or in the travel bag or your vehicle.
However, I do recommend playing with the seat angle and attachments on shore your first time, to fine-tune the angle and familiarize yourself with adjusting the seat.
That way, you are in a comfortable starting position before hitting the water/waves. (And yes, if I lived near an ocean, or had the opportunity to travel, I absolutely would've gone sea kayaking on the Switch.)
The seat and footrest have the same brushed material as on the EVA deck pad, which is a really awesome and necessary touch. (No one wants to sit on a sticky, hot inflatable plastic, or a rough woven fabric like some seats I've tried.)
I'd also love to point out how great a deal the Switch is when you factor in the two kayak modes (single or tandem kayaking works!). Compared to buying a standard paddleboard and kayak, or even a paddleboard and canoe or tandem kayak, the Switch offers it all for under $1,000.
Another big bonus: this paddleboard/kayak combo is just as easy to carry and cart around as SUPs of similar lengths. The kayak attachments add little weight, and the whole package adds up to be nearly just as portable.
I found the center grab handle to be slightly less comfortable than on other paddleboards if carrying distances farther than a quarter to half-mile, but that's just me. Overall, the Switch weighs significantly less than a traditional canoe or kayak for two.
Two Riders & Tandem
The only aspect of this board I didn't test was the tandem function (but I paddled with one person and two, and kayaked, and loaded the board down with gear).
However, after talking with a few folks at ISLE, I discovered it could definitely be a fun bonus feature for many who consider investing in the Switch.
An add-on called the SUP Link (a metal buckle with a webbing slide on either end with adjustable webbing in between) lets you attach two boards together side by side.
This would seem to add a layer of complexity to steering and navigation, but we can also see why it would add plenty of fun, too.
Conclusion
The ISLE Switch was a hot item at Outdoor Retailer this summer just based on concept and looks, but after testing, the Switch wowed me with its performance too.
My biggest point to friends who paddle and to onlookers who asked about my setup was this: the Switch doesn't just feel like a kayak seat strapped to a SUP. It's more than that.
The sit-on-top feel, adjustability, and support of the kayak attachments, not to mention the board's slightly wider shape and glide through the water, feel remarkably like a traditional kayak. Plus, there's plenty of space on top for a deck bag and storing gear, similar to a kayak as well.
If you are looking to invest in one watercraft that can do it all — paddleboarding or kayaking, with one paddler, two, kids, or tandem — the Switch is it.