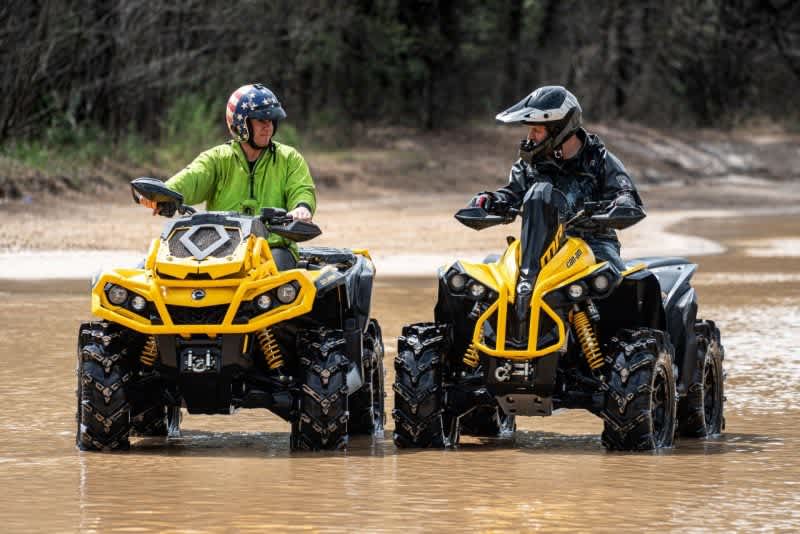 +
–
Table of Contents

What kind of tire is best for me?
ATV tires come in wide varieties as you've seen above and not all of them do the exact same thing. You'll want to optimize for the type of terrain you'll most frequently find yourself in. For many people, True All-terrain tires will be the best fit as they still offer good off-road capabilities, but also have great performance and comfort on paved or unpaved roads without sacrificing on the durability side of things.
M/T tires will often wear away prematurely on hard surfaces and on toad tires (shallow tread) will not perform well in rough terrain like sand, mud, and wet areas.
What is the difference between tire ply?
The ply rating is how many layers of rubber are on the tire. A common one is 8-ply meaning it has 8 layers of rubber. Some tires have the same number of ply all around the tire, meaning if there are 8-ply in the tread part of the tire, its side wall will be 8-ply as well. A 6-ply will last longer than an 8-ply. The reason is the extra size of the body plies in a trailer tire will actually produce more heat while rolling than a 6-ply rated tire.
Should ATV tires all be the same size?
Every ATV has a theoretical maximum tire size it can fit without modifying the suspension. It's typically about one to two inches bigger than your stock tires. So if your ATV came with a 27-inch tire, you could probably fit a 29-inch tire without too much trouble.
But what if you want to go bigger?
That takes some work. You'll either need to invest in a lift kit or some offset A-arms. These types of kits will often tell you what the max tire size is when you have them installed.
You can't go big without some consequences though. Namely, you'll lose torque due to the increased diameter (big tires like a high-gear kit!) and the extra weight. The weight can also put extra strain on your clutch and shorten the life of your clutch belt.
We are committed to finding, researching, and recommending the best products. We earn commissions from purchases you make using the retail links in our product reviews. Learn more about how this works.