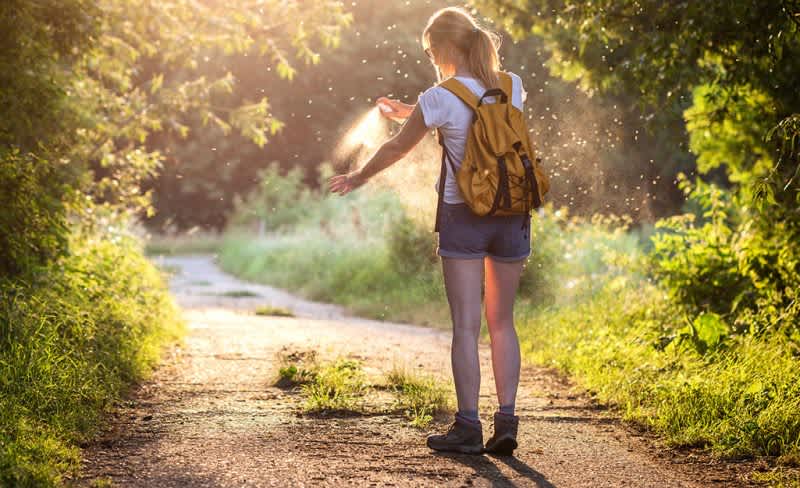 +
–
Table of Contents

What attracts mosquitoes to bite you?
Mosquitoes are stimulated by a number of factors when seeking out a blood meal. Initially, they're attracted by the carbon dioxide we exhale. Body heat is probably important too, but once the mosquito gets closer, she will respond to the smell of a potential blood source's skin.
Insect Repellents applied to all areas of exposed skin not covered by clothing applied after sunscreen should keep most of the bugs off of you. However, be aware that the SPF protection of your sunscreen may be reduced. Reapplied regularly, particularly if you notice mosquitoes flying close to your skin bug spray can keep you virtually bug-free all day from ones that are most commonly found on you and biting you.
What is DEET and Is DEET harmful for humans?
DEET (chemical name, N, N-diethyl-meta-toluamide) is the active ingredient in many repellent products. It is widely used to repel biting pests such as mosquitoes and ticks. Every year, an estimated one-third of the U.S. population uses DEET to protect them from mosquito-borne illnesses like West Nile Virus, the Zika virus or malaria and tick-borne illnesses like Lyme disease and Rocky Mountain spotted fever.
DEET is considered to be a safe insect repellent, according to the Centers for Disease Control and Prevention (CDC) and the Environmental Protection Agency (EPA). Many people worry that it could be harmful to health, possibly because it is a synthetic chemical, but research shows that these worries are unfounded.
What repels bugs naturally?
Lemongrass, citrus, peppermint, eucalyptus, tea tree, citronella, catnip, and lavender oils all possess properties that repel bugs. The oils can be used individually or combined to make a simple anti-bug potion.
I'm particularly fond of tea tree oil because of its mostly inoffensive smell when applied in small amounts and also because it's often found in other skin and hair care products that will help tie everything together and get you closer to being bug-free without even having to try.
We are committed to finding, researching, and recommending the best products. We earn commissions from purchases you make using the retail links in our product reviews. Learn more about how this works.