Recently, Honda Powersports was kind enough to invite OHUB to Northern Montana for the premier launch event of their new American-designed and American-made Pioneer 1000-6 Deluxe Crew Side by Side, with seating for six people.  Today we will be looking at the overall specs and features of the vehicle.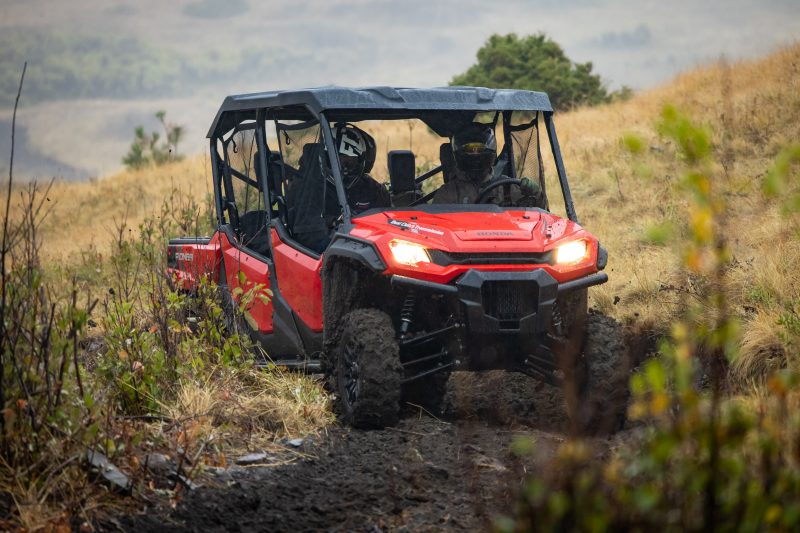 The Honda Pioneer 1000-6 Deluxe Crew SXS is designed to comfortably carry six full size adults to jobs around the ranch or construction site in comfort, as well as transport your crew and your gear to various off-road adventures.  Not only does the 1000-6 have all of the updates to the Pioneer 1000 platform for 2022, its has even more new features.  Per Honda:
The Crew's six-person cab is designed with a spacious second row, boasting a best-in-class 28 inches of leg room for a comfortable ride and easy vehicle entry and exit. A full-size cargo bed and front and rear under-seat storage provide substantial capacity for additional items. When the bed is loaded with tools and supplies, the selectable tow/haul mode and self-leveling rear suspension ensure a smooth and controlled ride. As with the rest of the Pioneer 1000 family, the Crew features a powerful 999cc parallel-twin engine and tough Dual Clutch Transmission, and it's built with unmatched durability, quality and reliability.

"We're excited to add the Pioneer 1000-6 Deluxe Crew to our lineup of multipurpose side-by-sides," said Brandon Wilson, American Honda Manager of Sports & Experiential. "Since 2016, the Pioneer 1000 platform has set the standard for flagship rec-utility side-by-sides, and the all-new Crew continues to raise the bar with additional capability and performance. With Honda's renowned reliability and a long list of functional, innovative features, the Crew is a versatile workhorse that doesn't compromise performance on the trail."
The Pioneer 1000-6 Crew will be available in September.

Pioneer 1000-6 Deluxe Crew

For the 2023 model year, Honda makes the Pioneer 1000 platform even more versatile, expanding the family with the introduction of the Pioneer 1000-6 Deluxe Crew—a highly anticipated longer, roomier version that is ready to get the job done at worksites and ranches, and to help outdoors enthusiasts pursue pastimes like hunting and fishing.

Honda Pioneer 1000-6 OutdoorHub

The Crew is designed to leave nothing behind, with more space for passengers and cargo than ever before. The six-person cab features best-in-class second-row space for a comfortable ride, while a full-size cargo bed and numerous storage compartments are designed to transport tools and supplies with ease. Powered by a proven 999cc Unicam engine and equipped with Honda's tough Dual Clutch Transmission, the Crew is capable of handling tough jobs with unparalleled efficiency. It delivers reliable performance thanks to Honda's renowned durability. Whether it's working long hours or helping owners enjoy the weekend, the Crew delivers with ample passenger and cargo space.

Colors (MSRP):

Red ($21,899)
Olive ($21,899)
Honda Phantom Camo® ($22,699)
Honda had the Pioneer 1000-6 on display at the Historic Hotel Arvon in Great Falls, MT.  During our initial orientation and walk-arounds of the vehicle, we noticed a few standout features:
The middle seats are offset forward.  This allows for more shoulder room, so the middle passengers shoulders are not squished against other's shoulders.
The legroom is more than ample, this goes for both the front and back rows
There is ample space between the body and chassis/engine, which is crucial when driving through thick mud and debris
Paddle shifters on the steering column, plus a smooth operating shift knob and shift map visible from the driver's peripheral vision
The price point is extremely competitive compared to other 6 seater vehicles on the market


Honda Pioneer 1000-6 OutdoorHub
Honda's primary target market for the 1000-6 are the core customers of six-seater SXS platforms:  Ranchers and Construction foremen.  This author happens to be a rancher who uses a six-seater SXS at work daily, and understands the capabilities and requirements of such a vehicle, so I was keen to assess the Pioneer 1000-6. A ranch-specific benefit of the Pioneer 1000-6 is that it boasts a towing capacity of 2,5000lbs.  This capability means one can use this SXS to haul one-ton hay bales around to your livestock!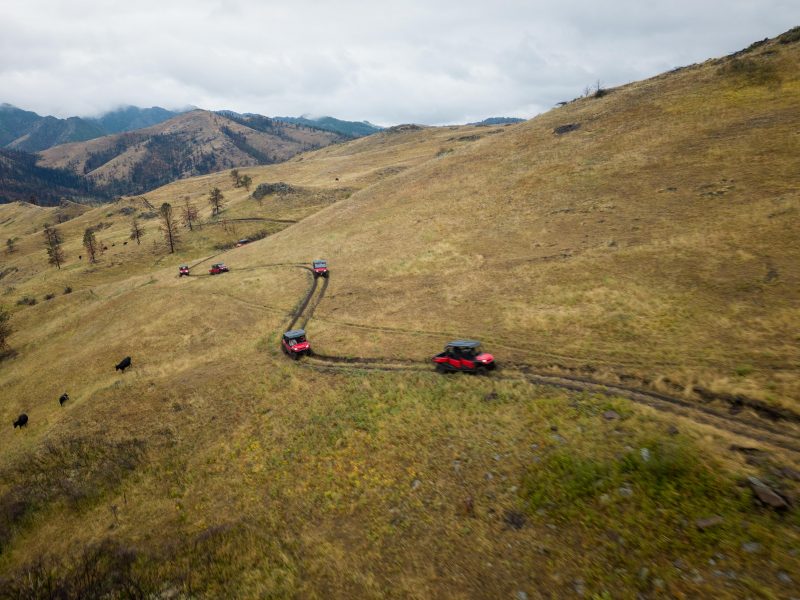 In addition, the Pioneer 1000-6 has a self-leveling hydraulic rear suspension, meaning this SXS won't squat down when you load up the rear passengers or cargo, or when you hook up a tow load.
2023 Honda Pioneer 1000-6 Crew


SPECIFICATIONS

Model
Pioneer 1000-6 Crew Deluxe


(SXS1000M6DP)

ENGINE
Type
999cc liquid-cooled Unicam® longitudinally mounted parallel-twin four-stroke
Valve Train
OHC, four valves per cylinder
Bore x Stroke
92.0 mm x 75.1 mm
Compression Ratio
10:1
Induction
Fuel injection, 44 mm throttle bodies
Ignition
Full Transistorized
Starter
Electric
Driveline
Direct front and rear driveshafts
Transmission
Automatic DCT w/ 6 speeds + reverse and high/low; drive modes include 2WD, 4WD, Turf, 4WD w/ differential lock
Clutch
(2) multiplate wet (automatic DCT)
SUSPENSION
Front
Double wishbone w/ 10.5 in. travel
Rear
Double wishbone w/ 10.0 in. travel
BRAKES
Front
Hydraulic w/ (2) 210 mm discs
Rear
Hydraulic w/ (1) 210 mm disc
TIRES
Front
OTR Dirt Master 27x9x14
Rear
OTR Dirt Master 27x11x14
MEASUREMENTS
Length
152.2 in.
Width
63
Height
76.1 in.
Seat Height
33.5 in.
Ground Clearance
12.6 in.
Wheelbase
115.2 in.
Turning Radius
18.7 ft.
Fuel Capacity
 7.9 gal., including 1.7 gal. reserve
Cargo Bed Capacity
1,000 lbs. (600 lbs. CA)
Towing Capacity
2500 lbs.
Curb Weight*
1,936 lbs. (1,940 lbs. CA)
Notable Features:
Six-Person Cab: With a full-size second row of seating, the Crew comfortably seats six people, with class-leading space for a comfortable ride and easy vehicle entry and exit.
Added Storage:Large front and rear under-seat storage areas make it convenient to securely transport tools and supplies. In addition, a handy new storage area has been added below the dash, with contents secured via cargo nets.
Tow/Haul Mode: The selectable tow/haul mode optimizes power delivery for carrying heavy loads.
Updated EPS:As with the 2022 Pioneer 1000 (announced in late March), the Electronic Power Steering system features 50% more torque assist and a return-to-center function assists the driver at high and low speeds.
Self-Leveling Rear Suspension: To maintain its stable handling at all times, the Crew features self-leveling rear shocks that automatically adjust according to the load in the vehicle.
Increased Power:Thanks to optimized valve timing and an updated throttle-body plate setting, the Pioneer 1000-6 Deluxe Crew power plant benefits from strong mid- and upper-range power, for impressive acceleration and towing capacity. As with the 2022 Pioneer 1000, the size of the cooling fan has been increased correspondingly.
Transmission Updates:As with the 2022 Pioneer 1000, the gear ratios match the increased power output, and changes were made to improve shifting action, with reduced shock during gear changes.
Beverage Holders:The dash-positioned cup holders are designed to hold tumbler-size cups up to 30 ounces in size. In-door drink-bottle holders are also provided in all doors.
New Door Nets:As with the 2022 Pioneer 1000, the Crew has door nets with a simplified mounting structure and a finer mesh pattern for improved visibility.
Pre-wired Accessory Connector:A pre-wired panel is provided under the hood to simplify installation of Honda and aftermarket electronic accessories.
Dash Switch Panel:Also to facilitate clean installation of electronic accessories, pre-wired switches are integrated in the dash. Unwired blanks are integrated in the dash for additional accessories.
In-bed Outlet:The Crew has a handy 12-volt accessory receptacle in the bed, enabling use of electric devices like coolers, work lights, food warmers, sprayers, air compressors and more.
Meter:As with the 2022 Pioneer 1000, a new dash meter has modernized styling and features added functions including a clutch indicator, battery voltage and CAN communication.
Wheels:The Crew comes with 14-inch aluminum wheels and OTR Dirt Master tires.
Sealed Cabin:A number of measures were taken to isolate the driver and passengers from engine heat and external debris and moisture.
Styling:As with the 2022 Pioneer 1000, a new grill and fascia, along with updated graphics give the Crew an aggressive look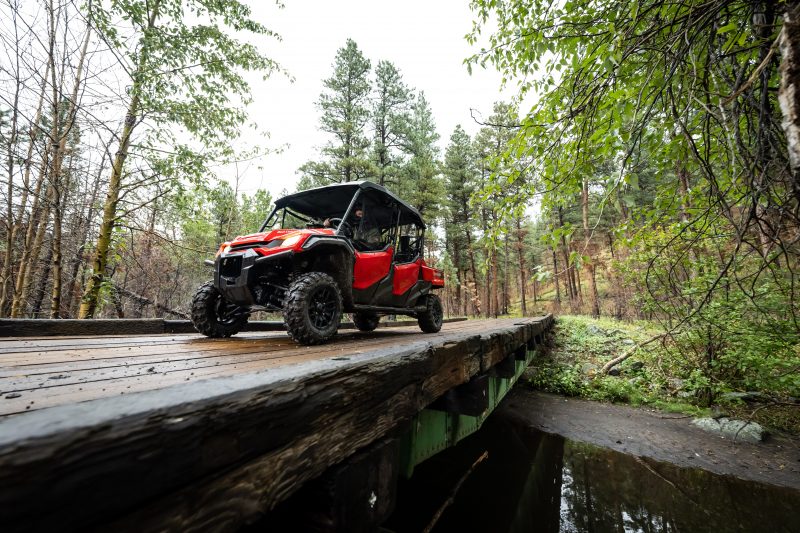 That wraps it up for inital impressions.  Next time in Part 2 of 2, we will be giving driving impressions of  the Honda Pioneer 1000-6 on a 4-hour trail ride through a 15,000 acre Montana ranch!