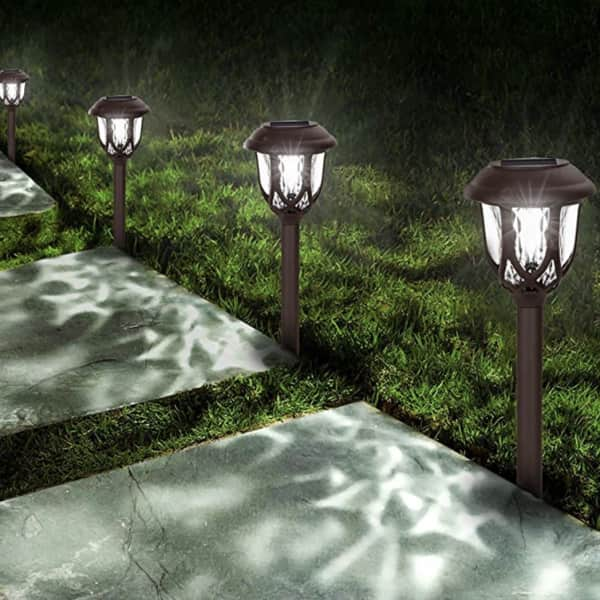 +
–
Table of Contents

1. Pathway Solar Lights
I place pathway solar lights just about everywhere outside. Whether it's on the actual pathway or just around the home. They charge during the day and light up all night long.
One of the great things about pathway lights is that you can bring them inside during a blackout. They're a light, after all, you can simply set them up indoors and let them light up a room, then place them back outside during the day to charge up.
They're waterproof, as well, which is good since they're outdoors!
Pros/Sturdy, bright lights, bring in during blackouts
Cons/Try not to kick them!
Bottom Line/Must have to light up the boundary of any home
2. Motion Sensor Solar Lights
We absolutely love these motion sensor solar lights. They're not the brightest of the bright, but even in the far north, these charged up good with the little light available and always came on whenever we needed it during the dark hours.
We put these everywhere, on the shed, house, wood shed, garage, pole, etc. Since they're motion sensor, they only turn on when there's motion present. The sensor was really good, too, you didn't have to be directly in front of it in order for it to go off, it was quite sensitive.
Pros/Uses sun to power, motion sensor, small
Cons/Not the brightest, but bright enough
Bottom Line/Great deal for a set of 4
3. Flood Light Motion Sensor Lights
These lights are nuts. With 6 lights and 496 LEDs, they'll light up the neighborhood on the highest setting. It can light up a 2000 square feet area!
Because of the multiple light heads and the way they can position, you can get a 180 degree directional angle, so it lights up a lot more space than some others.
It comes with a huge solar panel with a 2400mAh battery capacity. It's resistant to just about any weather condition. And it's motion sensor, but it also has a remote to change brightness level.
Pros/Super bright, nice solar panel, weather resistant
Cons/
Bottom Line/If you want to spook away anyone and anything, this is your light
Ready to secure your property?
Part of preparedness involves personal and home security and these solar light options can be a great way to help deter threats and offer plenty of light so nothing can hide in the darkness.
Which ones are right for your home or hunting property?
We are committed to finding, researching, and recommending the best products. We earn commissions from purchases you make using the retail links in our product reviews. Learn more about how this works.