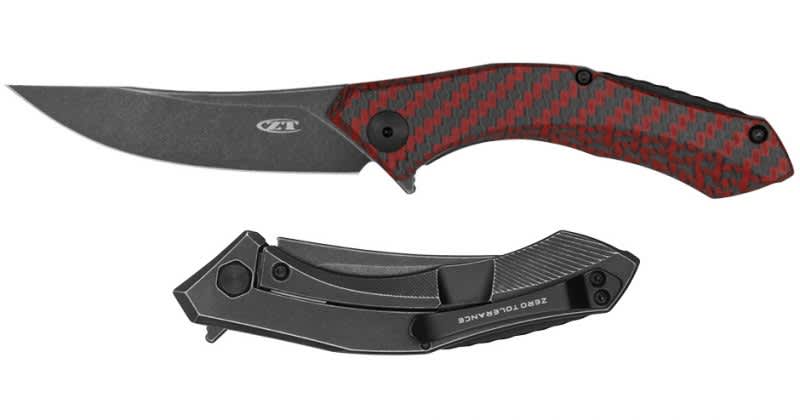 Zero Tolerance is reviving its Factory Special Series with the introduction of its new 0460RDBW flipper designed by none other than Dmitry Sinkvich. The CPM 20CV blade comes standard in a deep red carbon fiber look and a blackWash coated blade for a stylish, durable, and reliable EDC carry blade. Right now you can pick up the new 0460 RDBW for a sale price of $240 and this item is sure to go fast just like any other limited edition blade from Zero Tolerance. Full details are below.

Factory Special Series 0460RDBW Flipper from Zero Tolerance USA
This limited-run 0460RDBW blade will probably go pretty fast so if you've got the cash and are even the least bit interested in it I'd pick one up now before they go out of stock. The Factory Special Series 0460RDBW will feature a Reversible right/left tip-up pocket clip and will feature black-oxide coated hardware with a steel pocket clip and pivot cap and Teflon finish. The blade is currently on sale for a price of $240 down from its normal asking price of $300. For more information on the blade or to order directly from Zero Tolerance, you can visit http://zt.kaiusa.com/ to learn more.

ZT Factory Special Series 0460RDBW Specifications:

Blade Steel

 

CPM 20CV

Blade Length

 

3.25 in. (8.3 cm)

HRC

 

60-62

Blade Finish/Coating

 

BlackWash™ coating

Blade Thickness

 

0.121 in. (0.307 cm)

Closed Length

 

4.4 in. (11.2 cm)

Handle Material

 

Red carbon fiber front, titanium back

Handle Color

 

Red & Black

Handle Finish/Coating

 

BlackWash™ finish back

Handle Thickness

 

0.4 in. (10.2 mm)

Overall Length

 

7.5 in. (19.1cm)

Weight

 

2.3 oz. (65.2 g)

The 0460 returns in limited quantities with a fresh makeover. A deep red carbon fiber front scale pairs well with a BlackWash™-coated blade and back titanium handle. The curvy, upswept blade slices through EDC tasks, and a pronounced ergonomic handle curve fits the hollow of the hand. ZT upgraded the blade steel with premium CPM 20CV for greater edge retention. This standout Dmitry Sinkevich design is a can't-miss addition to any ZT collection.

Features

Made in the USA; limited-run Dmitry Sinkevich design
CPM 20CV blade steel, BlackWash finish; sharp, long-lasting edge
Deep, ergonomic handle curve follows the curve of the blade; red carbon fiber front, BlackWash titanium back
KVT ball-bearing opening, flipper; titanium frame lock with hardened steel lockbar insert secures blade safely open during use

Editor's note:  I have a non-special edition 0462, review forthcoming….