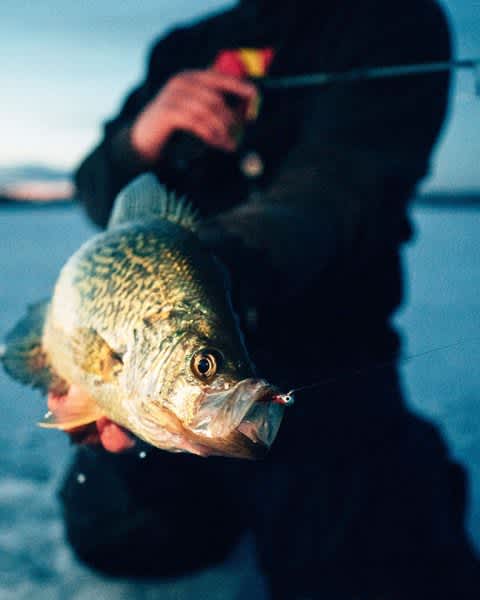 With the year winding to an end and temperatures plummeting, it's about time to start prepping or even fishing the hard water. Daiwa is expanding its fishing rod lineup for you hard water anglers with its new ice fishing rod lineup with the Kage Ice Rods Series. These new rods can be already found in select tackle shops in the ice-fishing belt. The Kage Ice Rod series is comprised of nine ice rods made for targeting everything from bluegill, crappie, perch, bass, and walleye, up to big predators like lake trout and pike.
As part of Daiwa's design team on the Kage ice rods, Minnesota's Jeff Allen, who brought years of on-the-ice and retail experience to the project, said "the actions and lengths offered within the Kage lineup mirror many of those found in some of the best custom ice rods on the market. Plus with many of the 750- and 1000-size spinning reels Daiwa offers, you can build your own combo based on your personal choice and budget."


The Daiwa Kage Ice Rod series includes five models made for general panfishing situations on the ice. The 28-inch ultra-light KAG24UL, the 30-inch light action KAG26L, the 32-inch light action KAG28L, the 32-inch 'quick tip' action KAG28QT, and the ultralight action 36-inch KAG30UL. Besides the 5 general purpose panfish rods, you have the 36-inch Kage KAG30DS rod's 'deadstick' design great for soaking minnows and leaches while youre jigging.  They also have the medium action KAG28M better for targeting larger species such as walleye and bass. Then for targeting the larger predators under the ice, the Kage Ice Rods medium action 40-inch KAG34M, and medium-heavy action KAG40MH at 48-inches, fit the bill.
All of the Kage ice rods except for the heaviest rod the KAG40MH, are built with Daiwa's exclusive 'Mega Top' technology. Making for rods with extra strength, sensitivity, and reduced weight, great for the best experience on the ice. The whole lineup of the Kage ice rods is made with sensitive and durable solid carbon blanks and capped with premium cork handles and fitted with premium components. All of these rods are backed by Daiwa's limited five-year warranty.
"With many ice anglers relying on Daiwa reels for hard water use, it's a natural progression for Daiwa to take a big step into the ice-fishing world with these Kage rods," said Daiwa's senior marketing manager Marc Mills. "We have a good number of other efforts in the works which you will see over the next few winters as we make a statement in being major rod and reel choice in ice-fishing tackle."