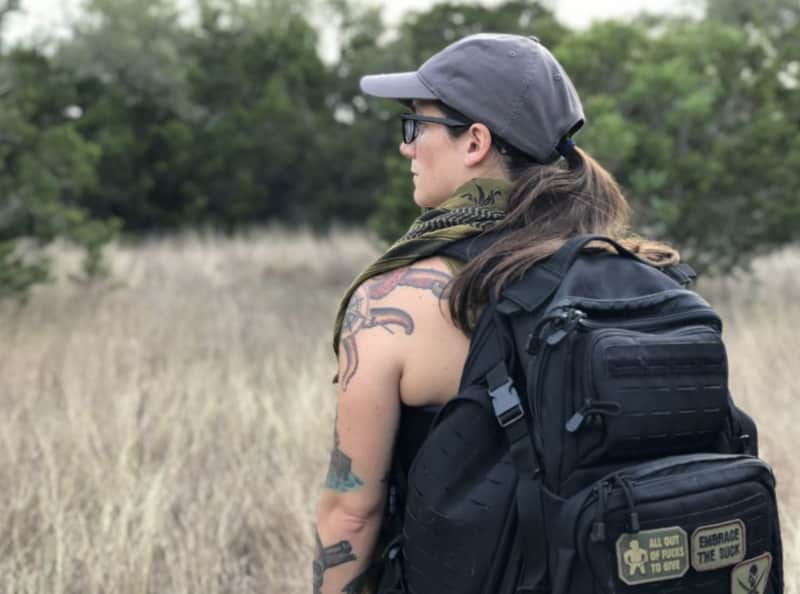 With all of the talk about evacuations happening in California, I figured now would be a great time to refresh the idea of bug out bags and evacuations.
Many people don't like the idea of leaving their home and for good reason.
That's your home!
It's got all your stuff. You're safe. You're comfortable. You can relax and let it all hang out.
But, we have to realize that when danger comes knocking, we must either defend our home, or escape it.
So we have situations for both bugging in and bugging out. It's all about being prepared for either scenario, as much as we don't want to leave our home, sometimes mother nature has other ideas.
A bug out bag is a contained system of supplies that you can grab and go at a moment's notice.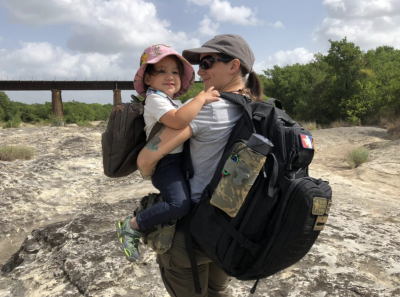 You can throw it in your car, on the back of your bike or in a trailer; those supplies are intended to help you get through a specific amount of time (usually 72 hours).
With babies, small children and possibly pets, you'll be carrying most (if not all) of their stuff for a while, but it doesn't hurt to make them their own bag right from the start. I'd highly suggest involving the member of the family whose bug out bag you're creating. Explain what you're doing and why. By the time my child was two, she loved her bag and would help me organize it as well as help decide what to put in it. 
Encourage them to place specific, personal items in their bag. Do they want makeup? Let them add makeup. Do they want their dinosaurs? Let them add dinosaurs. Do they want an MP3 player with a backup charger? Let them have an MP3 player with a backup charger. 
These items may not feel necessary to others, but in the end, if it's going to make them feel more comfortable, then that's all that matters. Anything we can do to make everyone feel comfortable and boost morale is extremely important in an emergency. 
How to create a bug out bag for kids
As a mom, I still carry a lot of stuff for my kids and that's okay. Obviously, a baby can't carry her own bag or supplies, so I do it for her. As they grow up, their bags will evolve to fit their needs, abilities and overall age. 
My oldest daughter has a Park Ranger vest which we originally got so she could place her park pins on it when we traveled. She loves to wear it just for fun. I decided to turn it into a bug out vest. It has tons of pockets which allows her to hold a few items of her own such as snacks, microfiber cloth, toilet paper, glow stick and more snacks. 
In general, kids should be engaged with the bag making experience. Let them pick out clothes, snacks and toys, guiding them through the process so it's not too overloaded.
Let them try it on, have fun with it, hike with it, camp with it; get familiar with it.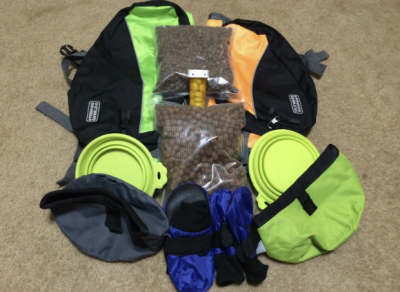 How to create a bug out bag for pets
When it comes to creating a bug out bag for pets, if you have a dog, I'd suggest getting dog-specific packs like those from Outward Hound. They make great packs. There are tactical dog vests which come with accessory pouches to place on the outside of the vest. 
How much can your dog realistically carry? Even if the dog packs can carry a certain amount, don't load them up if your dog won't be able to handle it. For instance, we have two dogs, one dog is older and has kind of a bum leg. He can carry some things in his packs, but we try to put more in our other dog's pack because he's younger and stronger. Then I also carry a couple of extra things for them. 
If you have cats or other animals who can't carry their own gear, you may want to make a separate bag just for them that you would carry out for them. The type of items for any pet will be about the same. You may also want to consider a crate or carrier for your pets if you know that they don't perform well in a vehicle. 
Here are some ideas on what to put into the pet packs:
Specific medications & first aid (topical antihistamine, gauze roll, tape, tweezers)

Toy (if you think your pet needs one)

Treats

Food for at least 72 hours (vacuum sealed or placed in mylar bag, replace every 6-12 months)

Several bottles of water 

Collapsible food and water bowls

Proof of vaccinations

A piece of paper with your information on it in case they get lost

Booties (for hot pavement or snow)

Picture of yourself with your pet, as proof of ownership. 
Let's take a look at a list of ideas for your bug out bag:
Three days' worth of food

This can be ready to eat food or food that you need to stop and cook, it's up to you.

Knife

A fixed blade would be best so that you can baton wood if needed.

Fire starting kit

This can be as extensive or as simple as you wish, lighters and some fire starters are always a good, quick option.

First aid kit

You don't need to carry a trauma kit if you don't have those skills, you can carry a simple kit with gauze, alcohol pads and bandages. This would also include medications.

Morale item(s)

Such as a deck of playing cards.

Toiletries 

Travel sized soap, nail clippers, hair ties, microfiber cloth, feminine hygiene, razor, travel sized toilet paper, hand sanitizer

Shelter

A tarp and a couple emergency blankets, also some stakes.

Water

You can carry the water in bottles, in a bladder or any other way you choose. Water is heavy, so realistically you won't be able to carry three days' worth of water, but carry some.

Water purification

Water purification pumps, bottles, tablets, etc.

Flashlight(s)/headlamps

Handheld flashlights or a headlamp that can allow you to be hands-free.

Paracord

At least 100 feet, preferably more

Extra batteries

Make sure you have enough batteries for the flashlights and anything else you're carrying that will require batteries. I also recommend rechargeable batteries/lights.

Cook kit

Something you can cook in/boil water in, a burner and fuel. For example, we use a jetboil which houses everything we need in the cooking container.

Garbage bag

Can be used as shelter, to cover your bag if it rains, to make a liner for your bag, improvised poncho or anything else.

Personal protection

While many people carry personal protection on them every day, if you don't, please remember to pack it, along with any necessary items that go along with it.

Hat

If it's cold, a hat can help keep you warm; if it's hot it can keep the sun off your head.

Compass & Map

Make sure the map is up to date and that the compass works.

Hygiene

This can be as simple as baby wipes to keep yourself refreshed or it can also have a toothbrush and toothpaste, etc.

Aluminum foil

Aluminum foil has many uses, it can be used to store foods, reflect the sun and act like a signal, or to cook with.

Plastic bags

Such as zipping sandwich bags bags for organization or to store trash in, you can even cook in zipping storage bags.

Solar panel

A foldable, portable solar panel is a great option to charge rechargeable batteries or devices.

Gorilla Tape

®

Great for repair, to help build things (like shelter), or make things out of.

N95 mask(s)

Child/Pet supplies

If you have children or pets that cannot carry their own items, you'll need to pack them in your bag.

Extra socks

In case they get wet or just in case you need another pair.

Winter or summer clothing

Depending on the time of year, the type of clothing will be important, especially for kids

Gloves

Good gloves such as leather gloves or any regular gloves will be useful to protect your hands.

Foldable saw

Great for cutting wood to make firewood, traps or shelter.

Moleskin bandages

Multitool

Multitools are extremely useful in many situations as they contain a variety of tools. There are many different kinds; choose one with the tools you want.

Sillcock key

Perfect for getting water from the side of commercial buildings, as long as the water is flowing, you can get perfectly drinkable water.

3-in-1 oil

This is good for cleaning and lubricating tools, weapons, motors, machines. It's even flammable so you could use it for helping make a fire.

Journal  with pen or pencil

For documenting the day's events, for writing down musings, anything. Can be good for morale to get your thoughts down on paper.

Bug spray

Many areas require bug spray because of how bad mosquitos and other annoying bugs can be.

Sunscreen

Getting a sunburn will not be fun and it's not good for you, protect your skin.

Glow sticks

Great for temporary light (they last eight-twelve hours) and they weigh practically nothing.

Sewing kit

Great for repairing gear and clothing. If you want to use this for medical reasons, please make sure you know how to use it appropriately.

Shemagh

So many uses, dunk it in water and wrap it around your head/neck, wrap it around your head to keep the sun off, use it as a blanket, and much more.

Heavy duty poncho

If it's the rainy season, you'll want a really nice, durable poncho, something that will withstand multiple uses. You can also make shelter from a poncho.
Foods that can go inside bug out bags:
Tuna pouches

Chicken pouches

Salmon pouches

Spam pouches

MRE's

Freeze dried meals

DIY dehydrated meals

Protein/snack bars

Cereal

Instant rice

Instant mashed potatoes

Hormel meals

Ramen

Oatmeal

Food pouches (usually found in baby food section, great for adults, too!)

Gold fish and other crackers

Protein shake powder

Powdered soups

Peanut butter

Trail mix (nuts can go rancid, check on this option often)

Ready to eat bowls of dinty moore, chef boyaredee, etc.
The biggest thing to keep in mind about bug out bags for your family, is to make everyone as comfortable as possible. You may be okay sleeping on the ground, but what about the rest of your family? A tent may be a good idea, along with sleeping pads and sleeping bags. 
Test out your bug out bag(s) by taking them camping and using the items. 
Inventory your bags every six months or whenever there's a season change to switch out any food or clothing. Write down everything that's in your bag and note any expiration dates of medications or foods. 
Place your bags in easily accessible areas of your home, such as a closet near the door that you'd use to exit if you ever needed to evacuate your home. 
Don't stress too much about the exact type of bag. I usually suggest that people buy an inexpensive bag, like from Walmart or a thrift store, pack it and test it out a bit. The bag can also be a suitcase with wheels. Anything that suits your needs. 
Personalization is key here. What matters most is fitting it to your needs and the needs of your family, as well as the needs of the season.
Enjoy making bug out bags for your household!