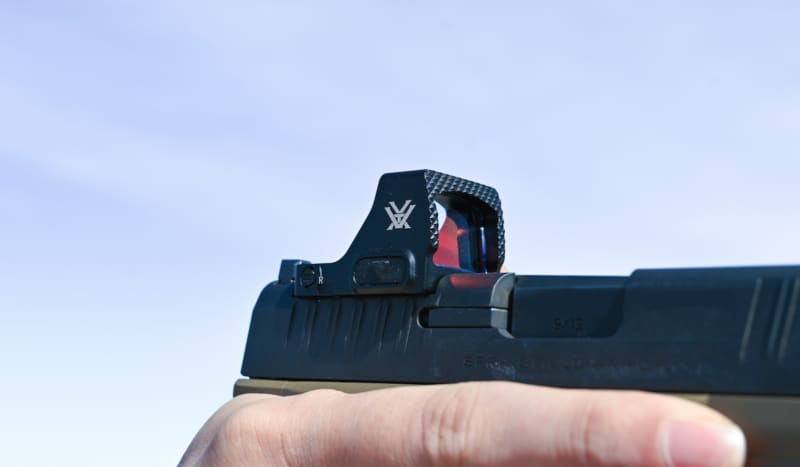 Red dots have become so commonplace and reliable that even grandpappy is putting one on his hip iron (and I don't mean the iron inside his hip). There are so many advantages to red dots, with speed and accuracy being at the top of that list. As carry guns trend toward being slim, red dots have followed suit. Today, we have a brand new slimline red dot from Vortex Optics. This is the Defender CCW micro red dot.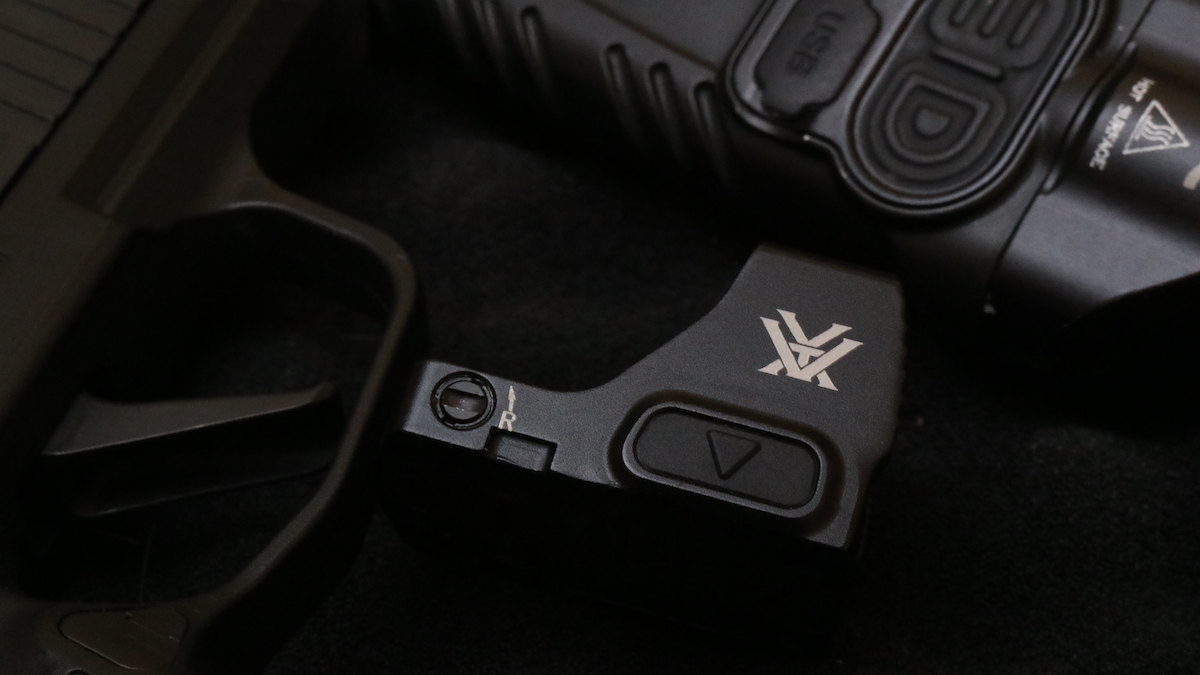 Vortex coverage on OutdoorHub
The Vortex Defender CCW: Specifications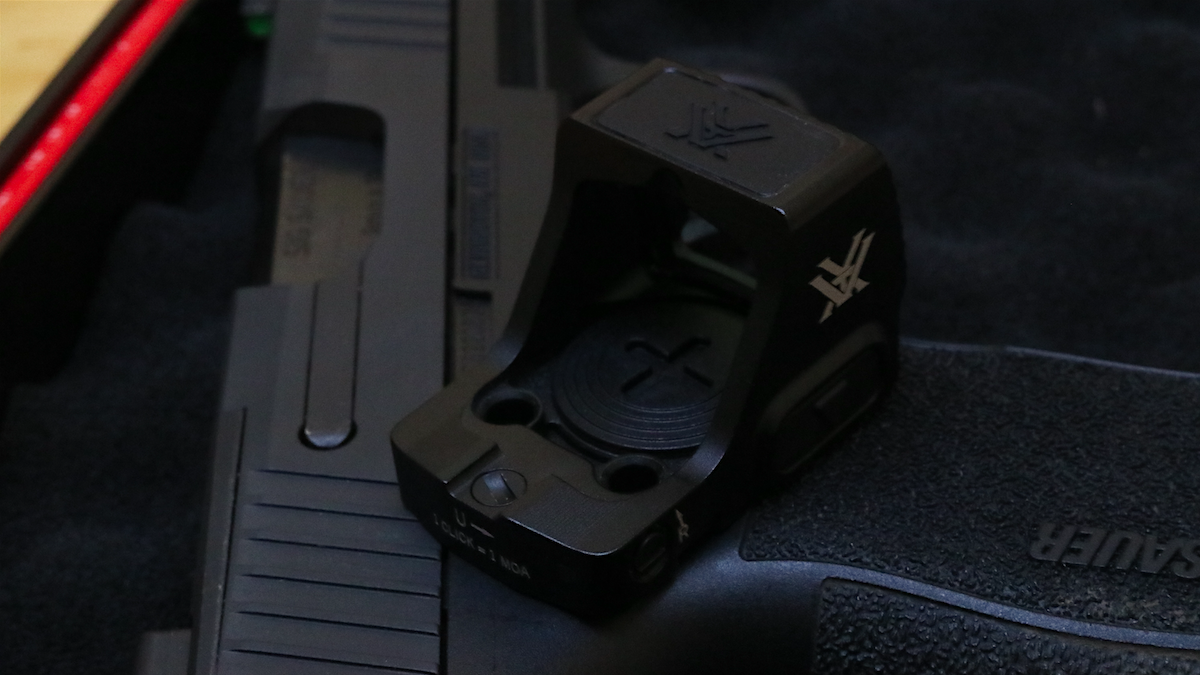 Length: 1.59"
Weight: .95 oz
Footprint: Shield RMS
Dot size: 3 MOA, 6 MOA
Brightness settings: 10
Battery type: CR1632
MSRP: $249.99 
Getting Into It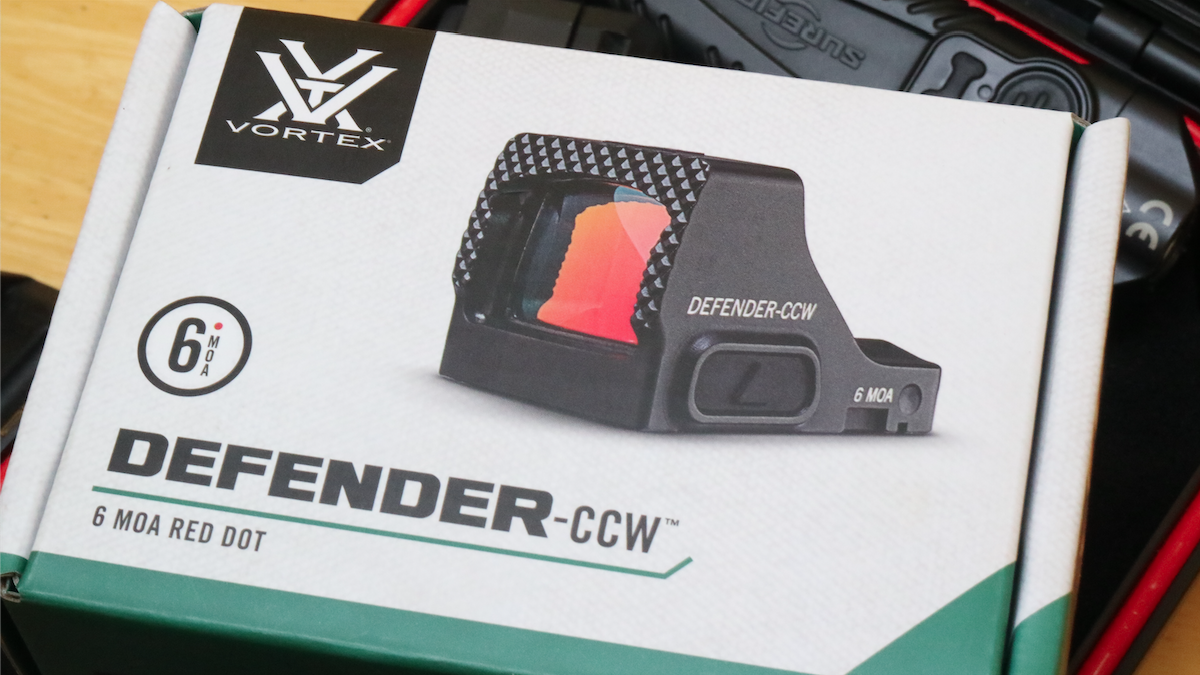 I don't care about packaging but I do notice when it's done well. Vortex has been killing it with its presentation. The box is practical because it has specs written on the sides. It's large enough to contain and protect the Defender. It's also small enough that it doesn't feel like space is wasted. On top of that, it just looks really good. Opening the box revealed the Defender CCW attached to the included Picatinny rail mount. It also came with a nifty tool, which I always appreciate.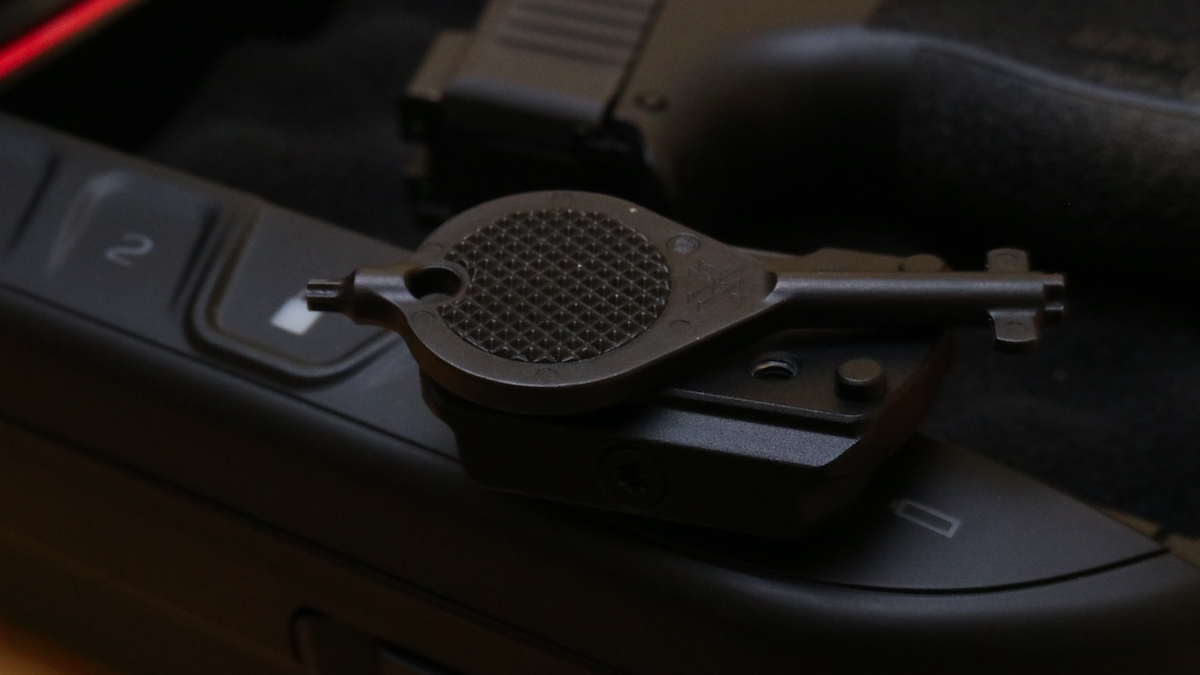 The Defender has manual brightness controls, which is my preference. There are simple up and down arrows on the left and right sides respectively. This is the version with the 6 MOA dot, which is very crisp. The Fast-Rack texturing is fairly aggressive and made me wonder why nobody had thought to add that feature before.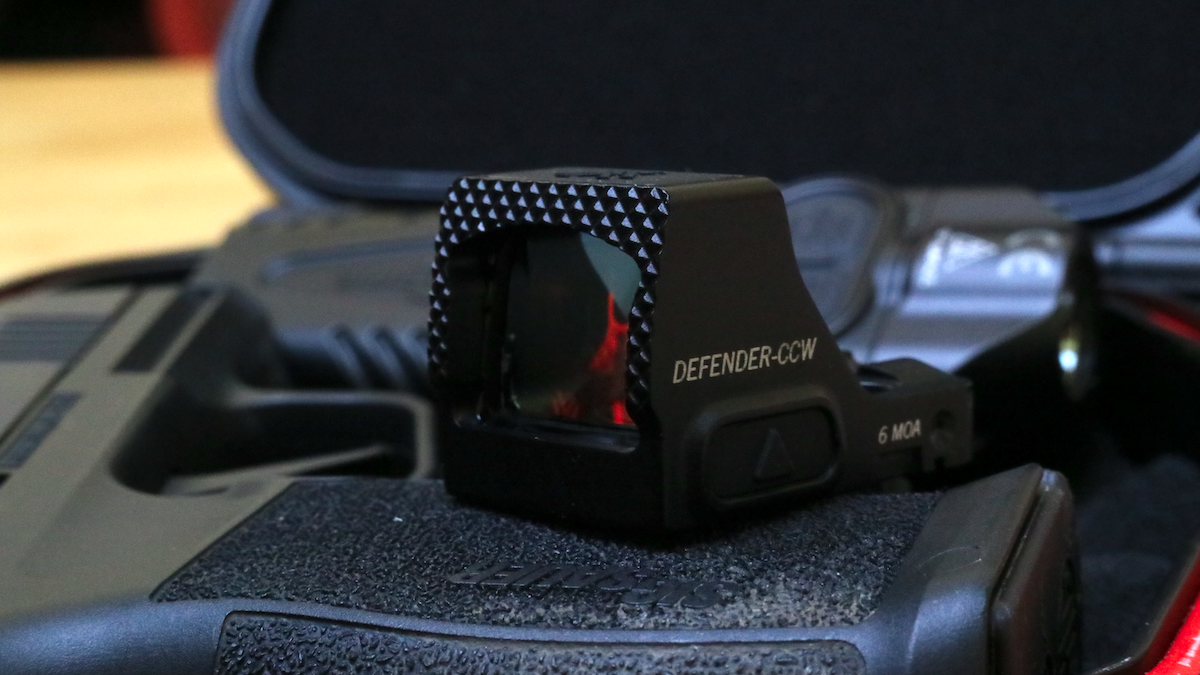 I mounted the dot on my Springfield Armory Hellcat Pro and took it to the range.
Take It To The Streets: Carrying The Defender CCW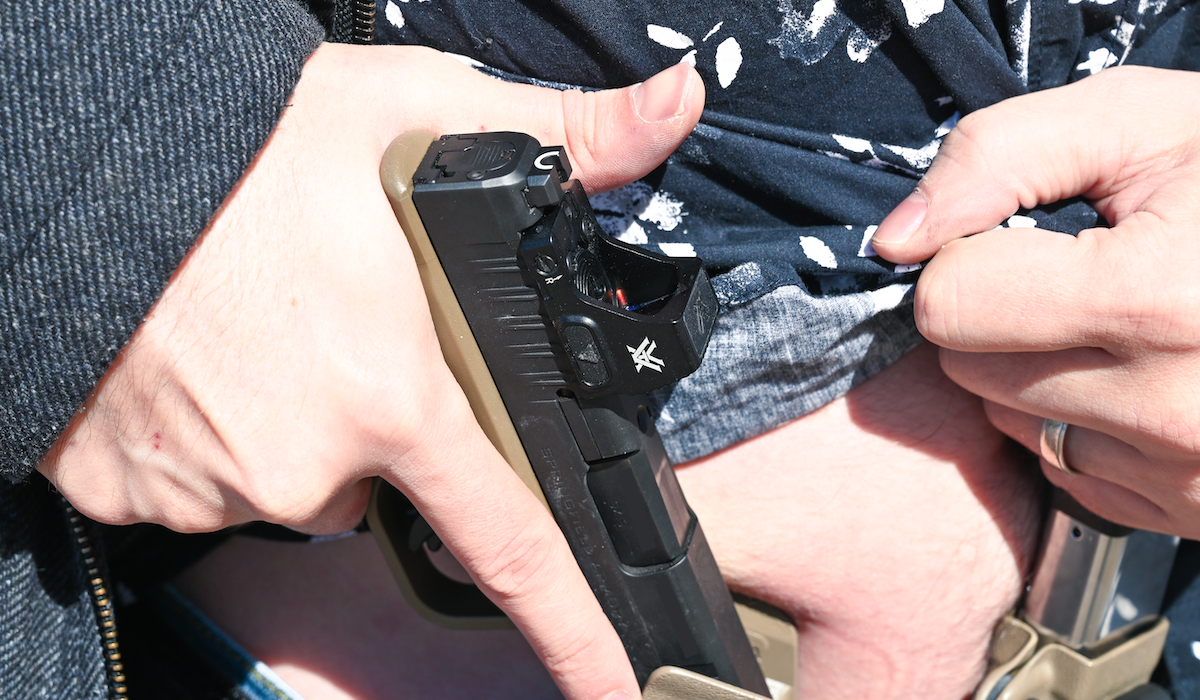 As a carry gun gets bigger, it makes sense that it would become unwieldy. Adding an optic certainly makes the overall footprint of a handgun larger, but the size and placement of the Defender made it disappear as if it wasn't there. Most of this is thanks to my belt and holster, but the red dot is sized appropriately for its purpose.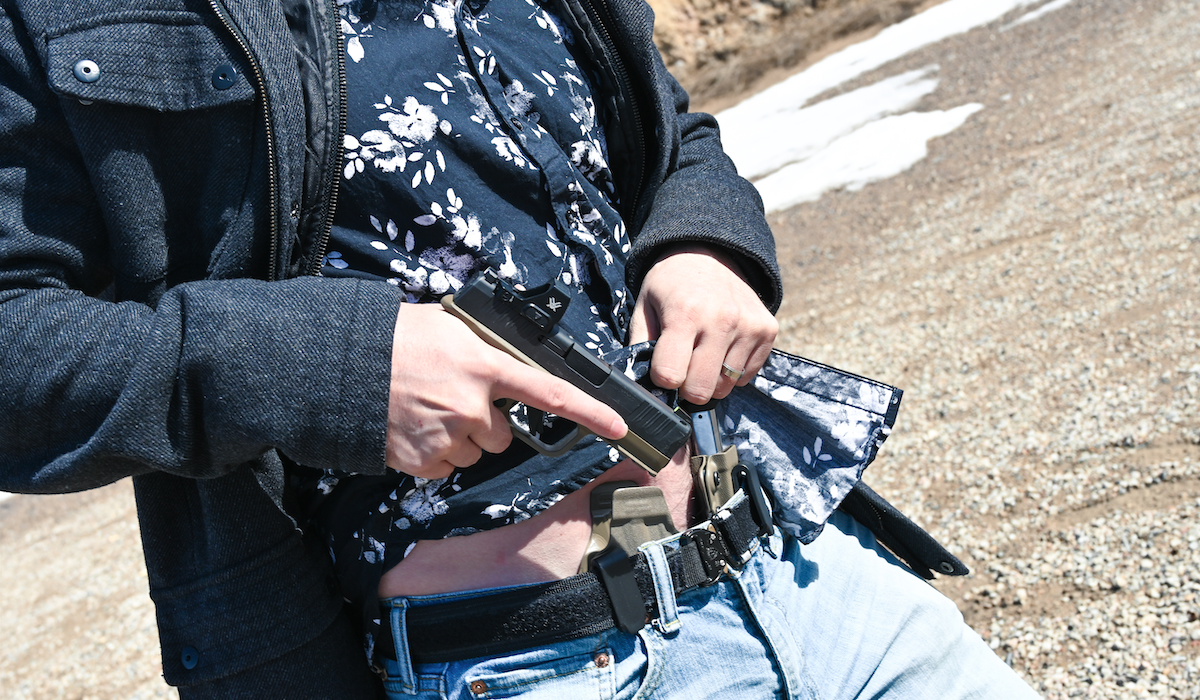 Seeing Red: Using The Defender CCW Micro Red Dot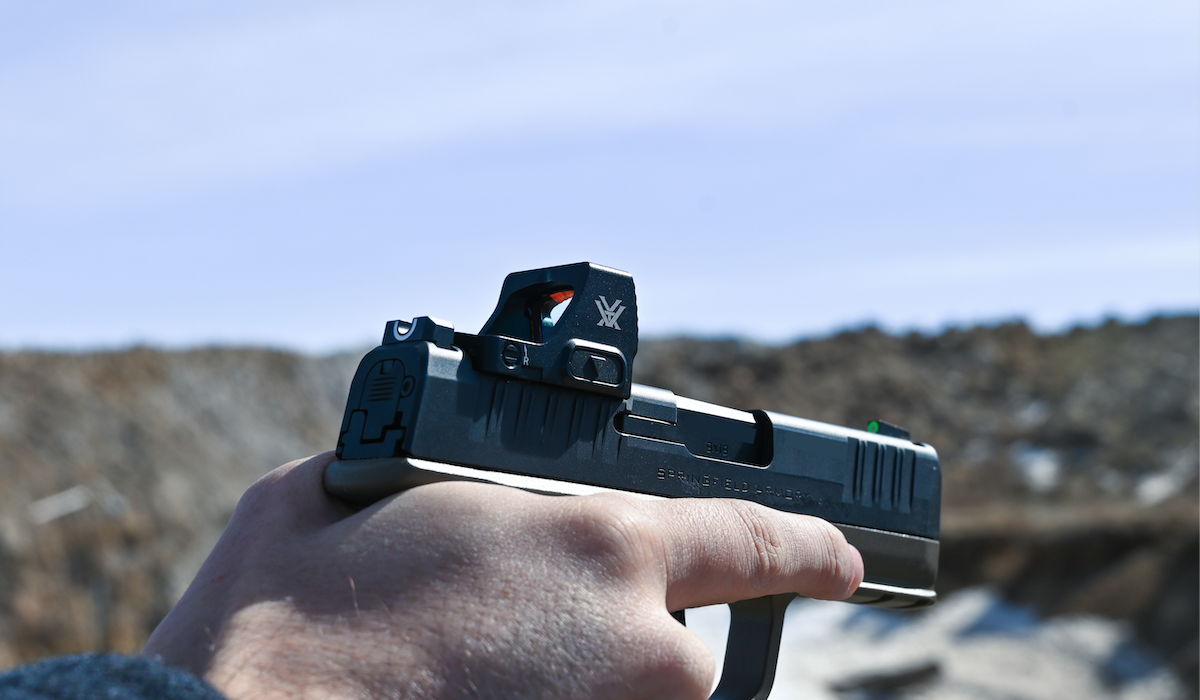 I had to test the Defender before I trusted it enough to carry in public. After zeroing the dot, I ran a few drills from concealment.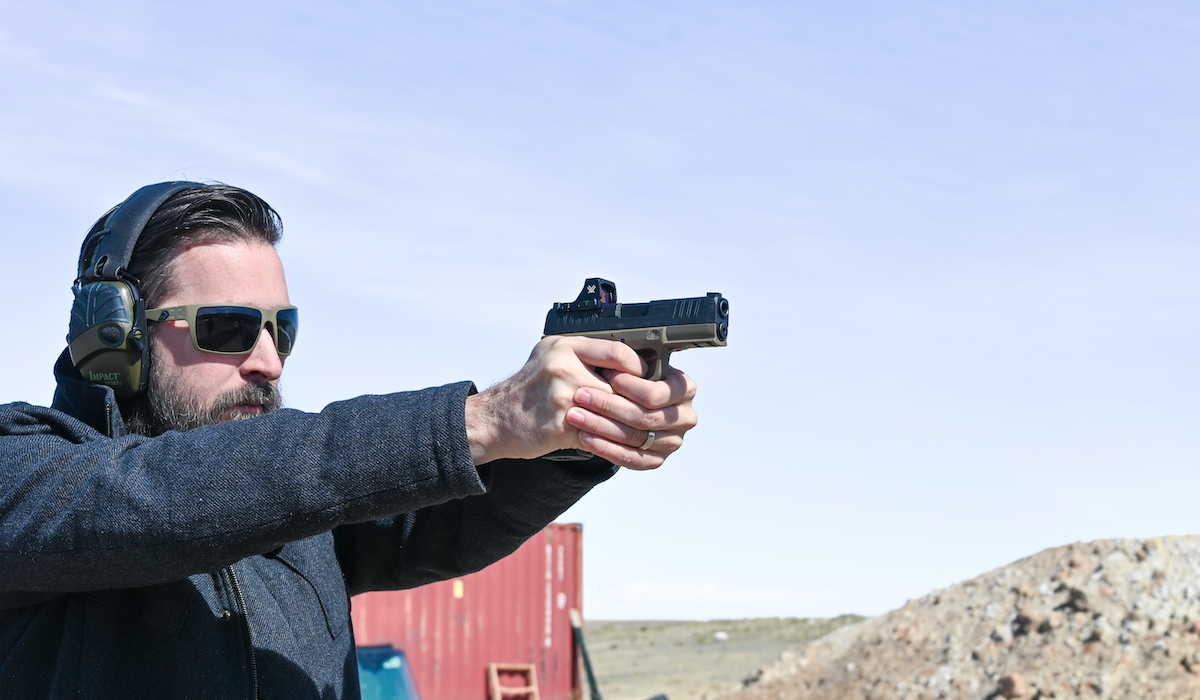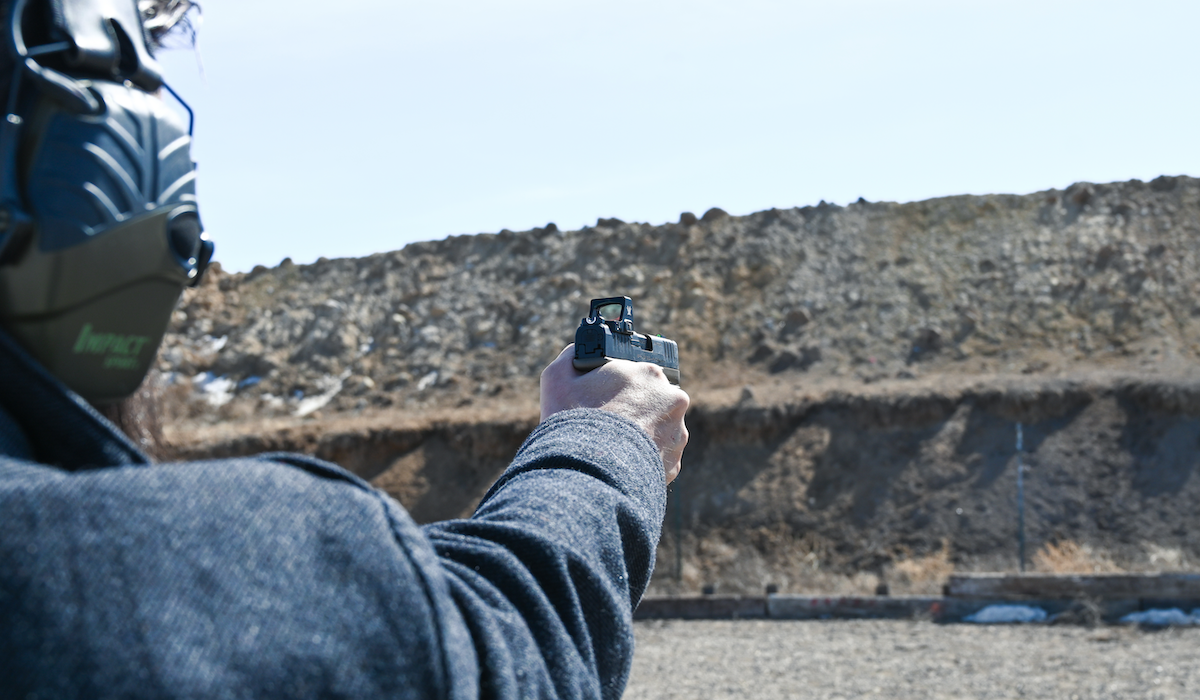 The window size was noticeably larger than my current red dot. Specifically, it feels taller, which is great for dropping your dot in from the 12 o'clock position, as taught by Scott Jedlinski. The crispness of the dot was also very apparent. I've used other dots that just look like a bright blur. The dot on the Defender CCW is a clear circle. It was difficult getting a good picture of the dot's size, but this image still captures the clean edges.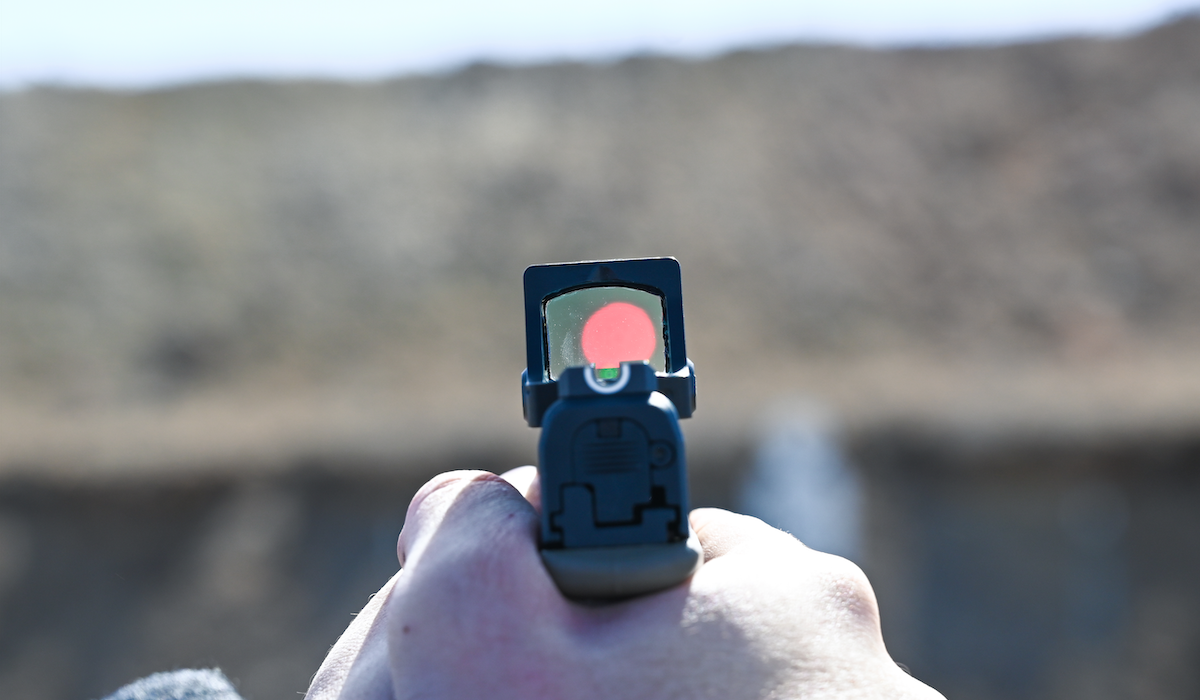 The Fast-Rack texture on the face of the Defender is meant to be more than cosmetic. Though I don't have any scientific test data to prove it, I believe that the texture did make it easier to rack off of my belt and other surfaces. I didn't do a direct comparison to optics with slick fronts, but the lack of slips from my belt while racking was notable.
Sum It Up, Bro!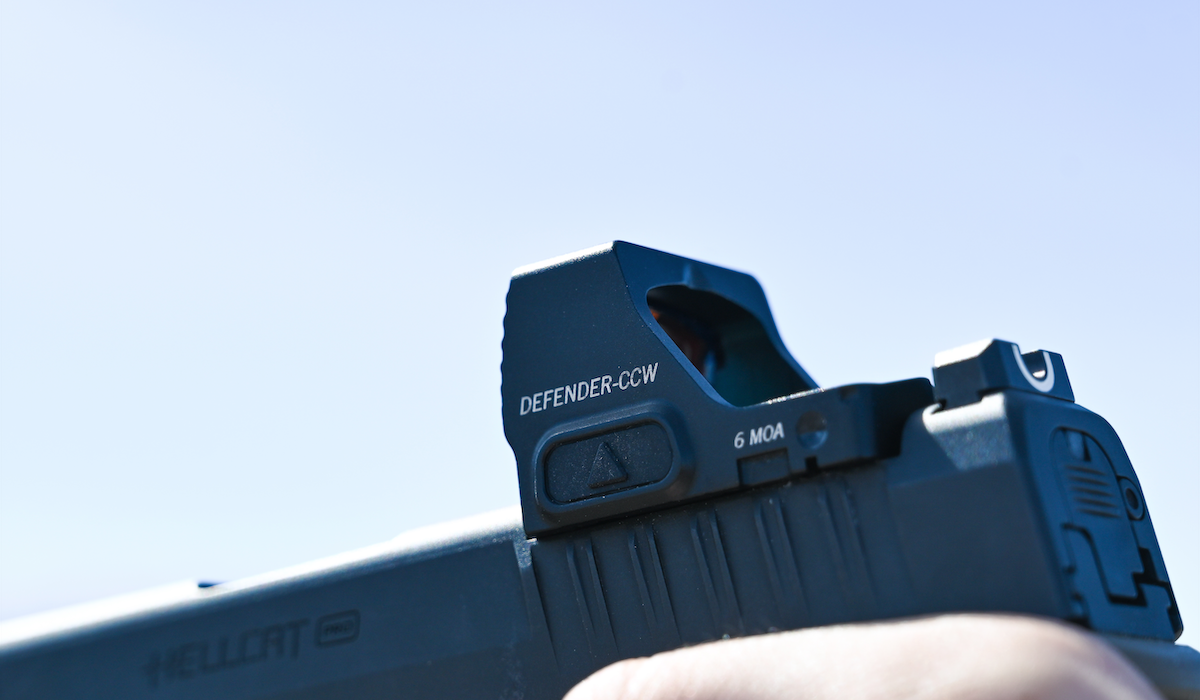 To sum it up, the Vortex Defender CCW is a solid performer, especially for a sub $300 optic. The window size gives you a little extra, instead of trying to be the most compact carry red dot out there. I appreciate the thought put into the shape and features. The Fast-Rack texture surrounding the front of the lens is a very cool addition. Even if it hadn't actually helped, it sure looks cool.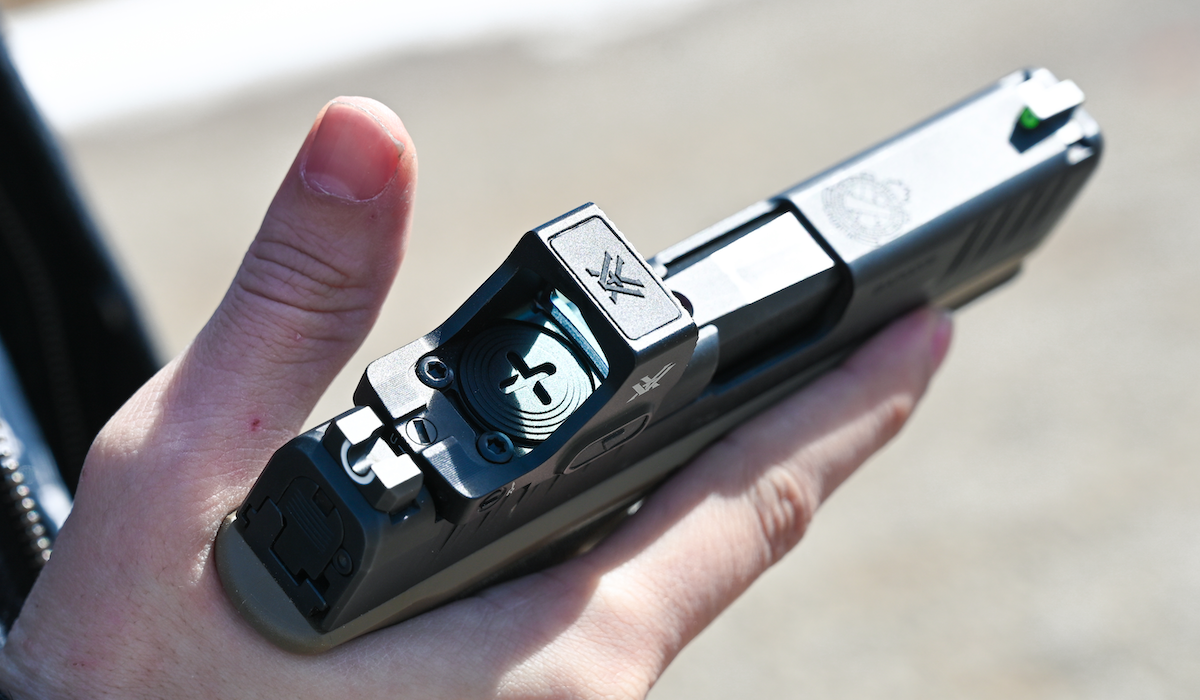 While this wouldn't be the ideal red dot for a long gun or PCC, the included Picatinny mount adds tremendous value, should you only be able to afford one red dot at this point in your life. I'm glad that Vortex chose the Shield RMS pattern. The options you gain with a plate mounting system are cool, but direct mount is cooler. I see many more slimline guns with a native Shield pattern than any other.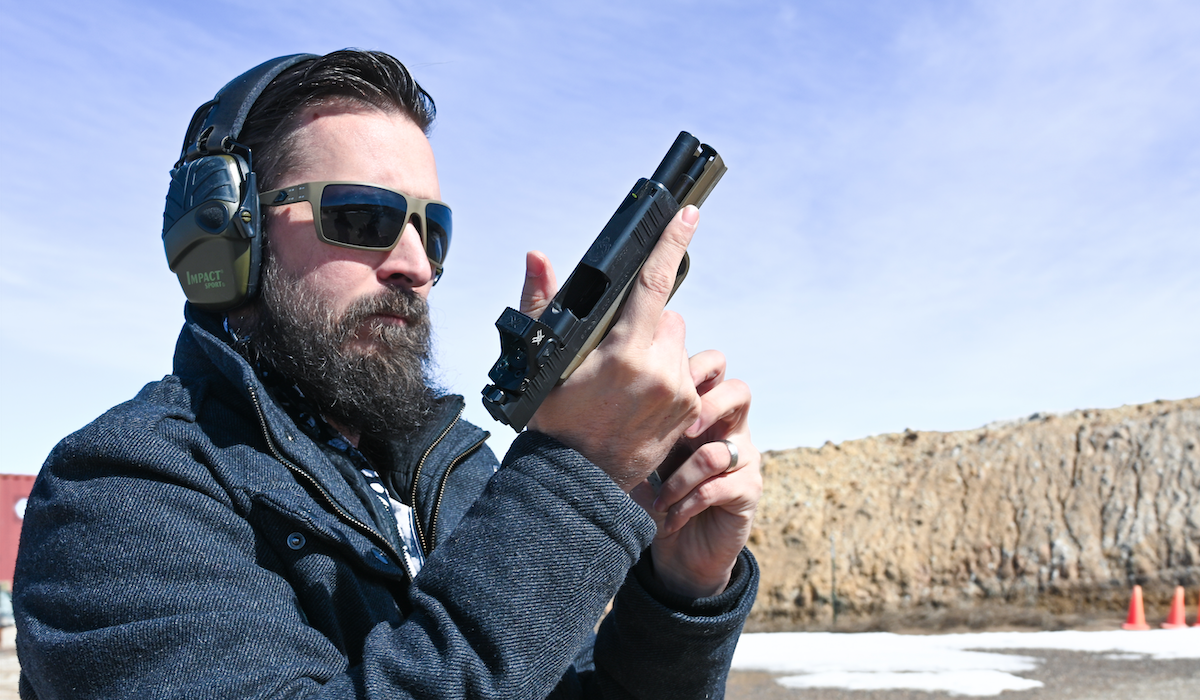 In my mind, shake awake is mandatory at this point in the red dot revolution, and I'm happy to see it included here. I got nowhere near the advertised 9,500-hour battery life, but I change my batteries often enough that I'm not too worried about exceeding the limit. Oh, and did I forget to mention this nifty little tool that comes in the box? This thing is so cool, I'm running all over the house, looking for other ways to use it.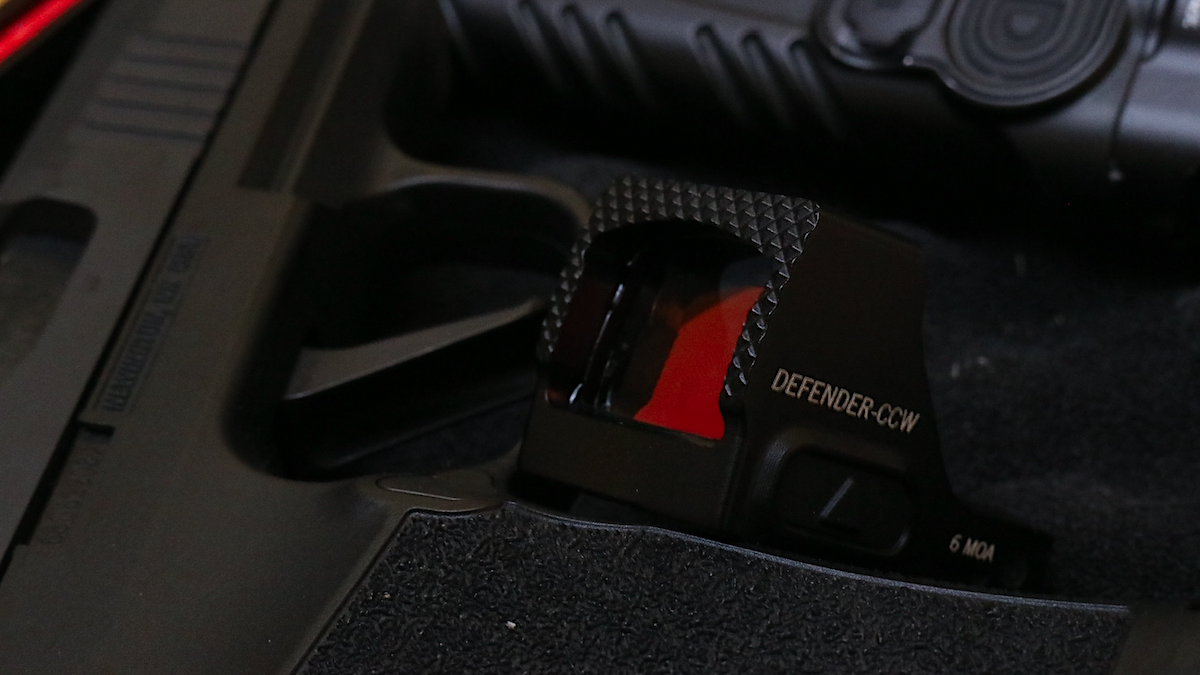 If it sounds like I'm gushing, I guess I kind of am. I understand the benefits of buying a "higher-tier" optic, but the cost isn't worth it for me. I can't see myself spending $500 on a red dot. I can, however, spend half of that. Since it has the Vortex name on the box, I know that I'm getting a solid, reliable product. I've had no problems with any of the Vortex gear I've used, except for killing the battery on a Strikefire II. The bang for the buck here is huge, and I'm happy to see Vortex take a slice of the pie.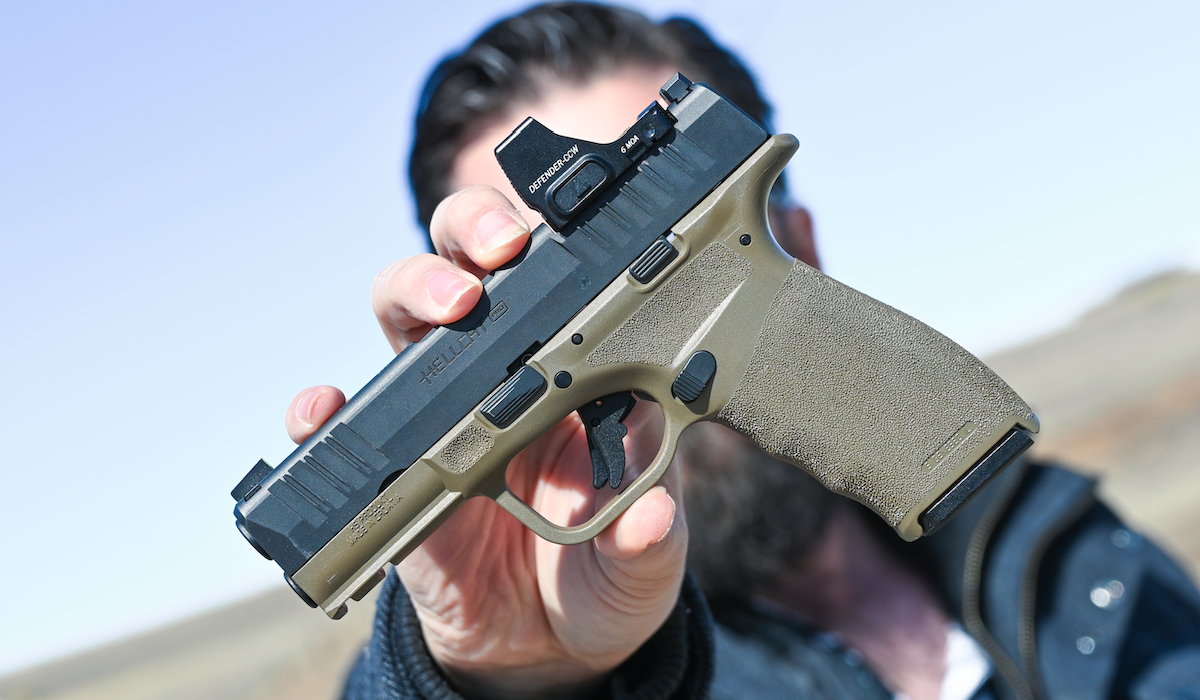 To learn more, head to the Vortex Optics website. Be sure to follow them on their social media pages. Vortex can be found on Facebook, Instagram, Twitter, and YouTube. Stay safe out there!