Speckled trout anglers in south Louisiana have come a long way from the traditional sparkle beetles made by H&H Lure Company. In recent years we've seen a plethora of new baits specially designed to be fished in Louisiana's Unique brackish waters. Lures such as Matrix Shad, Deadly Dudley, and Mirrolures have without a doubt been key to anglers catching more specks. Add to it the recent emergence of artificial shrimp and speckled trout are at a definite disadvantage.
I have to admit that I am a sucker for artificial shrimp. Ever since the TKO Shrimp came out in the 80s, I have used the lure to catch speckled trout, redfish, flounder, and even largemouth bass. My favorite way to fish an artificial shrimp is by far underneath a popping cork.
There's a new company that has recently come out with an artificial shrimp. It's called Mojo Tackle Company and after hearing several conversations at the marina and seeing a few tied on to baits heading down the interstate, I decided to pick up one to see how it stacks up against the other artificial shrimp lures that I have collected in my tackle box.
I had the opportunity to try it on a warm spring day while fishing Lake Borgne, just south of Lake Pontchartrain. There was a stiff breeze that morning so I decided to head to the shoreline near Alligator Point. Since I was fishing in relatively shallow water I rigged the shrimp about 2 feet under a cork and casted out. The first thing I noticed about the shrimp is that it had good weight to it. The package claims it weighs 12.5 grams which translates to .3 oz. so that felt about right.
The cork landed about 20 feet away from the shoreline and I began to pop it. The shrimp performed well as it didn't weigh down the cork, which was also weighted. I intended on watching the lure underwater when it neared the boat however the wind made the water just muddy enough that I was unable to see what it looked like underneath the surface. After several casts, I got my first hit on the lure and it resulted in a clean hook-set that resulted in my first trout of the day; a 14-inch keeper. I picked up a few more trout and one redfish the rest of the day and after examining the shrimp it looked to be in excellent condition.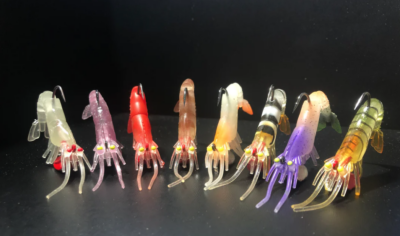 The tail is broken into numerous divisions which makes the tail curl easier when popped. I was a bit worried about the tail breaking off but it stayed intact. After reading the package it said that the entire bait is made of Kevlar which is extremely durable. I was using the "Purple Rain" color but there are 7 other colors available that may better fit your choosing. The lure is available in two sizes: 2 inches and 3 inches. The shrimp will make an excellent addition to my bow and I look forward to trying more out in the next year especially in the fall when the specks are chasing shrimp. Like most South Louisiana specific lures, Mojo Tackle is sold locally in baitshops and marina's but is also available online at MojoTackle.com.