Whether you're on an RV trip with the family, hosting a campfire night for the neighborhood, or putting on an outdoor movie night with friends, finding seating options for your pint-sized guests can be a challenge. Thankfully, the ever-popular designers of the ready-to-go sleep system Disc-O-Bed also have a kid-friendly version of its Original Disc-O-Bed called the Kid-O-Bunk.
Not Just a Bunk!
This versatile system is so much more than a bunk, easily converting to two twin cots or a bench! My kids know this is their piece of furniture to enjoy indoors or outdoors. It comes in a sturdy bag that's very flat and portable, making it easy to store and transport. The bag also keeps the pieces neatly organized – which is an essential feature for any active family. With two kids under three, life already feels a little chaotic, especially when we're on the go. Having products like the Kid-O-Bunk which is easy to set up, take apart, store, and transport makes adventures a little less stressful.
Each cot in a bag is about 36 pounds. Although it may not be ideal for backcountry camping, it is perfect for car camping and RV camping.
Kid-O-Bunk in Action
The first couple of times setting up the Kid-O-Bunk, I referenced the easy-to-follow instructions. However, now I can set it up on my own in under five minutes! The kids use this system for sleepovers at our home when we may need more beds for friends or at the cabin when all the cousins come to stay. It's also a space-saving sleep system for the kids in our RV.
In warmer months, we plan to bring the Kid-O-Bunk to the drive-in theater to use on the grass or on top of our truck bed for a more comfortable seating option. The vertical bunk setup – or two separate twin cot systems – works well for us at this stage, allowing my one-year-old to easily climb onto the bottom cot which sits just nine and a half inches above the ground. In this configuration, the top cot is just 28 inches off the ground, which gives me peace of mind in terms of overall safety.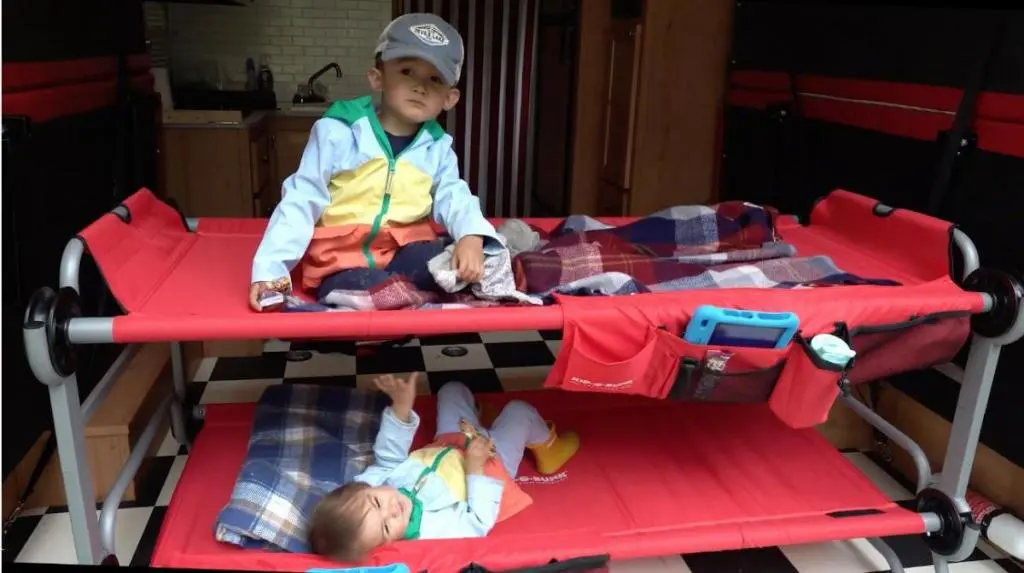 Specs
The Kid-O-Bunk can hold up to 200 pounds per single cot. This means I can easily sit on it with the kids or we could fit several kids across as a seating option. One thing that stands out to me is how sturdy the Disc-O-Bed sleep system is. It's a very solid build and I trust that my kids are safe on it.
The Kid-O-Bunk features polyester fabric that's also water-resistant for all the spills your little ones are sure to have! This system is also not only functional but fun. Its bright red color and the modular tool-free disk system keep my kids off the ground which is helpful in the hot summer months when ticks and other biting insects are trolling for victims in the grass. My kids keep their personal items such as water bottles, tablets, and books, in the side organizers which can be attached or removed as needed.
Conclusion
I can confidently say the Kid-O-Bunk is the best mobile bunk system for kids and parents looking to incorporate more adventure into their little ones' lives. We will definitely be using them for years to come.
Related Video: Be Prepared with the SOL Emergency Bivvy Bag