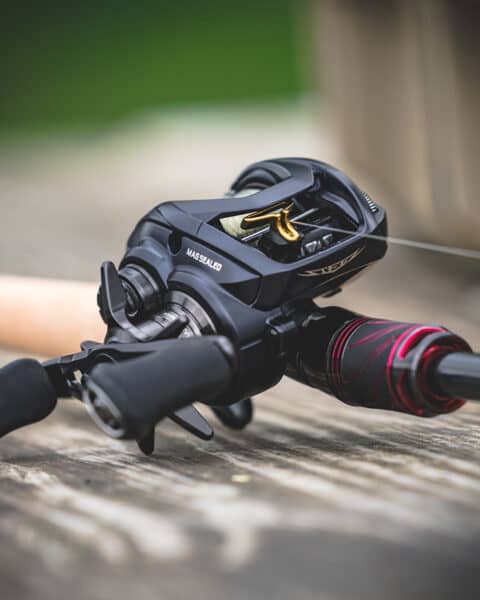 The folks over at Daiwa are proud to share that they are adding a brand-new premium baitcasting reel to their tournament-proven Daiwa Steez Baitcaster Family of fishing reels. This latest high-end baitcaster is the brand new Daiwa Steez A 100, launched this month, March 2023, at the Bassmaster Classic. This new reel is loaded with a ton of features, including a Hyper Drive Design, Magforce-Z Boost, G1 Duralumin MAG-Z Boost Spool, and much much more.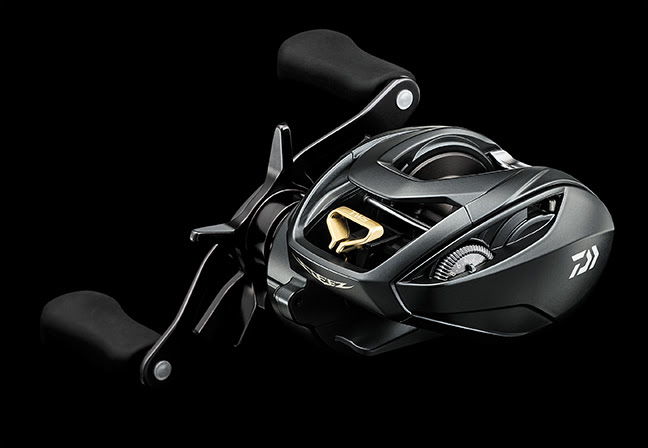 The Hyper Drive Design makes for the Daiwa Steez A 100 have an ultra-smooth retriever and powerful winding performance. This design is based on four key technologies; the Hyper Drive Digigear, the Hyper Double Support, the Hyper Armed Housing, and the Hyper Tough Clutch.
HYPERDRIVE DIGIGEAR – A brand-new gear design makes the teeth of the gears more efficient at transferring power, therefore making the gear set feel smoother, more powerful and also reducing gear noise.
HYPER DOUBLE SUPPORT – A two-bearing support system for the reel's pinion gear means no flex and an ultra-smooth retrieve/ gear rotation.
HYPER ARMED HOUSING – The reel features an aluminum frame and side plate for maximum rigidity and precision performance of the internal components.
HYPER TOUGH CLUTCH – A redesigned and reinforced clutch mechanism increases durability and performance.
The MAGFORCE-Z Boost is Daiwa's reel technology that maximizes flight distance for long cast performance of the reel. Ideal for long casts of medium and heavy lures, it'll help increase flight distance with increased input from the angler's end easily. This combined with the G1 Duralumin MAG-Z Boost Spool makes the new Steez have virtually no backlashing. The G1 Duralumin frame of the reel has a profile made for easy handling and high flex resistance. All the while cutting weight without sacrificing durability.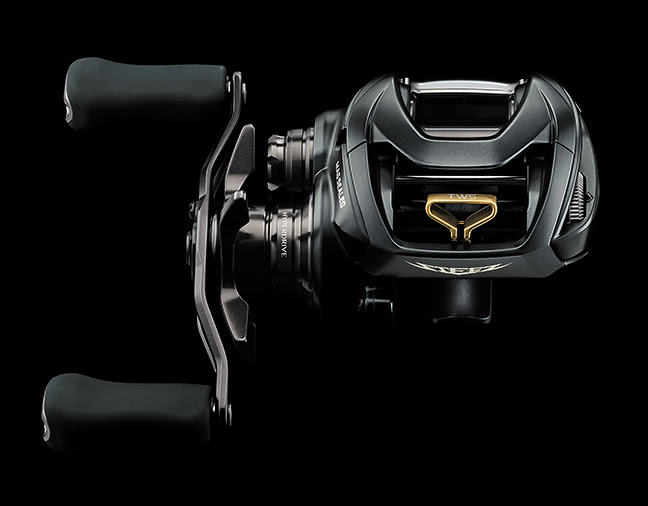 So along with the Hyper Drive Design, MAGFORCE-Z Boost tech, and the G1 Duralumin Body, the new Steez comes with the TWS (T-Wing System) which reduces friction during the cast. This lets the line flow freely through the wide top section of the t-wing line guide. Then when the handle is engaged on the retrieve the T-Wing system lowers down so the lower channel of the T-Wing can evenly distribute the line across the width of the spool. The Steez A 100 also comes with Daiwa's Automatic Tournament Drag which uses an improved drag grease that exhibits a low viscosity at rest but becomes more viscous as soon as the drag starts up. This makes for a low initial drag start-up, but a more consistent and smooth drag once engaged. All of these technologies combined make for a unparalleled casting performance. This newest addition to the Steez family keeps pushing the upper limits of what is possible in baitcasting reels.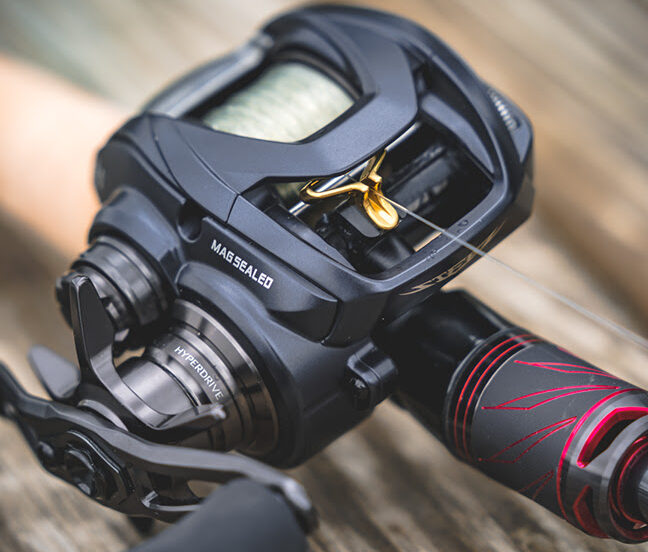 Daiwa Announces NEW Addition to Steez Baitcasting Reel Family
Proven DAIWA HYPERDRIVE DESIGN
G1 Duralumin MAG-Z BOOST Spool
T-Wing System (TWS)
Zero Adjuster
Aluminum frame and side plate (gear side)
ATD Drag
CRBB corrosion-resistant stainless steel bearings
90mm Heavy Swept Handle*
Audible Clicking Drag
Available Gear Ratios: (7.1:1) (8.5:1)
MSRP – $649.99

STEEZ A 100 Executive 5 Year Service / Warranty

Executive STEEZ 5-Year Service Warranty Against Manufacturing Defects
FREE 5-Year Clean and Service
1 Business Day clean and service upon arrival to the DAIWA Service Department
Expedited Service Pending Parts Availability
FREE Expedited Return Shipping (2nd Day Air or Priority Mail)