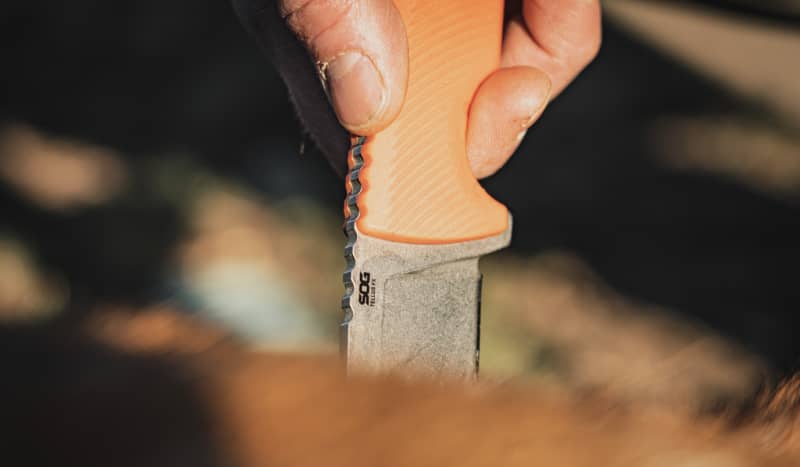 This year we are going to be brining you a recurring content series where we look at several brands and see how the products stand up to the rigors of true field usage and let's face it, abuse.  The hope here is to separate the show ponies from the work horses and give you our honest feedback on where we would recommend spending those hard-earned dollars.
I was able to test out some knives from the SOG lineup on a recent trip down to Texas on an Axis deer hunt.  I headed down to Sonora, TX with our friends at TO Outfitters looking for some bucks in velvet.  I used two very different knives from their lineup, both of which are very purpose driven and capable.
First, let's take a quick look at the specs: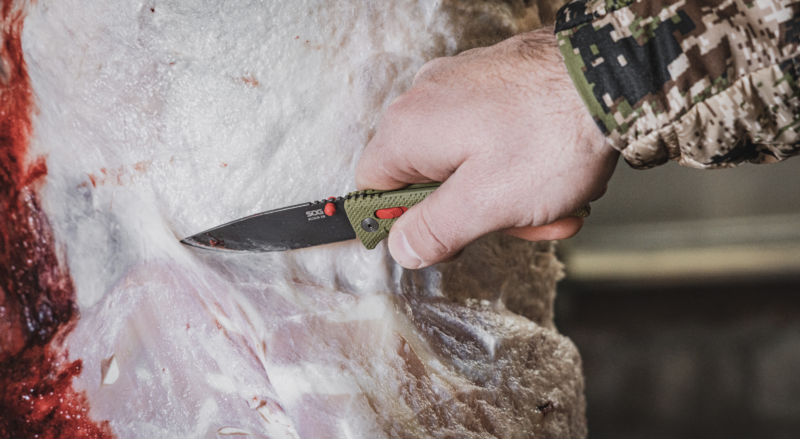 Closed Length: 4.00"
Blade Length: 3.2"
Blade Shape: Drop Point
Product Weight: 1.9 oz
Steel Type: CRYO 154CM
Belt Clip: Reversible Low-Carry
Available colors: Squid Ink, Field Green, Canyon Red, Dusk Purple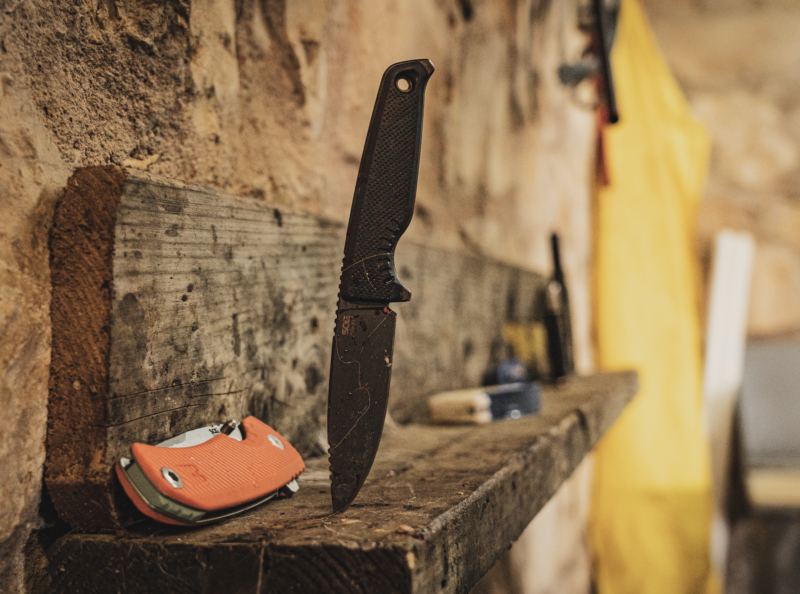 Overall Length: 7.6"
Blade Length: 3.4"
Blade Shape: Clip Point
Product Weight: 2.6 oz
Steel Type: CRYO 154CM
Sheath Material: Kydex
Available colors: Squid Ink, Field Green, Canyon Red, Dusk Purple
Closed Length: 4.8"
Blade Length: 3.65"
Blade Shape: Clip Point
Product Weight: 5.8 oz
Steel Type: CRYO 440
Belt Clip: Reversible Low-Carry
Available colors: Blaze, FDE, Olive Drab, Wolf Gray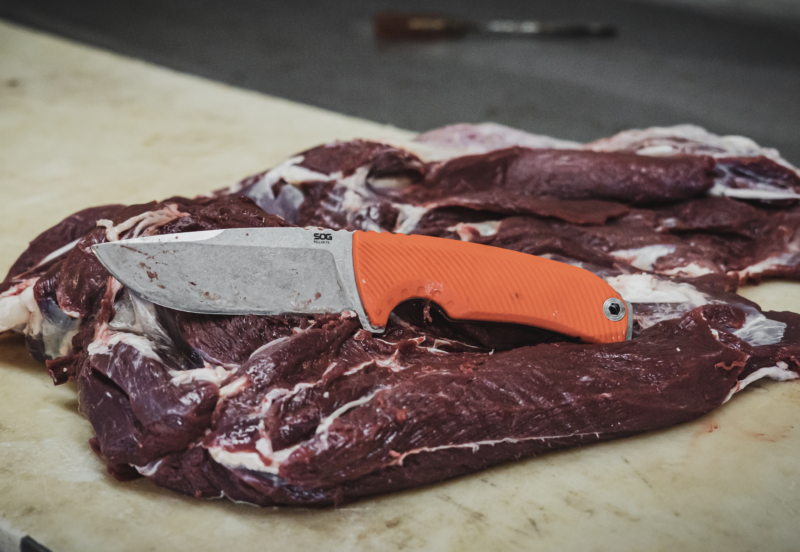 Overall Length: 9.0"
Blade Length: 4.2"
Blade Shape: Clip Point
Product Weight: 6.7 oz
Steel Type: CRYO 440
Sheath Material: Nylon
Available colors: Blaze, Olive Drab, Wolf Gray
Now that we have the data out of the way let's talk about actual usage and field performance.  I'll start with the ALTAIR.  The folder and fixed blade, although very similar in blade size will serve two very different purposes, both of which are important depending on what you are looking for.  I used the XR as my everyday carry, multi-use, do-all kind of knife.  I loved the low-carry belt clip and refuse to carry anything else from this day forward.  The constant threat, for me anyways, of hooking or catching that belt clip on a coat, seatbelt, door jam, desk whatever are gone!  Maybe I am just a clumsy but the fact that this sits so low and out of sight in my pocket was a gamechanger.  The knife itself is VERY slim and compact and at 1.9 oz you forget its even there.  Blade size is perfect for everyday carry or small jobs that requires some detail and care when cutting.
The ALTAIR FX for me would fall into more of a bushcraft or multi-purpose knife.  I personally do not carry a fixed blade for EDC however on back country hunt or even a day hunt this would be a great knife to have in your pack or around your neck if you chose to carry it on a lanyard.  For a camp type scenario this would be great for detail work like making tinder for a fire or perfectly slicing fresh tenderloins to cook over a fire after a hard pack out.  Some cool features of the FX are the adjustable sheath positions and removable scales.  This takes an already low-profile knife and makes it even slimmer should you want to use it without them and make cleaning a breeze.  This will no doubt be a more than capable knife to use when breaking down larger game like an Elk or Deer but also perfectly suited for smaller quarry that may involve some detail work while processing.  We skinned and quartered 3 Axis deer on our trip and these blades made short work of the task!
Whereas the ALTAIR is a smaller, precision, EDC style knife the TELLUS is NOT, and will serve as a completely different tool.  I would definitely classify this as a work horse knife that is best suited for BIG jobs.  No need to be afraid in using and abusing this thing as I found it to be virtually indestructible (within reason of course) for just about any and all larger tasks.  Cutting rope, trimming small limbs, using it as a shovel, pounding in stakes…it performed great!
I am pretty sure I could have used it as a war club if needed, it is that beefy!  Between the FLK folder and the FX fixed blade models I would say it comes down to a matter of personal preference or maybe even pack space.  For a larger utility knife like the TELLUS, I tend to want to go with a fixed blade construction for the full tang in the handle but if you are tight on space or prefer a folder the FX is certainly a great option and equally as capable.  Again, this is not going to be an EDC but will be a welcomed addition to the pack when you need to do some of those bigger jobs back at camp.
My final thoughts on both the ALTAIR and TELLUS lean in a very positive direction.  Both are well constructed, offer some level of customization/personal preference, are capable of multi-use applications and very easy on the eyes.  I must say I really like the color palettes for both and I think they are pretty sharp.  Price points for each are in line with comparable models from competitors so they are priced accordingly and well worth the investment.
I am very impressed with the ALTAIR and the TELLUS and would recommend adding both to your arsenal for very different reasons.  Dare I say it, SOG may have killed two birds with one stone with two VERY capable knives, I would consider both a show pony and a work horse in their categories.  Two thumbs up SOG!  For more information on the ALTAIR or TELLUS models head over to their website, sogknives.com to check them out.  Also, check back in February and beyond while we continue put some other GSM brands through the ringer in our recurring "Midwest Mile" content series!