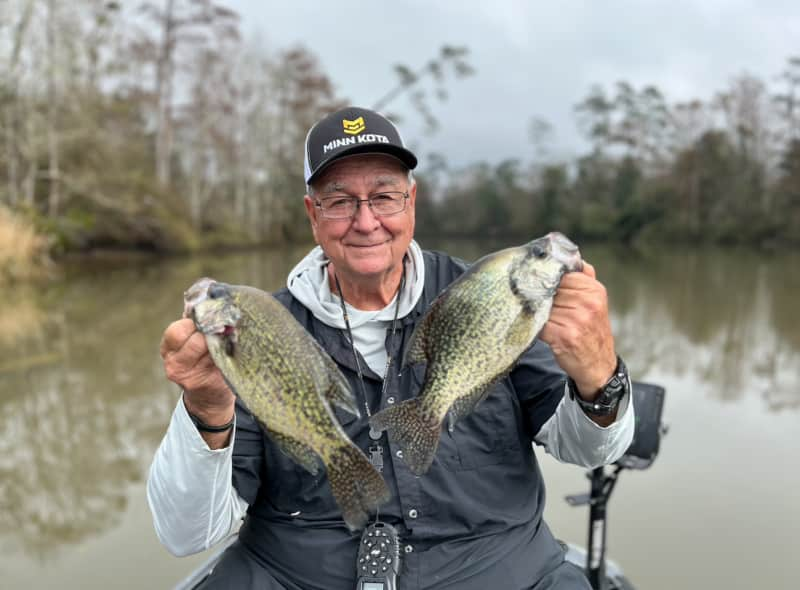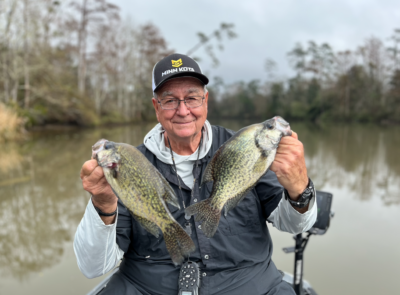 As the calendar turns to April, things are winding down for anglers who enjoy targeting sac-a-lait in the shallows in Louisiana. This month, the bayou state saw a relatively early spawn brought on by an abnormally warm February. 
Ray Miller of Madisonville, La. fishes the rivers along the North shore of Lake Pontchartrain and said the spawn was accented by the moon phase this spring.
"Those few weeks of warm weather combined with the full moon made those fish go crazy," Miller said.
The sac-a-lat in South Louisiana will typically move from the deeper main channels of the rivers and bayous and work their way back into the dead-end canals and sloughs where the water isn't moving as much. "When these fish spawn they're looking for still water, and wood to lay their eggs on. The moving water in the main rivers don't allow them to do this so they have to move back into areas with less current," he said.
During the spawn, Miller uses a black and gold hand-tied 1/32-ounce hair jig rigged 2 feet below a sliding cork."I grew up cork-fishing, nothing brings out the inner kid in me like a popping cork during the spawn. There's just something about watching that cork go under and setting the hook and a big sac-a-lait," Miller said.
While most fishermen stock one or two different types of corks in their tackle box, Miller has over 10 different types in his tackle box.
"I like to say that I have a cork fetish because of how many different sizes and shapes I have in my box, but they all come in handy, " said Miller.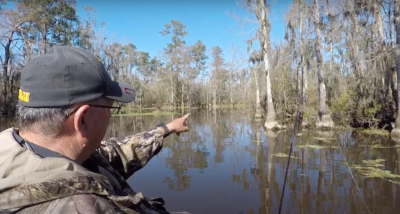 While he prefers to fish with a hair jig during the spawn, sometimes the fish just won't Bite artificial and Miller is forced to go another route. When the sac-a-lait are temperamental, he brings along a bucket of shiners. He rigs them about 2 feet under a slip cork and adds a split-shot halfway down between the cork and the hook. "The split-shot keeps the shiner in check. If I don't have the split-shot on there the shiner swims all over and ends up getting caught in the branches along the shoreline," he said. 
Miller said the best time to fish this past month when fishing the spawn was before and after the full moon. "My best day was three days before the full moon and three days after the full moon this past March," he said
What's in Store for April?
Miller has recently purchased Garmin LiveScope which allows him to see what's going on beneath the water's surface to a degree like never before. Miller said he started to see some fish heading into the main river after spawning as early as February. "Not all the fish spawn at once, some of them get an early start and are back in the main river as early as the beginning of March," he said.
As the calendar turns from March to April, Miller is starting to get back to his normal routine of deep-jigging the main rivers in 15-30 feet of water. "The spawn's all but over for us down here in Louisiana. There still may be a few fish in the canals but for the most part, they are moving back into the main river," he said.
Miller has been catching fish by locating fallen trees and fishing the canopies of those trees.
"If you look along the shoreline, you can spot big trees that have fallen in," Miller said. "If you follow that tree trunk down into the water you can estimate where the canopy of that tree is and lower your jig down into it. It's just a matter of time before you hit paydirt on one of them." Miller has logged over a hundred trees in the Tchefuncte River and has a system where he fishes one for 10 minutes and then moves if nothing is biting. "I don't give it long. If I don't see any action, I'm out of there," he said. "I've had trips where I didn't catch anything all morning and on my last stop, I found fish and it saved the day."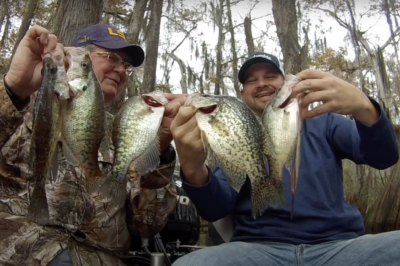 Miller also recommends paying attention to your surroundings when you're fishing, especially where you catch the fish. "I like to keep a journal of what I catch and where I catch to review for future trips. When you catch fish it's important to write it down, chances are that you'll come back to the spot the same time next year and find fish again," he said. 
His deep jigging setup includes a 10-foot jigging pole rigged with a tube jig called a Lil' Hustler Scale Head tube jig. Miller prefers a color he describes as "puke" which is any color combination of orange, yellow, and brown. Miller has been catching an average of 25-30 fish a trip ranging from 10-15 inches. He said the fishing should improve after the sac-a-lait are completely down with the spawn and get back to normal in late April.